Aviary Café & Creperie has made a reputation for itself as a go-to brunch spot in Springfield. But thanks to a new partnership with Lavender Falls Farm, The Aviary's Southside location is now positioning itself as not only a brunch café but also a date night destination with a robust dinner menu.
"Aviary approached me and Thor about partnering up with them," says Catherine Bersted, who co-owns Lavender Falls Farm with her husband, Thor. "They were known for their breakfast, brunches and lunches, and we've been known more for our dinners. But we have the same clientele, so we thought it would be a really good merger. So far it's been great."
Now named Aviary by Lavender Falls Farm, the restaurant is a collaboration between the lavender farm and private equity firm Westward Alliance LLC. Bersted brought on Abbie Brown, owner of the gourmet culinary line Brown Abbey Gourmet, as the head chef. Brown got her start in the culinary field by working in the kitchen at Lavender Falls Farm.
You can find her creations online or at Lavender Falls' retail space at Battlefield Mall.
"I was so overwhelmingly grateful when this opportunity came about," Brown says. "This has always been my dream. It's a lot to learn and execute and logistically get through, but it's so worth it."
Although the café has always served dinner, Brown worked with Bersted to supplement the menu with even more vegetarian, gluten-free and meat offerings with layers of flavors from brines and spice rubs. "We wanted to make a menu that has options for everyone," Brown says. "We're also really trying to impart as much flavor as we can into each dish."
Brown uses some of her signature spice blends on new dinner items like the marinated salmon filet, which features her white meat/fish seasoning, a blend with smoked jalapeño salt, fried garlic, thyme, lemon powder, parsley and other spices. She also added her original Parm Burger to the menu with melted mozzarella cheese, pesto mayonnaise, roasted tomatoes, spring mix and Parmesan crisp.
Bersted, who oversees the menu creation at Lavender Falls Farm, also made contributions to Aviary by Lavender Falls menu. Additions from Bersted include the lavender panna cotta (a molded and chilled dessert topped with a thin caramelized sugar crust) as well as lavender hummus, a goat cheese board with lavender honey and a meat and cheese plate.
However, old Aviary favorites remain. According to general manager Brandon Zacarias, guests can still order their classic savory and dessert crêpes like The Farmer and bananas foster. "I'm excited for the new dishes they are bringing in from Lavender Falls Farm and for us to incorporate it with Aviary," he says. "It will be fun to see what twists we can put on the customer's table."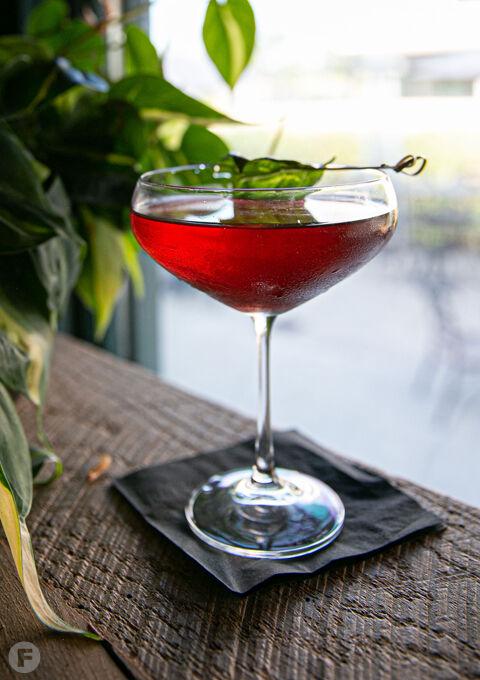 On June 22, Aviary temporarily closed to complete a 9-day interior update project. Bersted says the goal was to make the atmosphere even more intimate.
Now, the walls and architectural elements are a deep turquoise, live plants grace nearly every corner and Edison bulb lighting casts a warm glow. Bersted also added decorations from the former downtown location to the place, like vintage birdcages and an antiqued host stand, and strung new patio lighting.
Bersted says they have plans for a reverse happy hour with live music in the works from 8 to 10pm with half-off well drinks, signature cocktails and select appetizers, as well as $3 beers.
"We wanted to offer our farm concept in the city, which is the concept of chilling and enjoying a full experience, from dining to cocktails to entertainment, with the highest quality of service," Bersted says.
Guests will also be able to purchase both Lavender Falls and Brown Abbey products in The Aviary's former patisserie, which will soon serve as the main entrance.
Although Lavender Falls Farm, which remains a separate entity, closed its on-site café for the season due to the COVID-19 pandemic, it still has plans to reopen in 2021. Bersted also says The Aviary's downtown location, which was set to relocate to Build Your Own Pizza's former location, will remain closed for now. However, she hinted that plans for both downtown spaces are still in the works.
"We are toying around with new concepts and ideas with Westward Alliance for downtown," Bersted says. "So stay tuned, something is coming."
Aviary by Lavender Falls, 2144 E. Republic Road E120, Springfield, Missouri, 417.881.9736, aviarycafe.com