In paella, tender grains of saffron-seasoned rice and a medley of savory, melt-in-the-mouth seafood combine to create the perfect meal. And at Olé Eatery in Branson, Missouri, the sensational dish doesn't disappoint.
The only Spanish restaurant in town, Olé Eatery is the brainchild of David Ramirez, who opened Botanas Premier Mexican Restaurant & Bar in Branson a decade ago. Ramirez has Mexican heritage, but he fell in love with paella the first time he tried it, and he quickly became obsessed with perfecting the traditional Valencian recipe. His main learning tool? YouTube videos and cooking shows.
Seeking more formal culinary training, Ramirez enrolled in an online program at Auguste Escoffier School of Culinary Arts and then began taking in-person classes at Ozarks Technical Community College. At one point, he was running Botanas, completing his degree and helping his wife, Wani, take care of their newborn child all at the same time.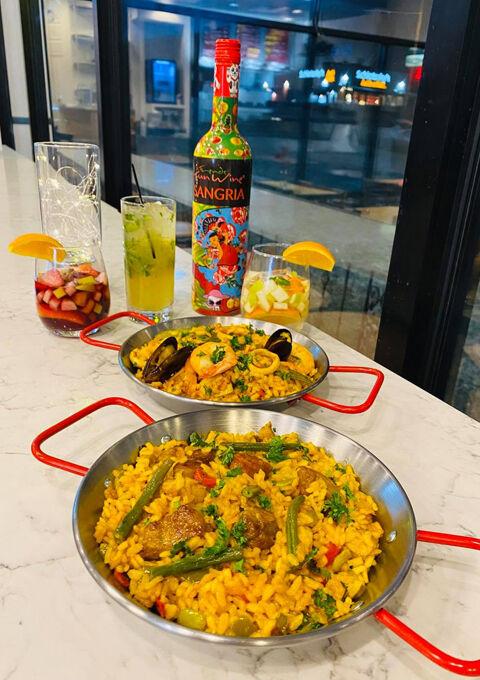 Ramirez has always dreamed of owning several restaurants with different concepts. When the COVID-19 pandemic hit Missouri, he decided to temporarily close Botanas and open a food truck, which sold elote – corn on the cob charred on the grill, it's a classic Mexican street food – alongside dessert plantains paired with cream cheese and guava jelly.
Then, in December 2020, Ramirez debuted Olé Eatery, leaving Botanas in the capable hands of his sister.
"We aren't a rich family, and one restaurant alone is so much work," says Wani, "I thought it was crazy [to open another], but David is passionate and very resourceful."
Initially, some diners came into the restaurant looking for tacos. "They thought Spanish food was the same as Mexican," says Wani, but once they switched their expectations and tried the paella, tortilla española, patatas bravas and other delectable Spanish tapas, they were sold.
The paella, which serves two to 10 people, comes in different varieties: The paella marinera features fluffy saffron rice with seafood, while the vegan arroz rojo has a splash of coconut milk and vegetables mixed into it. There's also a paella with chicken, chorizo and pork, plus arroz negro (black rice), which also comes with seafood. The rice dishes are made to order and take 30 to 40 minutes to cook, so most guests order a smattering of tapas and sangria or wine to enjoy while they wait.
Ramirez makes the broth for the rice dishes from scratch, and Olé Eatery has an open kitchen so you can watch him work. He's also conscious of providing dairy- and gluten-free options for guests with dietary restrictions.
You'll likely want to cover your table with tapas and plates of paella, but we suggest leaving room for dessert. Offerings include warm empanadas filled with cream cheese and guava jelly as well as crema catalana, a Spanish dessert similar to crème brûlée, with notes of citrus. Olé Eatery also serves housemade horchata for a final sweet sip.
"David loves culture and knows so much about the world," says Wani. We can't wait to see what he brings to the southwest Missouri restaurant scene next.