When Charles Miller, manager of Chandler Hill Vineyards in Defiance, Missouri, set out to make orange wine, he wanted it to both upend and exceed people's expectations of Missouri wine.
"I want to show people that Missouri wine, like all wine, is not all one thing," Miller says. "The fact that we can do cool and forward-thinking things with Missouri grapes and create wine that can be put alongside any in the world is important to me."
Orange wine, also known as skin-contact wine and amber wine, is made from white grapes that are pressed and fermented with the grape skins, allowing them to contribute color, body and an impression of some tannins to the wine. Released in the summer of 2020, Chandler Hill's Marigold is one of the first commercial orange wines produced in the state. The tropical, floral, zesty wine is an ideal pairing for Thanksgiving meals, where it balances the heavier, richer fare.
How would you describe Marigold? Orange wine is really cool because it's basically white wine made like red wine. With a lot of orange wines, you can close your eyes and the texture and body feel like a red wine, whereas the aromas and the fruit and floral notes are like a white wine turned up to 11. With Marigold, you're not getting just pineapple and citrus notes; you're also getting deeper notes of pear, peach and orange, which I find really rare in a white wine. One of the reasons I love Marigold is that it has more body and the tannins give it a light, gritty, fine sandpaper quality.
How is Marigold made? We pick the grapes all at once on the Chandler Hill Vineyards estate and separate out what we use for the Marigold and our typical Vignoles. We crush the grapes and then the difference starts. With our regular Vignoles, after crushing, we press the juice off the skins and ferment the juice from there. With Marigold, we keep everything in there: the skins, the pits and a little bit of the stems. We soak it for a short period of time, without pitching in yeast. Then, we add the yeast and kick-start fermentation. We keep the skins and everything in there the entire time. After that, we'll press off the juice and put it into French oak barrels from California, which adds a roundness to the wine because it has that small give and take of oxygen from being in a barrel as opposed to a stainless steel tank where it wouldn't have any interaction with oxygen. We keep some of the yeast in with it to add more texture and aromatics.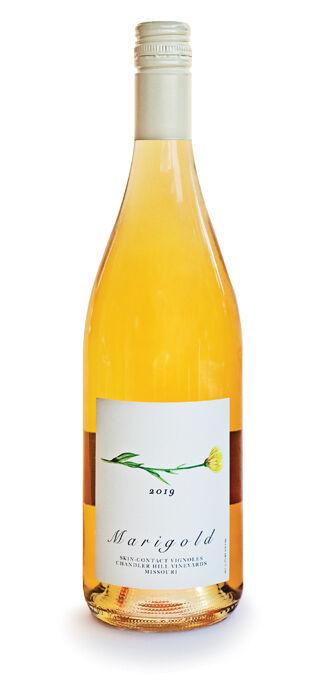 How does Marigold compare to other orange wines being produced throughout the country? One of our goals when we began developing this wine was to gain the extra textures, flavors and aromas from the skins and to keep it as clean as possible. Marigold is not a natural wine, necessarily; a lot of orange wines are made completely without intervention. There's a winery in California called Purity, for example, and I'm fanboying about those wines – they're completely without intervention. Also, our orange wine doesn't have a popular yeast that's often used in wine; to make it more floral and tropical, we inoculate Marigold with a little bit of a different proven strain of wild yeast.
Why is orange wine so trendy right now? I think that wine-drinkers are looking for new things. Wine has many different versions, but for the most part, people have been drinking very similar things for hundreds of years. Orange wine was the first wave of wine made on purpose. In what is now the country of Georgia, people would take the grapes – oftentimes white grapes – crush them, throw them into clay pots buried in the ground and leave them there sometimes for a year or more, creating natural orange wine. It's cool that the current trend is going back to the literal roots of winemaking. There's also a huge surge of natural wine consumption in the world, and orange wine caters to the more natural and non-interventional mindset of many wine-drinkers today.
What are your favorite foods to pair with orange wine? One of the best things I've eaten with our Marigold is yellow curry – I love it with any Indian or Pan-Asian cuisine. It's also really great with seafood, especially with white fish and some sort of tropical topping like mango salsa.
What should people know before they try orange wine? If you taste one orange wine, love it or hate it, the next one could be completely different. It's like rosé: Not every rosé is created equal. You might try Marigold and not like it, but I'd still tell you to try other orange wines. Don't judge them all by one taste. These wines have a huge spectrum of flavor.
Editor's note: This story has been updated to clarify that Marigold was not the first commercial orange wine produced in Missouri.