Andy Fox, owner and pitmaster of Fox & Fire Barbecue, is bringing his brand of Texas-inspired Kansas City barbecue to the Kansas City metro area. One bite of the tender meat might have you wishing there were two Saturdays in a week, because this food trailer located on a vacant car lot in Kearney, Missouri, is only open this one day a week from 11am to 3pm.
Fox considers himself a small-town guy at heart, born and raised south of Kansas City. He enjoys the pace of a small town, and when the opportunity became available to set up shop in Kearney, he felt it was divine timing. In addition to being in a smaller city, another benefit of the location is the large surrounding field that allows plenty of space for friends and family to sit and enjoy great food together. As the weather begins to warm, the surrounding lot will be filled with picnic tables, chairs and games for customers to enjoy.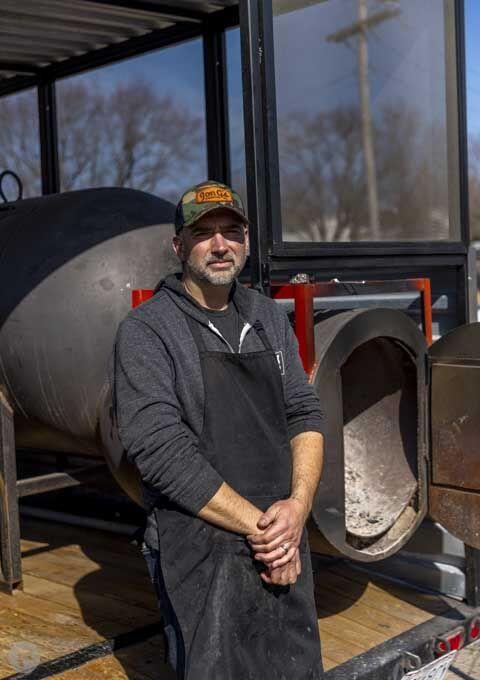 Although from the Kansas City area, Fox was initially inspired by the work trips he took to Texas, where he encountered the infectious communal experience of the state's barbecue.
"I'm a Kansas City guy, I felt like I knew what barbecue was, but then I had this experience outside of Kansas City that was just incredible," he says. "And I was like oh my gosh, if I could ever recreate even a small portion of this."
Fox says that the energy of Texas barbecue, even waiting in the lines, was contagious. He went home inspired and began the journey of creating a new barbecue destination in Kansas City.
Two offset smokers sitting near the trailer are the source of Fox & Fire's flavor. While sauce is a popular component of Kansas City barbecue, Fox's meats do not rely on having their flavor enhanced once out of the smoker – they can be enjoyed just on their own.
In addition to strictly using prime-grade meats, Fox & Fire's barbecue is served deli-style, always smoked the day before and is cut to order. The menu is written on a piece of paper taped to the trailer, and all meats are ordered by the pound. The line that one can be sure to wait in upon arriving is reflective of Fox's commitment to quality barbecue; you can taste the time that goes into each bite, whether you opt for pulled pork, brisket, housemade sausage links, turkey or spare ribs.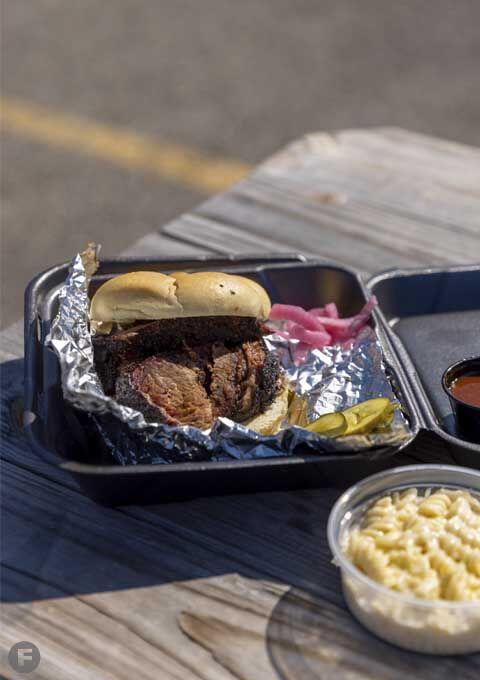 While customers are curious as to when Fox & Fire will become a full-time operation, Fox says his focus will always be on quality over quantity, and he is in no rush to upsize his operation if it means sacrificing technique or quality. Fox seems more interested in building a community before building a brick-and-mortar.
"Part of barbecue is that it's this communal event where you can break bread together," he says. "Here we have this space, it's spread out, you can bring a picnic, a blanket, some lawn chairs, just come out and enjoy yourself."
In fact, several menu items may seem inconspicuous – with names such as 'cowboy candy' and 'fruit crunch' – which is intentional. Fox wants his customers to ask questions about the menu and engage with each of them.
"Barbecue is a communal thing, and it should be an experience," he says. "It's beyond the tray of food that we serve."
Fox & Fire Barbecue, 102 W. Lawrence St., Kearney, Missouri, foxfirebbq.com