In Du Quoin, Illinois, you can enjoy a cold beer with a side of history.
Opened in the 1800s, St. Nicholas Hotel was a local landmark for decades. Throughout the years, it had numerous owners who tried to keep the business going, but by the early 2000s, the structure had fallen into disrepair and was abandoned. In 2009, the building was bought at auction for less than $1,000; however, the purchase was only made as a way to preserve a piece of history and keep the hotel from being torn down – the fate of the building continued to hang in the balance. Fast-forward to 2014, when a group of six people reintroduced the space as St. Nicholas Brewing Co.
As a self-proclaimed foodie, Abby Ancell, general manager and one of the owners of St. Nicholas Brewing Co., says that since the very beginning, she's focused on how the dishes on the menu pair with the beers on offer. "Everything is made using fresh, regional ingredients," she says. "We utilize local farmers' markets to use things that are in season."
The elevated pub grub includes mushroom fries (portabella mushrooms breaded, fried and served with Sriracha aïoli), fish tacos (sautéed or fried shrimp or beer-battered cod, cabbage, tomatoes, queso crumble, ranch, lime and cilantro) and The Goat (a hand-pattied, medium-well burger topped with goat cheese, roasted red pepper and caramelized onion). Another fan favorite, the Bike Rolls – the brewery's version of egg rolls made with ever-changing fillings – were named for the owners' shared love of bicycles.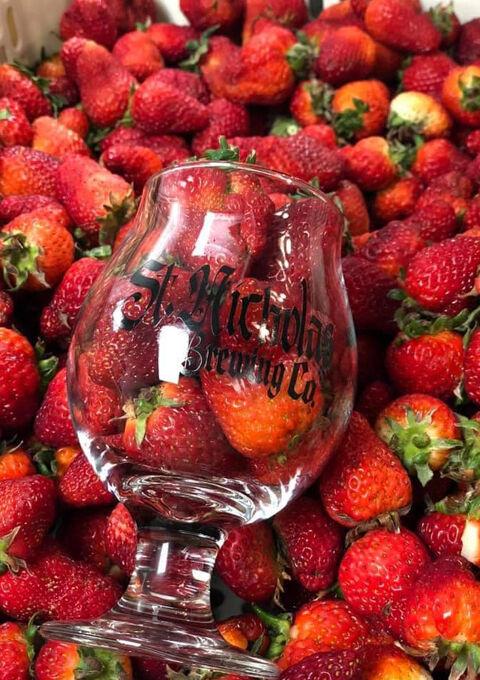 The care put into the food menu is mirrored in the brews, which are categorized as "naughty" or "nice" – capitalizing on the jolly side of the brewery's moniker. Nice brews use traditional recipes, while beers earn a spot on the naughty list when the brewmaster adds nontraditional ingredients. A popular naughty beer, the seasonal strawberry blonde is made with fresh strawberries sourced from southern Illinois. If you like fruity beers in the spring and summer, we also recommend the peach ale, raspberry wheat and Pelo-POG with passionfruit, orange and guava. In total, the brewery offers 12 beers (four flagship brews and eight seasonal options) on tap, all made onsite.
St. Nicholas Brewing Co. also serves classic and creative beer cocktails, from Micheladas to Radlers and the Third Floor (bourbon, blonde ale and lemonade) to the Beer & Juice (blonde ale, gin and lemonade).
Traditionally, the St. Nicholas Hotel was frequented by train travelers, and fortunately, the Du Quoin Amtrak station across the street from the brewery is serviced by both the Illini and Saluki train routes today. Just think: If you come by rail, you'll never have to debate whether or not you should have one more beer.