Every city has a hidden gem. In Alton, Illinois, it's the historic Beall Mansion.
Situated on a tree-lined street and surrounded by an acre of lush gardens with winding walking paths, the Beall Mansion is an early-20th-century Victorian home with a Roman brick façade. Here, guests can travel back in time to an age of opulence, when the patriarchs of railroad dynasties gifted grand mansions to their heirs as wedding presents.
That's the Beall's fantastical history. In 1902, a railroad baron had the home built on "Millionaire's Row" in Alton as a wedding gift for his son and daughter-in-law, the heiress to a tobacco fortune. Years later, the heiress sold the home to Illinois state senator Edmond Beall, and it became the Beall Mansion.
Fast-forward to 1996, when locals Jim and Sandy Belote took it upon themselves to transform the property into a bed-and-breakfast. The couple lovingly restored the home and added modern touches to create a romantic and luxurious getaway for visitors hailing from as far away as Asia.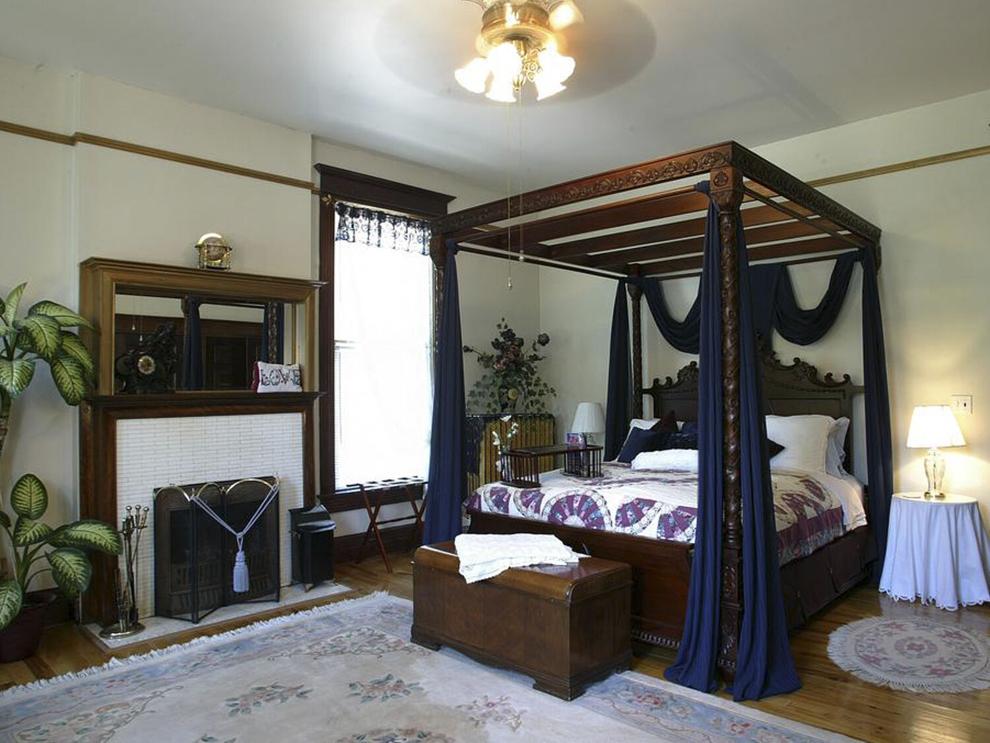 While the mansion's rich history draws a lot of attention, it's not the only highlight of the inn, which has won awards recognizing the outstanding customer experience. "People come here to be pampered," says Jim.
Guests can choose one of the B&B's lodging packages, depending on just how pampered they want to be. In the suites, the triple-sheeted feather beds come with guests' choice of pillows, and after a Jacuzzi bath – complete with Sandy's housemade lavender bath salts – they can wrap up in a plush robe and relax. Sandy's eye for detail is also apparent in the elegant Victorian décor, which is accented by antique art and Persian rugs.
After a restful sleep, guests can enjoy the next best part of the Beall: breakfast. A continental breakfast is available, but who wants that when you can have Tortuga rum French toast delivered to your bed?
"It's not like hotel room service, where they drop the tray at the door," says Sandy. "We personally deliver each guest their own tray to the bed. We fluff their pillows and make sure everything is just so. The only reason they need to lift a finger is to pour themselves a cup of coffee."
The food is made by Sandy and her kitchen staff because "homemade is always better," and the gourmet breakfast option features one of Sandy's scrumptious recipes such as the aforementioned French toast, housemade Belgian waffles or a salmon and spinach omelet with a drizzle of from-scratch Hollandaise sauce. A drink pairing rounds out the experience – think a refreshing cocktail of spumante, gin and St. Germain or an orange Muscat wine served with a chocolate-forward breakfast. (Zero-proof options are also available.)
The Belotes will adjust the menu to accommodate guests' dietary restrictions and/or preferences as well, and they even offer a grab-and-go breakfast as an alternative to the gourmet spread, which includes bagels, Danishes, hard-boiled eggs, yogurt, fruit, coffee, tea and juice. Due to COVID-19 restrictions, only the grab-and-go breakfast is available at this time, but don't worry – it's still an exceptional way to start the day.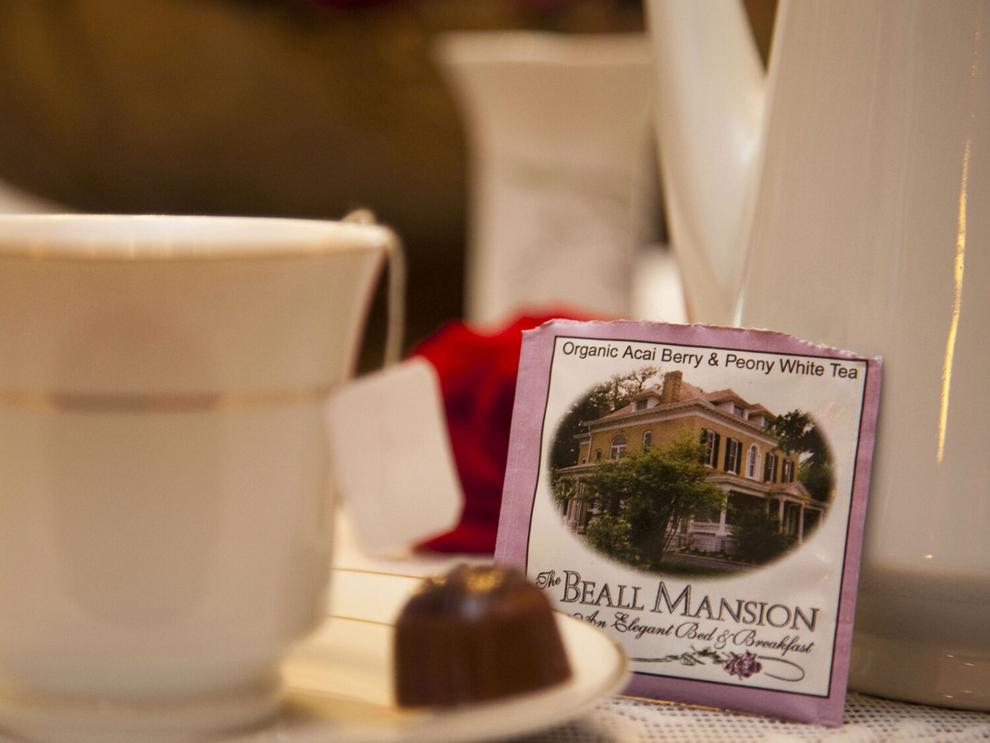 Even if guests skip breakfast, no one goes hungry at the Beall. The B&B has become known for its 24-hour, all-you-can-eat chocolate buffet with more than 20 chocolates to choose from, including dark chocolates, chocolate-covered fruits, cocoa espresso beans and even childhood favorites.
"It's got everything you could want," says Sandy. "From warm and fuzzy options like peanut M&M's to elegant dark chocolate-covered ginger."
The chocolate buffet is on hold for the time being; instead, guests receive a heaping plate of chocolates in their rooms. If you discover any favorites, Sandy will make sure you get your fill.
And a hot drinks bar with coffee, tea, hot cocoa and spiced cider made to order at no extra charge complements the endless supply of sweets. Details like these are what make the Beall more than a place to stay for the night.
For guests who want to learn more about the history of the property, Jim provides tours, where he offers insight into how this mansion came to call Alton, of all places, home.
"We're a little town in the middle of the country that 99 percent of the world has never heard of," he says. "But still, we have people from all over come to stay in Alton. There's more here than most people realize: Pere Marquette State Park, the Great River Road, eagle-watching. [Alton is] really a best-kept secret."
After your first visit, you'll surely add the Beall Mansion to the list of what makes Alton special.