When Paulus Gast's neighbors heard he was going to plant wine grapes, they urged him to reconsider. Potatoes would be a much safer choice. Twenty-four-year-old Gast had recently returned from fighting in General Sherman's army, and after marrying in 1865, he bought a few acres of land in the present-day St. Louis neighborhood of Baden. He and his new wife, Emily, cleared the brush themselves, and harvested their first grapes three years later. Gast had become a protégé of Stone Hill Winery founder Michael Poeschel before the Civil War, when he was just 19 and a student at Washington University in St. Louis. Gast built the successful Gast Wine Co. – he later switched to brewing – according to the tenets of viticulture he had learned under Poeschel in Hermann, Missouri; Poeschel even joined him in the enterprise after selling Stone Hill. Railroads took his wine as far as Florida and Boston – in 1892 alone, he harvested 100,000 pounds of grapes. Not long after Gast's death in 1906, Hermann boasted 60 wineries. Then came Prohibition. It took more than 80 years to rebuild Missouri's wine culture to its former volume – and it certainly didn't happen overnight.
Missouri finally allowed the issue of domestic winemaking licenses for up to 5,000 gallons in 1943, and St. Louis doctor Axel Arneson first planted hybrid grapes in 1951 (what was previously his livestock farm later grew into Peaceful Bend Winery in Steeleville, Missouri). In 1957, William B. Stolz planted Concord grapes outside of St. James. Others followed, and by the time the production limit was increased in 1973, Stone Hill Winery was making 60,000 gallons per year. The Missouri wine industry was back in business, and its legacy would soon be cemented, thanks to a new designation from the U.S. government.
An American Viticultural Area, or AVA, is a wine-grape-growing region defined by specific geographic characteristics and boundaries, as designated by the Alcohol and Tobacco Tax and Trade Bureau. Similar to European requirements – legally, a sparkling wine must be made in Champagne, France, to be called Champagne, for instance – 85 percent of a wine's grapes must be grown within the AVA if the area is referenced on the label.
But the very first designated AVA was not Napa Valley, or even Sonoma, but Augusta, Missouri. It was granted the designation on June 20, 1980, eight months before Napa Valley became California's first AVA. The basic idea is that each AVA has climate and soil that affect the characteristics of the wine. In Augusta, the soil is Hayne Silt-Loam, a mixture of clay and silt – heavily clay in lower elevations and more silty at higher elevations. Hermann is characterized by sandstone bluffs and a fertile river valley, the combination of which helps counter mildew caused by humidity. The climate in Missouri's third AVA, the Ozark Highlands, is drier than the other two, but the soil, a combination of sandy loam and clay, retains moisture. All three are now encompassed by a larger AVA: Ozark Mountain.
When most 19th century settlers began to arrive in rural Missouri in earnest, they weren't planning to plant vineyards. Although wild grapes wound around the ridges and valleys of the Missouri River, the first German pioneers were hoping to build a center of manufacturing and agriculture, like St. Louis. What they built was the foundation for today's wine country.
Hermann
When Michael Poeschel first moved to Hermann from Altenburg, Germany, in 1839, immigrants from the Rhineland had come in search of a better life, wooed by Gottfried Duden's popular account of the fertile land in mid-Missouri. Settlers quickly realized that the extreme temperature shifts and weather conditions, coupled with Hermann's rocky terrain, would not support much agriculture. "The topography of the surrounding country is very irregular," according to 1907's The German Settlement Society of Philadelphia and Its Colony, Hermann, Missouri. "Some of the land is extremely broken. But very little of the land around the site of the proposed town is adapted to extensive agriculture." Author William Godfrey Bek notes that there was good farmland, but it was too far away; Bek guesses that the land was chosen because it resembled Bavaria.
Grapes were already growing in Missouri, but the wine being made with wild grapes, to put it mildly, was not good. Cultivated varieties such as Catawba, Norton and Concord gave the founders of Hermann more hope. "Soon after their establishment, [the Germans] came to the idea of making experiments with the refining of the vine," wrote Gert Goebel in his 1877 memoir of German life in Missouri, Longer Than a Man's Lifetime in Missouri. "For everywhere in the wood, and even in the rocky mountains, wild and gravely grapes grew in abundance, and … they could easily recall the vineyards in their old home on the Rhine… And thus the first impulse was given."
As early as 1844, the town was offering parcels of land for just $50, to be paid, interest-free, over five years; the only condition was that they be used to grow grapes. In the end, 600 "grape lots" were sold, and Hermann's defining industry was born. Within 10 years, 500 acres of vineyards encompassed the town.
"I think it reminded them of their native Germany: The conditions were ideal, and it really prospered," says Jim Anderson, executive director of the Missouri Wine and Grape Board. "You have the right pieces there for everything to go well – the Missouri and Mississippi rivers, growth of the railroads, proximity to St. Louis. All the components were there to set Missouri up to become an exporter of wine to the U.S. and around the world."
Adam Puchta, too, arrived from Germany – Oberkotzau, in Bavaria – in 1839 when he was just 7 years old. Family lore holds that the Puchtas left for the New World after authorities told them to ditch their wine grapes for other crops as part of a government mandate. Puchta left Missouri on April 15, 1853, to drive a herd of cattle to California – and then stayed for the gold rush after the cattle were sold. He returned a year later with enough money to purchase acreage from his father, where he made his first wine using a combination of wild grapes and grapes from his father's vineyard in Hermann. He soon "settled in the woods, cleared a fine tract of land of 100 acres, and [was] successfully engaged in farming and wine-growing," according to 1888's History of Gasconade County. He also took on the duties of school director and "roadmaster," among others.
Poeschel, though he had no prior winemaking experience in Germany, started what is now known as Stone Hill Winery under his own name in 1847; his first offering at market was just 1,000 gallons of wine from the Isabella grape. Hermann held its first Weinfest the next year, complete with cannon fire in honor of Bacchus. "An entire cavalcade made its way to the vineyard of Mr. Michael Poeschel, and as a matter of fact, I didn't regret having traveled the long distance of 20 miles when I beheld the splendid grapes there with my own eyes," wrote Goebel.
"His bearing vineyard covered hardly the area of a single acre, but the rows of posts seemed to consist of nothing but a wall of grapes and among them not a single rotten berry was to be found. The product of the vintage of this small vineyard was a very expensive but good Catawba, which when it is treated right resembles Rhinewine very closely."
Poeschel soon brought on another German-born Missourian, John Scherer, to help expand the business; they adopted the name M. Poeschel & Scherer in 1861.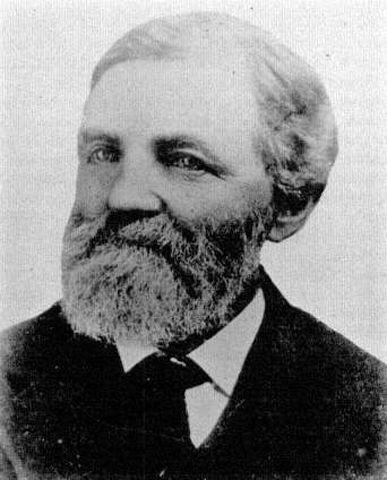 Their friend George Husmann, who had arrived in Hermann around the same time, had planted his first grapes on his father's farm in 1847. A German biologist who went on to become one of the fathers of the Missouri grape industry, as well as California wine country, Husmann owned several vineyards and orchards in Missouri. The land where he planted his first vines is now OakGlenn Winery, which still tends five rows of his original grapevines.
As the Civil War intensified, dividing the country, winemaking continued; Hermann exhibited 35 grape varieties at the Gasconade County Fair in 1862. Confederate forces raided Hermann in 1864, and proceeded to consume all of the wine in Husmann's cellar. Husmann was well-educated but a self-taught viticulturist; just two years after his pride and joy was pillaged by Confederate soldiers, he published the seminal The Cultivation of the Native Grape, and Manufacture of American Wines. His philosophy – one that still guides American winemaking today – was that the winemaker, through science, can have a precise effect on the wine produced with his grapes.
M. Poeschel & Scherer was well on its way to becoming the third-largest winery in the world when it won its first World's Fair Gold Medal in 1873 in Vienna. Poeschel and Scherer sold the winery to two of their longtime managers, William Herzog and George Starck, in 1878. By 1883, Herzog and Starck were the sole owners of the winery, which they renamed Stone Hill Wine Co.
The two younger Germans proceeded to build upon the winery's early success over the next 15 years and grew Stone Hill to 35 acres of vineyards, which produced, along with grapes bought from surrounding counties, 200,000 gallons of wine a year. The cellars were expanded several times, and were famous for 12 gargantuan casks, known as the "apostles," which held 1,500 to 2,000 gallons each.
"Their wines are, undoubtedly, the purest made in the world," gushes History of Gasconade County, "as the numerous gold and silver medals conferred upon them, as wine manufacturers, by various national and international expositions, testify."
Starck and his wife, Laura, built one of the most expensive private residences in Gasconade County in the 1880s; the kitchen was described as "a model of convenience" and the home included steam heating and gas lighting. Herzog, who began his career at Stone Hill as a traveling salesman – as did Starck – became "one of Hermann's substantial citizens." Scherer, "justly conceded to be one of the most influential citizens of Hermann," was president of his old friend's Gast Wine Co. as well as the Hermann Savings Bank. Poeschel and his wife, even after he retired, were named "well known and worthy citizens of the county."
They were hardly the only winemakers in Hermann, but the four men, their colleagues and descendants were among the most respected pillars of the community at the turn of the century. But when the Volstead Act went into effect, everything changed. Starck died in 1917, so it was his sons, Ottmar and Louis, who ordered Stone Hill's grapevines be ripped up from the roots on the eve of Prohibition in 1920. Stone Hill did spirit away the 12 "apostle" casks to Germany for safekeeping, but they were never seen again. Stone Hill's cool, dark cellars were converted to mushroom caves during Prohibition; they didn't see another cask of Missouri wine for 45 years.
In the 1960s, Stone Hill's cellars were still growing mushrooms. Owner Bill Harrison was planning an exit from the mushroom business and wanted to see Stone Hill restored to its former industry. Farmers Jim and Betty Held owned a small vineyard in the area and made wine at home, and Harrison invited them to "try out" the wine business in 1965. Thirteen years later, they brought on winemaker Dave Johnson, who still spearheads winemaking at Stone Hill today.
"The first wine that got some notoriety was our '79 Reserve Norton," Johnson says. "We used no water or sugar, gave the Norton grapes a long fermentation on the skins and employed a secondary, or malolactic, fermentation. Then we aged the wine in high-quality oak wine barrels. The results were exceptional, and the next year, we made all of our Norton like that. We began getting a lot of good press; it certainly awakened people to the idea that good, quality, dry red wine could be made from Norton, and could be made in Missouri."
Adam Puchta's son and grandson – Henry and Everett Puchta – were forced to pull up their vines by the roots, too. Government agents hacked all but one of their 15 oak fermentation casks to pieces. At Adam Puchta Winery's height, it sold 10,000 gallons of wine cultivated on 1,000 acres; still, the grape-press room was converted into a barn, and the remaining 86 acres of land – the family had to sell off land to get by over the years – became a more traditional farm. Even after Prohibition was repealed in 1933, the Puchtas simply made Norton wine for the family. Many farmers during that time were similarly reluctant to replant grapevines for commercial production – what if Prohibition was reinstated? Everett's grandson, Tim Puchta, grew up helping out at nearby Stone Hill and went to school with the Held children, but Everett never wanted to reopen the winery.
"Adam passed away in 1904, so he never saw Prohibition; Henry passed away in 1928, so he didn't live to see Prohibition repealed," Tim says. "My grandfather lived through Prohibition and the Depression. Financially, they were decimated, [so] he had no desire to get it back up again." Everett Puchta died in 1988, and two years later, Tim and his father, Randolph, planted three acres of Norton grapes, renovated the facilities for a production capacity of 1,000 gallons and reopened Adam Puchta Winery to the public for the first time in 70 years.
"[If Everett were still around], I would have gotten a lot of, 'Oh, you guys are crazy!' remarks," Tim says with a laugh. "Grandpa was a hardworking man, but he was an old, pessimistic German sometimes. My grandmother would have been absolutely pleased as punch to see it going. I think after he saw what happened he would've been delighted, because he liked his wine."
Augusta
Gottfried Duden's somewhat fictionalized account of his three years in mid-Missouri lured German settlers to Augusta, Missouri, too. "Grapes from the Rhine would do very well on the Missouri [River]," he promised. The first few to arrive were dubbed "Latin peasants" due to their "greater command of the classics than farming," according to a 1990 Historic Preservation survey of Augusta. Among the Latin peasants were brothers Friedrich and George Muench, who arrived from Giessen, Germany, in 1834. George bought a seven-acre piece of land on the edge of Augusta in 1859, built a fachwerk timber-frame house – which still stands – and he and Friedrich planted the first grapes that would become Mount Pleasant Winery. Grapes were cultivated in Augusta as early as 1847, though, as its citizens saw the early success of Hermann's vineyards.
There were 14 winemakers in Augusta by 1868, as well as a winemaking co-op, the Augusta Wine Co., which featured a communal wine cellar and hall. George Muench reported 400 gallons of wine production at Mount Pleasant in 1860 – although well behind Stone Hill, he was by far the biggest vintner in Augusta.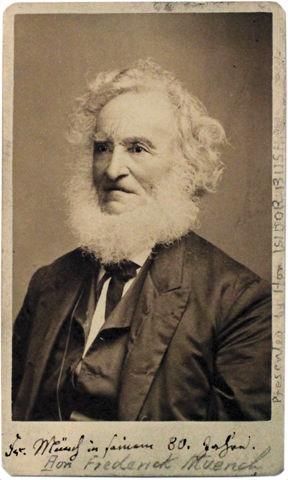 George was a gunsmith by trade, but he took an interest in winemaking through his brother, Friedrich, who had been growing grapes since at least 1846. Friedrich published School for American Grape Culture, a treatise in German that laid out instructions for establishing vineyards in Missouri, in 1859. "The vine-dresser, free, lord of his own possessions, in daily intercourse with peaceful nature, is a happier and more contented man than thousands of those who, in our large cities, driven about by the thronging crowd, rarely attain true peace and serenity of mind," Friedrich wrote. "With the growth of the grape every nation elevates itself to a higher grade of civilization – brutality must vanish, and human nature progresses."
Both brothers were ordained Lutheran ministers in Germany, as well as Enlightenment scholars and ardent abolitionists. Friedrich, who became known as "Old Father Muench," continued to cultivate grapes and make wine literally until the day he died. On December 14, 1881, 84-year-old Old Father Muench "was found dead among his beloved vines, one fine winter's morning of that year, with the pruning shears still in his hand."
Mount Pleasant tripled production over the next decade; George Muench Jr. sent much of the winery's 7,000-gallon yield to Chicago in 1893, where it won a gold medal at the World's Fair. Mount Pleasant continued to grow until 1920, when Prohibition forced it to close. Equipment was destroyed, and the vineyards were set on fire.
Lucian and Eva Dressel purchased the historic property in 1966, making 26-year-old Lucian the youngest person in the country with a license to operate a winery. They replanted the vineyards with native and European-grafted varieties, and Dressel was later instrumental in making Augusta the first legally recognized viticultural area in the country. Today, Mount Pleasant is operated by the Dressels' nephew, Chuck, and grows 12 varietals on 78 acres.
Ozark Highlands
Winemakers in the Ozark Highlands grow grapes much differently than their counterparts in mid-Missouri, thanks to their Italian roots and the area's unique climate. Unlike the bluffs along the Missouri River, St. James, Missouri, and its surrounding areas feature a combination of stream bottoms, prairie and cedar forests, with a relatively dry climate.
In 1895, an Arkansas cotton plantation owner, Austin Corbin, came up with a scheme to import hardworking sharecroppers from northern Italy to make a profit; after making a deal with the mayor of Rome, he sold dozens of poor northern Italians pieces of his land at heavily inflated prices, complete with a built-in economy (a bank, stores, food markets) that would ensure they stayed in debt to him. Within a year of their arrival, the remaining Italians – many had died of malaria, while others returned home – set out in search of better opportunities.
Eighteen-year-old Louis Zulpo, who had come to Arkansas with his family from Venice, and 31-year-old Antonio Piazza, also from Venice, scoped out Knobview, Missouri (today called Rosati); they hoped to find a place more like northern Italy. Zulpo and Piazza negotiated, with the help of St. Louis archbishop John Glennon, to buy 120 acres of land from the Frisco Railroad, and soon 30 families came to start a new life.
By the turn of the century, the Italian community extended to St. James, just a few miles west. They attempted to plant vine cuttings from their native Italy, but everything died. Concord grapes from their  French-speaking neighbors in Dillon, Missouri, proved hardier; Zulpo planted the first vineyard. He, Piazza (who became the city's longtime postmaster) and others were able to keep their vineyards going through Prohibition by producing grape juice as well as table grapes and other fruits. Thanks to this work-around, Meramec Vineyards in St. James still boasts a five-acre block of Concord grapes that were planted in 1921.
"A cooperative winery soon failed," according to the State Historical Society of Missouri, "but the Welch Grape Co. began purchasing entire harvests in the 1930s for jellies and jams. Thereupon grapes became the basis of a thriving local industry."
When the U.S. entered World War II, Welch's scored the government contract to provide jam and jelly for the troops in Europe. The company needed quality Concord grapes, and knew just where to get them: St. James, where there were more than 1,000 acres of grapes in 1930, when most vineyards in the state had been destroyed. Many grape-growers signed exclusive agreements with Welch's in 1947 with provisions that allowed them to sell at roadside stands and to other buyers.
Commercial winemaking didn't return to St. James until the 1960s. With a degree in industrial fermentation from the University of Oklahoma, Jim Hofherr worked for Falstaff Brewing Corporation in the early 1960s. At the time, Carl and John Bardenheier, owners of St. Louis' Bardenheier Winery, which bottled and distributed California wines that arrived by railroad, decided to "make a shift and include regional wines in their product mix," says Hofherr's son, Peter, now chief executive officer of St. James Winery.
"Because of Dad's fermentation experience, they recruited him to set up the winery, buy Missouri grapes, and make and bottle the wine," Peter says. "Before starting, Dad went out to the University of California-Davis to retool his skills for wine fermentation."
Jim Hofherr met Jim Held of Stone Hill during this period. "Jim and his brother, Don, owned a 10-acre Catawba vineyard on their diversified farm," Peter says. "When the Helds purchased Stone Hill, our family would go out to Hermann, where Dad and Mr. Held discussed winemaking, and our families helped with whatever chore was the current project."
Following Held's example, Jim Hofherr and his wife, Pam, opened St. James Winery in 1970 with an initial capacity of 8,000 gallons. "When I was a kid, Jim Held and my father spent a lot of time in Jefferson City, removing some of the legal roadblocks that were put there after Prohibition," Peter says of a provision limiting the production size of wineries. "They got [then-Missouri] Governor Teasdale to put together a [winery] advisory committee for the Director of Agriculture. That was the start of the industry working together to put money into research and promotion of the industry."
Now, St. James produces more than 500,000 gallons of wine per year, and its Vignoles has taken the state's most prestigious wine award – the Governor's Cup – at the Missouri Wine Competition for the past two years.
---
Today, roughly 130 Missouri wineries cultivate native, European and hybrid grapes to produce more than 1.25 million gallons of wine annually – resulting in a $1.76 billion impact on the state's economy. Missouri's wineries win national and international awards. Still, as Tim Puchta laments, Prohibition changed everything for local winemakers.
"You sit back, and you look at when this area was so huge in the wine business from an economy standpoint," he says, "If Prohibition had not happened and not devastated this area, what would it be like now? Based upon how successful we were even as a small winery in the 1800s, you just look at that and you're like, wow – what could've been."
As for the future, while companies across the country complain that they can't attract the interest of millennials (those born between 1982 and 2000) the wine industry has an advantage; millennials are drinking more wine than any other generation. Millennials swigged 42 percent of all wine consumed in 2015, according to a study from the nonprofit Wine Market Council.
"Millennials appear to be very interested in learning about wines and discovering local products," says Jim Anderson of the Missouri Wine and Grape Board. "You're going to see a lot of winemakers doing different things like introducing new wine blends, eau de vies, brandies, even craft beer, continuing to be an agritourism destination. We've got close to a million people visiting Missouri wineries every year."
The key, winemakers say, is simply getting Missouri wines in front of people.
"We have some pretty distinct regions [in Missouri] – I think that's critical," says Peter Hofherr at St. James. "The better the varietals are known, and we continue to work on quality in the vineyard and the cellar, we'll see a continued expansion of the industry. People are more interested in buying local and experiencing what their state has to offer, and I think that's the trend that's driving our development."