Two new dining concepts are coming to Grand Center this fall: On Oct. 3, ANEW Rooftop and Test Kitchen will open inside the Big Brothers Big Sisters Building at the corner of Grand Boulevard and Olive Street.
Becky J. Hatter, president and chief executive officer of Big Brothers Big Sisters of Eastern Missouri (BBBS), describes ANEW as mission-driven for the organization, as the rooftop restaurant will build enduring relationships that support young people. She is also quick to emphasize that the concepts weren't developed solely for the organization, however – ANEW and Test Kitchen were created for the community to gather and enjoy great food and drink in one of the neighborhood's more historic spaces. To that end, there will be very little if any signage promoting BBBS inside either space, as it retains its own brand and identity apart from the organization. 
"Every day we have to eat, we love to eat, and why don't we use it as an opportunity to build relationships?" Hatter says. "I love the idea that it is our home: It's one thing to go out to dinner with someone and it's another thing to be welcomed into someone's home and sit at the kitchen table. I love the fact that this is somewhere in between. When we have our events, it kind of turns into our home, but for everybody else, it will be their venue, their space."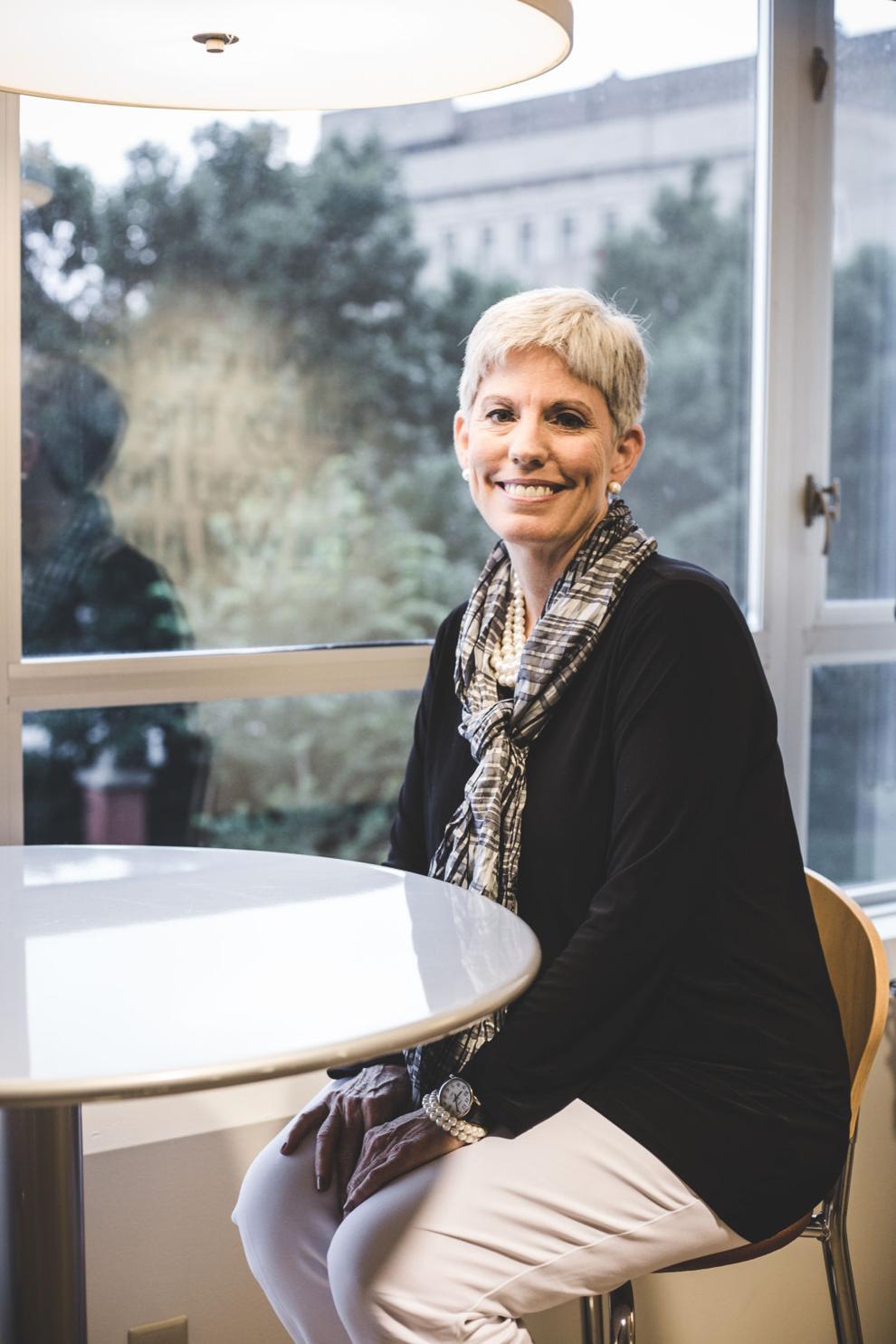 Located on the building's fourth-floor rooftop with sweeping views of Grand Center and Midtown, Anew is a full-service restaurant open for public and private events. Guests access the restaurant from the first floor, just steps away from BBBS' main entrance at 501 N. Grand Blvd., and take an elevator up to the rooftop. The restaurant will host four resident chefs in its first year: Kelly Spencer of The Social Affair and The Station, David Bailey of Baileys' Restaurants, Holly Cunningham of Nourish by Hollyberry and James Allen, the chef-owner of Celebrations Restaurant in Cape Girardeau, who Hatter names as a close personal friend as well as a friend of the organization. Each of the chefs are experienced with catering as well as running restaurants or dinner series, which proved a crucial intersection for Hatter and her team.
"We wanted them to know how to do special events and also be able to do sit-down dinners," Hatter says. "There will be times when someone has a party and they act as a caterer, but there will be other times when they have complete flexibility to set up public dinners."
Hatter says the dining room has capacity for 250 people during cocktail parties, and sit-down dinners range from 72 for traditional restaurant seating or up to 84 comfortably with farm tables (seating includes ANEW's large, glass-enclosed patio). ANEW plans to host around 100 events in its first 12 months – including a grand opening party on Oct. 3 – plus about 25 original content events with the resident chefs as well as local collaborations. BBBS has brought on Corey Smale as ANEW's creative director; in this role, Smale will help coordinate events for ANEW and will manage the social media and marketing for both spaces. Smale first connected with Big Brothers Big Sisters of Eastern Missouri through Strange Donuts, which he co-founded and left earlier this year to open Good Fortune in the Central West End.
Smale is also managing the pop ups and rotating chefs for Test Kitchen, located on the building's first floor, situated next door to ANEW's entrance. Test Kitchen will serve breakfast and lunch Monday through Friday from 7am to 2pm and, the space seats around 35. Three chefs will be featured during the fast-casual restaurant's first four months in business (October to January), according to Smale, but the lineup hasn't yet been finalized. Chefs who partner with Test Kitchen receive reduced rent for the space and commit to donating 10 percent of their overall proceeds to BBBS.
"There's nothing really being done like this [in St. Louis]," Smale says of Test Kitchen. "At first we were talking about doing 12 pop ups this year, [but with] three in four months they still feel like pop ups, but with some consistency. And it's also filling a void – there's nowhere to eat down here right now [for breakfast and lunch]."
Hatter also sees Test Kitchen as an investment in the Grand Center neighborhood – one that she hopes will lead to job creation in the neighborhood and beyond.
"We're right here in this amazing district, and whatever we could do to help enliven it would just be icing on the cake, right? It's a contribution we ought to make," Hatter says. "The test kitchen is going to be creative, vibrant, exciting, but it's also ultimately about launching more business in the neighborhood, or wherever. If [chefs] go on to open a restaurant [based on their pop ups], it's job creation. I think we've got to be a part of that."
The grand opening of ANEW also marks yet another chapter for the building, which housed a Woolworth department store from 1950 until its closure in 1993. In the 1960s, peaceful protests and sit ins were common sights at the store's segregated lunch counters. Since moving into the building, BBBS has made significant renovations to the space, and as the organization states on its website, "Once the site of historic pickets and protests, the building is now transformed into a site that welcomes, embraces and serves boys, girls, men and women of all races." 
With ANEW Rooftop and Test Kitchen, Hatter hopes to further transform the building into a place where people in the community can get together to dine, drink and form deeper connections.
"I'm a big fan of social media and progress, but all of these gadgets can't replace human relationships," Hatter says. "I think we have to go back to the table, back to relationships, back to trust. At the end of the day, it's truly anew." 
Anew Rooftop and Test Kitchen, 501 N. Grand Blvd., Grand Center