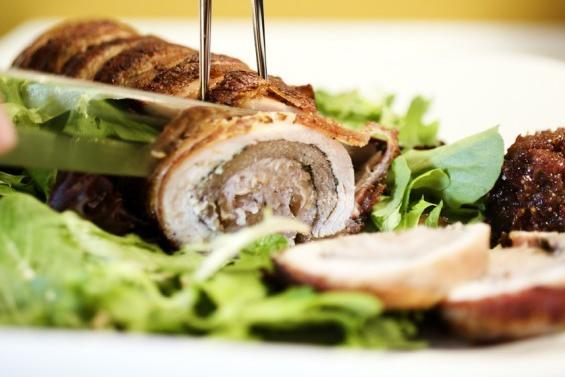 Every family has its own Thanksgiving traditions. About five years ago, Turducken was the latest food craze and became a new tradition for many American families. While many people know that Turducken has actually been popular in the South, particularly Louisiana, since the early 1980s, what few people know is that variations of this crazy concoction date back to the 1800s and have been popular in the U.K. and France ever since.
Turducken is firmly rooted in classical culinary techniques, but in that sense, it would be called a ballotine. In fact, royal feasts would almost always feature some sort of stuffed, roasted bird.
The more types of birds used in the dish, the more esteem it was given. Famed gastronomist Grimond de La Reynière is credited in Larousse Gastronomique with creating a ballotine where 17 different fowl were stuffed inside one another.
Herbert's Specialty Meats in Tulsa, Okla., is often credited with inventing Turducken, and in their classic method, the turkey, duck and chicken are all deboned and left whole. A task even I, as a chef, will admit is not easy or fun. Each bird is seasoned and separated with a cornmeal stuffing. Baking time is four hours, and most do-it-yourself recipes cite the prep time to be about the same.
That equals eight hours of my Thanksgiving I would rather spend chasing kids around the backyard, watching football with my dad or preparing the other 12 dishes I have planned. Turducken is just begging to be simplified, and in my opinion, improved upon.
Enter the cheat. In my version, prep time is cut down to 30 minutes, and bake time reduced to 90 minutes. Rather than debone an entire bird, I simply layered the breasts of the turkey and duck and introduced the chicken in the form of a store bought chicken-apple sausage, which is quick, flavorful and simple. And in true form, I wrapped the whole thing in bacon.
The end product is tender, juicy and a crowd-pleaser. I never thought I would say it, but without a doubt, we will be serving Turducken at my home this Thanksgiving.
TURDUCKEN
Turducken is all about the meat, so choosing high-quality meats is very important. Use a nice applewood smoked bacon, all-natural chicken sausage and fresh turkey breasts for the best results.
Serves | 6 to 8 |
6 cups water
1/3 cup kosher salt
1 boneless, skinless turkey breast
2 boneless, skinless duck breasts
2 Tbsp chopped fresh sage
2 Tbsp c hopped fresh thyme
salt and freshly ground black pepper
2 chicken-apple sausages
12 slices hardwood smoked bacon
butcher's twine
2 Tbsp olive oil
cranberry relish, as garnish
| Preparation | Bring water and salt to a boil in a large pot, then remove from heat. Once cool, submerge turkey breast in brine for at least 1 hour, up to 12 hours. Remove turkey and pat dry.
Preheat oven to 325°F. Place turkey breast on a large cutting board and cover with a large piece of plastic wrap. Using a meat mallet, gently pound the turkey to an even ¼-inch thickness. Do the same with the duck breasts.
Season the turkey and duck breasts with fresh herbs, salt and pepper. Lay the turkey breast flat then top with the duck breast. Place the two sausages the length of the breasts. Bring the sides of the breasts up around the sausage and press together to hold, creating a roulade. Set aside.
Layer the bacon, slightly overlapping, on the cutting board. Place the roulade on top of the bacon, seam side up. Bring the bacon up around the roulade, overlapping the ends. Truss with butcher's twine to secure.
Place the olive oil in a large, nonstick pan over high heat. Once hot, add roulade and turn on all sides to sear bacon. Place roulade on a parchment-lined baking sheet and bake for 90 minutes, or until an internal temperature of 170°F is reached. Allow to rest for 10 minutes before slicing.
Serve with cranberry relish (recipe below).
Cranberry Relish
Yield | 3 cups |
1 orange, zested, peeled and quartered
12 dried figs, cut into quarters
3 cups dried cranberries
1/2 cup fresh squeezed orange juice
| Preparation | Place orange pieces in a food processor, and process until finely diced, about 30 seconds. Add figs, cranberries, and concentrate; pulse until coarsely chopped, 5 to 6 pulses. Transfer to a bowl, cover and place in the refrigerator to sit overnight.
---
Cassandra Vires is the executive chef and manager of Ernesto's Winebar in Benton Park. She received her culinary training in Houston, Texas, and has a knack for reimagining classic dishes.