Around 4:30am each day, Kaylen Wissinger, owner and baker of Whisk: A Sustainable Bakeshop, arrives at her Cherokee Street shop. It's dark, it's early and for Wissinger, it's time to bake.
Seven days a week, you will find Wissinger in her bake shop's kitchen, mixing dough and baking all of the items sold that day in her bakery case. On Monday and Tuesday when the shop is closed, Wissinger is still up early baking, cleaning and making deliveries to numerous local shops around the city.
"I don't have days off," Wissinger says jokingly. "I have hours off." And this holiday season, Wissinger has been especially busy with cookie orders, holiday parties and last-minute requests.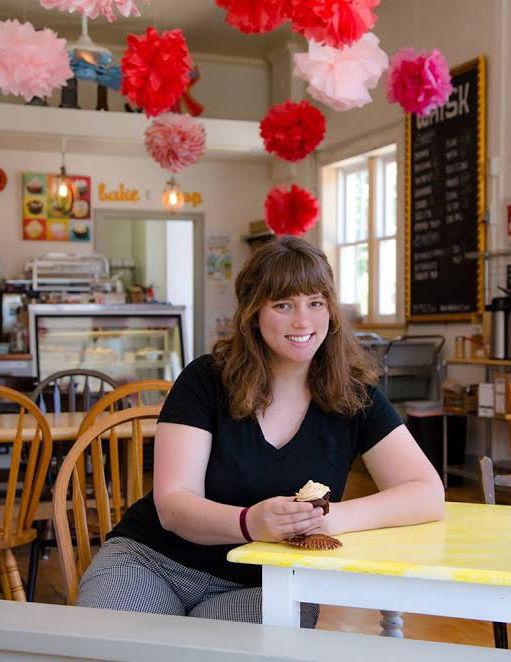 When Whisk opened its doors a little over four years ago, a vegan ginger cookie was one of Wissinger's opening day items. It's a recipe she's had since 2011, when she was baking for the former Local Harvest Cafe. This soft, spicy and delicious ginger cookie has remained a regular menu item at Whisk and during the summer at its stand at Tower Grove Farmers' Market.
To make the ginger cookie vegan, Wissinger uses canola oil and applesauce as the binding agents. "The applesauce is sort of the secret ingredient," Wissinger explains. "It doesn't taste appley once it's baked." Plus, the oil and applesauce keep the cookies soft.
For easy measuring and uniformity, especially with a large amount of baking this time of year, Wissinger recommends a cookie scoop for scooping the cookie batter and an ice cream scoop to make the perfect cupcake portions. And if you're following a recipe, Wissinger advises against taking shortcuts. "You'll be disappointed if you do," she explains, as each step is in a recipe for a reason. "It won't be as good as it could be."
Wissinger first fell in love with baking in college, and it's become a major part of who she is today. Her bake shop is a place customers can feel at home. Wednesday through Sunday, Wissinger will be at her shop until it closes each evening.
"If I go anywhere after work," explains Wissinger, "I'm bringing a box of cookies with me." And you can bet this holiday season she will pack up a box of cookies and take them with her to Chicago when she and her husband celebrate with their family. There may even be a few of these vegan ginger cookies in the bunch.
Whisk: A Sustainable Bakeshop's Vegan Ginger Cookies
1 cup sugar
¼ cup applesauce
¼ cup molasses
1/2 cup canola oil
1 tsp vanilla extract
2 ¼ cup all-purpose flour
1 tsp baking soda
¼ tsp salt
2 tbsp ground ginger
1/2 tsp ground cinnamon
¼ tsp ground cloves
1 Tbsp almond milk
candied ginger
turbinado sugar
| Preparation | Preheat oven to 350°F. Line a baking sheet with parchment paper.
Combine sugar, applesauce, molasses, canola and vanilla extract in big mixing bowl. Mix until combined; scrape down the sides of the bowl. Add all the dry ingredients in batches while mixing, until combined. Add in almond milk at the end.
Scoop cookies with ¼ oz cookie scoop. Flatten with the palm of your hand, then top with torn candied ginger and a sprinkle of turbinado sugar.
Bake for 8 minutes, then rotate pans and bake for about 4 more minutes. Time may vary, depending on your oven. They'll be done when firm in the middle. 
Whisk: A Sustainable Bakeshop, 2201 Cherokee St., Cherokee Business District, St. Louis, Missouri, 314.932.5166, whiskstl.com