If you've ever craved a giant slice of New York-style pizza after a night of bar-hopping in The Grove – and, let's be real, who hasn't? – you're in luck.
Pie Guy Pizza has opened its doors next door to Gezellig bar and bottle shop, and the small but mighty joint serves both whole pies and pizza by the slice. Owner Mitch Frost got his start tossing pizza dough at Dewey's Pizza when he was around 17, later going on to work at local Pi Pizzeria and Onesto Pizza & Trattoria. While at Onesto a few years ago, he landed a gig teaching pizza-tossing classes at Kitchen Conservatory, and the idea for Pie Guy began to take shape.
"I got super lucky," Frost says. "I was working at Onesto at the time and they were sponsoring this class, and it got me to practice my recipes every month, pretty much, and teach people and get confident in my skills. And then my buddy Brandon [Cavanagh], who owns Gezellig, had this little space next door, and knew I do pizza, and it just came to fruition."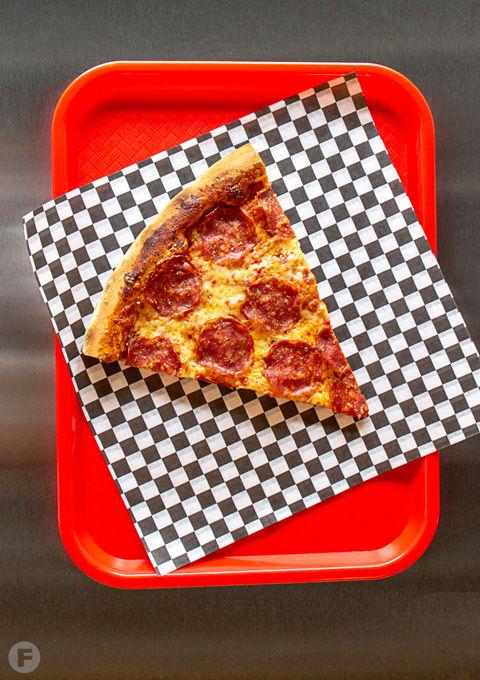 At Pie Guy, diners can customize an 18-inch pizza with a range of toppings like sausage, pepperoni, bacon, artichoke, green pepper, mushroom, olives or spinach. Pizza is also available by the slice, including cheese, pepperoni, sausage or veggie options. From 1 to 3:30am on Fridays and Saturdays, Pie Guy sells its $4 and $5 slices via a late-night window out front, bringing some much-needed, quality late-night eats to the bar-saturated neighborhood.
"My favorite thing about this pizza is that I didn't hold back on the ingredients, which I think sets me apart," Frost says. "I'm getting my flour, tomatoes and olive oil from Italy, and all of that stuff goes into the dough. I'm using a naturally fermented sourdough strain that I've come up with, and it adds a little body to the dough and makes it definitely healthier for everybody."
In addition to pizza, Pie Guy also serves olives, pistachios and chips, plus garlic knots with red sauce and pretzel sticks with either butter or grain mustard. Frost is currently working on a pizza-nachos appetizer ("It's basically nachos with pizza sauce and toppings," he says) and this past weekend, he collaborated with Byrd & Barrel on a special fried-chicken pizza. The idea was initially sparked by the surplus fried chicken Byrd had prepared for Loufest, but Frost says the special was so popular that he hopes to run it again.
The Pie Guy shop is small, so diners are welcome to enjoy their pizza inside the bar at Gezellig too. "Their tap and bottle selection really goes hand in hand with the pizza shop," Frost says. "They have 28 taps and 400-plus types of beer that you can buy or take home, so that's a big help for us since we don't sell booze. We're separate [businesses], but we're definitely together."
Pie Guy Pizza is open Tuesday through Thursday from 4:30pm to midnight, Friday from 4:30pm to 3:30am and Saturday from noon to 3:30am.
Pie Guy Pizza, 4189 Manchester Ave., The Grove, St. Louis, Missouri, 314.899.0444, pieguystl.com