Started by sisters Aubree and Amanda Schreder in February of this year, Pax Coffee Co. offers that quintessential barista experience outside of a coffee shop. 
After spending years in the coffee industry – both Aubree and Amanda worked as baristas, and Aubree also helped open a local café – they decided to start their own coffee catering company. "There was simply a lack of good coffee in the event industry," says Aubree. "And we decided to fill the gap in the market."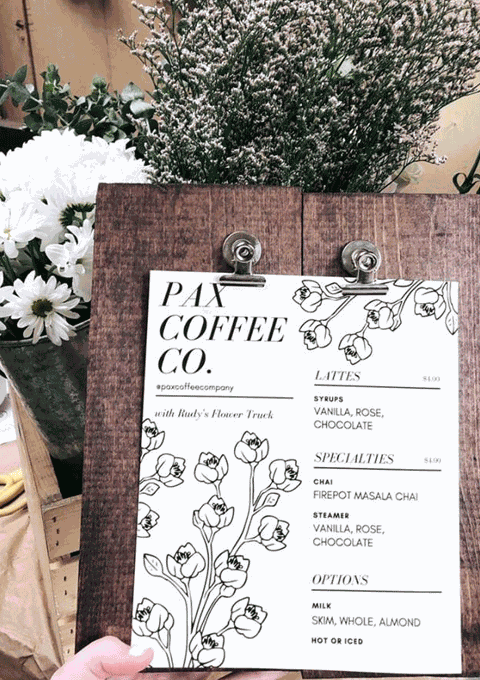 Pax provides made-to-order espresso-based drinks via a mobile coffee machine setup to create the right atmosphere at any special event. "We never take over an event," Aubree explains. "Rather, we try to blend in to whatever space, motif and atmosphere our client has chosen."
They utilize a portable, commercial-grade espresso machine that only needs electricity to function. "It's not even dependent on a water line," says Aubree, "so, as long as we have a power source, we can make coffee pretty much anywhere!"
The sisters will also help you design a signature latte menu for your party, wedding or corporate event, suggesting syrup flavors to complement any food menu. Available syrup flavors include vanilla, chocolate and rose, but the sisters are currently collaborating with St. Louis chef Josh Charles to create their own recipes for new and improved syrups. 
"We're all really excited about the collaboration," says Aubree. "Josh is a big fan of coffee; we're big fans of food. And he's currently concocting flavors – using techniques, such as blanching and slow-steeping, which are unique to how other coffee shops are creating housemade syrups – that will pair nicely with Pax coffee.
"At the end of the day, I think what makes the perfect latte is the grind," Aubree says. "At events, we're always checking that the length of the shot isn't too long or too short; we're looking for the perfect consistency in every latte."
Pax Coffee Co., St. Louis, Missouri, 618.791.2711, paxcoffeeco.com