Noto Pizza is putting down roots.
The popular wood-fired pizza truck plans to expand into a brick-and-mortar location this fall, taking over the space currently home to J. Noto Bakery, located at 5105 Westwood Drive in St. Peters, Missouri.
Wayne Sieve owns Noto with his wife, Kendele Noto Sieve, whose family runs J. Noto Bakery. The couple fell in love with Neapolitan-style pizza while traveling in Italy several years ago, which inspired Wayne to try to recreate the traditional style at home. He bought an Ooni wood-fired pizza oven, set it up in their backyard and got to work developing his dough recipe. About a year and a half ago, the couple launched Noto's pizza trailer, which pops up at locations around the St. Louis area, including Six Mile Bridge in Maryland Heights, Missouri, and the Tower Grove Farmers' Market. Above all, Wayne says his goal is to respect the craft of those Neapolitan-style pizzas he grew to love in Italy.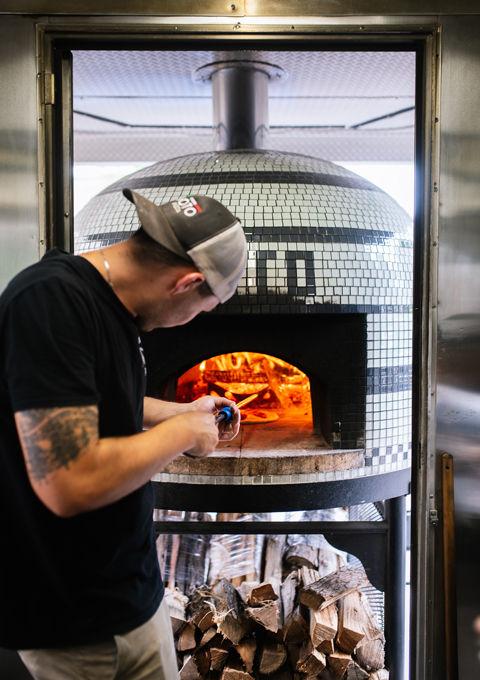 "We do a total 36-hour fermentation with our dough," Wayne says. "It allows the gluten structure to develop in the crust, and that's what leads to the bite on the pizza, the softness of it and the air in the crust; it cooks within 90 seconds at 1000°F. They're hand-stretched pizzas with about 10" to 11" diameter. People will describe them as having more of a soupy center and a poofy crust." 
"You get that signature char from the 1000°F oven," Kendele adds. "The leoparding is what they call it: those little black spots around the edge of the pizza. That's a signature of Neapolitan-style pizza."
Wayne says he's also drawn to the fact that Neapolitan pizzas are typically sparsely topped, allowing more flavor to shine through. "You're using fresh, simple ingredients and when they all come together, it's a pure form of pizza," he says. "You can't hind behind any shortcuts."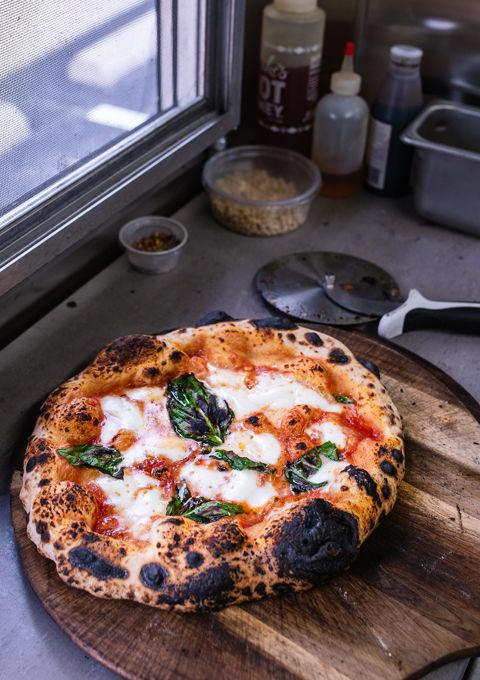 To that end, Noto offers pizzas ranging from traditional, such as classic Margherita, to seasonally inspired pies such as a recent offering with local corn, zucchini, basil and red pepper aïoli on a white sauce base.
Wayne comes up with a new pizza nearly every week, most of which are inspired by what's in season. A recent pie, for instance, featured an olive oil base topped with local peaches and prosciutto, finished with arugula, honey balsamic and goat cheese after the bake. One of Noto's most popular pizzas is the Sophia, with a fig jam base topped with thinly sliced prosciutto, balsamic glaze, arugula and Gorgonzola.
Wayne even puts his own spin on a classic pepperoni pie by adding Calabrian chile flakes and a drizzle of Mike's Hot Honey. "There are familiar ingredients in the mix, so people can go a little outside of their comfort zone and try something they might not normally have – and they usually end up really liking it," he says.
In addition to Neapolitan-style pizzas cooked out of a new wood-burning oven, Noto's brick-and-mortar location will serve fresh pasta, craft cocktails and brunch on the weekends. The Italian-heavy menu will feature a few appetizers made in the wood-fired oven, such as Calabrese Buffalo chicken wings and fire-roasted eggplant dip served with housemade hearth bread. 
As inspiration for developing the menu, Wayne and Kendele are headed back to Italy's Amalfi Coast next week. On the R&D trip, they plan to focus their research on cocktails, small bites, seafood and pasta. "Previously, it was all about pizza; we would eat four pizzas a day, basically," Wayne says with a laugh. "So this trip is a little bit different, but still heavily focused on research and really tasting those influences."
"We just adore the place," Kendele adds. "We really want to bring whatever we can back from this experience and try to incorporate it into our restaurant."
The Noto pizza trailer will take a break while the couple travels in Italy, before resuming service in mid-August. They plan to continue popping up around town until Noto's brick-and-mortar location opens its doors, likely in mid-October.
Noto Pizza, 5105 Westwood Drive, St. Peters, Missouri, notopizza.com