Customizable donuts have arrived in Chesterfield. Duck Donuts opened on April 19, offering the brand's "warm, delicious and made-to-order" cake donuts and signature coffee drinks. It is the first location of the North Carolina-based chain in Missouri and 80th store worldwide (the nearest location is in Leawood, Kansas).
Chesterfield natives and friends Laurie Weaver-Hundelt and Tori Bray, along with their families, serve as the franchisees of the first St. Louis-area location. Weaver-Hundelt first encountered Duck Donuts during a vacation to the Outer Banks, where the brand was founded in Duck, North Carolina, in 2006.
"We waited in line there for these amazing donuts and thought it would be a great idea to bring the concept back to Chesterfield," Weaver-Hundelt says.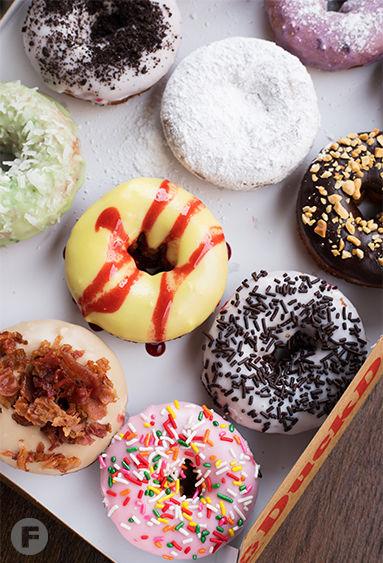 The 1,767-square-foot family-friendly space features the brand's beach-inspired theme, with sky-blue walls and vibrant red and yellow accents. Some seats are available inside, with more on a patio. The boardwalk-like assembly line features a ledge where visitors can watch their treats getting fried and topped to their specifications in real time.
"When a customer comes in, they can immediately smell the warm vanilla cake donuts as they approach the counter, and they can see examples of some of our most popular donuts," Weaver-Hundelts says. "Every donut starts with a light and airy bare donut as the base."
"Then, they're adding their own icing, topping and drizzle to make it perfect and unique for them," Bray continues. "We want to make it personal for you."
Nationwide, the best-selling combination is maple icing with chopped bacon. Some other popular picks include strawberry icing with rainbow sprinkles and a hot fudge drizzle; cinnamon sugar with a Key lime drizzle; and the Sunrise with lemon icing and raspberry drizzle. Thematic customizations include holiday packages as well as color-coordinated sprinkles to match alma maters, sports teams and more.
Donut sundaes are also available, featuring your choice of donut and topping with a scoop of vanilla or chocolate ice cream, whipped cream, a cherry and a flavored drizzle or sauce over the top. Breakfast sandwiches – available on a donut or an English muffin – come with egg and cheese; bacon, egg and cheese; or sausage, egg and cheese. Add a maple drizzle, chopped bacon and hot sauce for the ultimate version.
To drink, choose from signature coffee options in a few different freshly ground varieties: Lighthouse Blend, Riptide Roast or Sunset Pier. Iced coffee is also available, as well as hot chocolate and espresso drinks. The latter includes seasonal specials such as a honey-cinnamon latte and s'mores mocha.
"We're thrilled to be a locally owned donut store. It's family-oriented, family-run and the donuts are unbelievable, made specially the way you like them," Weaver-Hundelt says.
Duck Donuts is open Sunday through Tuesday from 6:30am to 3pm and Wednesday through Saturday from 6:30am to 7pm.
Duck Donuts, 1651 Clarkson Road, Chesterfield, Missouri, 636.778.7770, duckdonuts.com