Fans of Guerrilla Street Food's innovative approach to Filipino cuisine can soon get a taste of its classic favorites alongside more than 20 creative new dishes in the Delmar Loop. The third outpost for the fast-casual restaurant debuts on March 13.
Guests can still get all of the same "old school" menu dishes here, including the Flying Pig and chicken adobo, but expect a completely different set of "new school" offerings, appetizers and sides.
"There are more than 7,000 islands in the Philippines, and the same dish will vary from region to region based on the palate of that region and the ingredients available," says co-owner Joel Crespo. "Each of our restaurant locations reflects that idea. Each one is going to have a different interpretation and focus based on the context of where it is."
As reported by Feast last fall, Crespo and co-owner and chef Brian Hardesty brought on Heidi Hamamura – named one of Feast's 9 Rising Stars to Know in 2018 – to serve as the executive chef at their latest expansion. The original storefront for the popular local food truck rolled out in 2015, followed by a second location inside 2nd Shift Brewing last July. Plans to open another restaurant as a collaboration with Tropical Liqueurs in the Grove are still pending.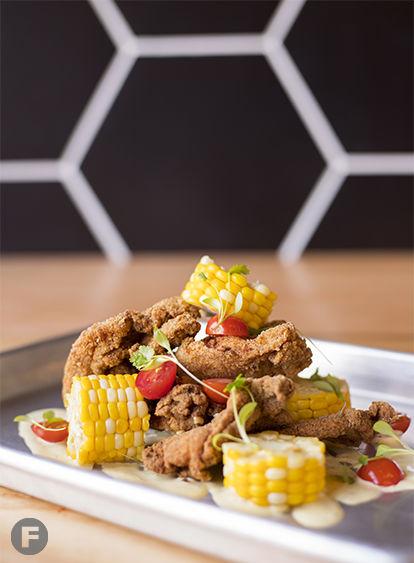 Guerrilla Street Food fills a 2,100-square-foot space that features 48 seats in the dining room, with space for an additional 30 seats on an outdoor patio. Hardesty's brother, Greg, helped with the design of the sleek space, which features gray walls emblazoned with Guerrilla's black-and-gold logo.
An exposed ceiling and hexagon-shaped wall tiles also lend to the urban-industrial feel of the room, while hanging plants and an open kitchen lined with a wooden counter offer organic elements. Crespo and Hardesty put plenty of fun personal touches to the environs as well, such as a hanging skateboard lamp, an arcade cabinet and a wall of framed pop-culture pieces and photos from their recent tasting tour of the Philippines.
The duo also commissioned artist Kristian Kabuay – a scholar of baybayin, an ancient Philippine script – to create a large-scale painting for the dining room. Tattoo artist Aleks Figueroa designed a striking modernized interpretation of Fillipino tribal tattoos for the restaurant's tabletops. Aside from the décor, the new spot also features a slightly different service style.
"Things are going to be a bit different with this location. Since it's a bigger space, we wanted to have that extra level of hospitality and have a greeter that hands guests a menu and directs them on where to order," says Crespo, explaining the departure from the other locations' service windows, which are modeled after their food truck. "We'll have a printed rather than a posted menu to give Brian and Heidi the freedom to tweak and change things."
Highlights from the new menu include sour fried chicken inspired by sinigang (a sour Filipino soup) featuring boneless, skinless chicken thighs breaded in fermented corn flour and seasoned with green tamarind, calamansi powder and lemon powder and served with pickled corn, cherry tomatoes, citrus aïoli and micro cilantro. Street food-style skewer offerings will vary from charcoal-grilled options to deep-fried delights. Chicken-skin skewers, for instance, come served with ginger vinegar and annatto oil.
Hardesty says fresh fish will be another focus at the new location. Kinilaw features a preparation of rotating varieties of raw fish with chiles or onions and a vinegar dressing. The debut version features the fruits of Hardesty and Hamamura's fine-dining backgrounds with artfully plated diver scallops, purple daikon, green mango, crab-fat emulsion, coconut-milk vinegar, charred onions and rice-and-shrimp crackers.
"It's light but super flavorful," Hardesty says. "It's pretty cool for a place like this where we're trying to elevate the food as much as we possibly can. That dish is $8. Everything is going to be in our price points. We're pushing the limits here."
Guerrilla Street Food in the Delmar Loop will be open Monday through Saturday from 11am to midnight as well as Sunday from 11am to 10pm.
Guerrilla Street Food, 6120 Delmar Blvd., The Delmar Loop, St. Louis, Missouri, guerrillastreetfood.com