In the Delmar Loop, a traditional Chinese street food is available for the first time in St. Louis: jianbing, a savory rolled crepe stuffed with a variety of fillings and sauces. Bing Bing opened on July 6 serving jianbing and Aurora and milk teas, later adding a full menu of appetizers, kushiage skewers and soups.
The concept comes from Yong Liu and chef Yijun Chen. Liu hails from southern China while Chen is a native of the north. The co-proprietors also own Star Karaoke on Olive Boulevard. Liu maintains a career as a hairstylist while Chen owns Ho Wun, an Asian-fusion restaurant in Fenton, Missouri.
"[Chen] ate jianbing since he was a child. One time, I went to Shanghai with him and I tried it. I said, 'This is interesting. Why don't we bring it back to St. Louis?'" Liu says. "He stayed there, traveling around for half a year to get a recipe."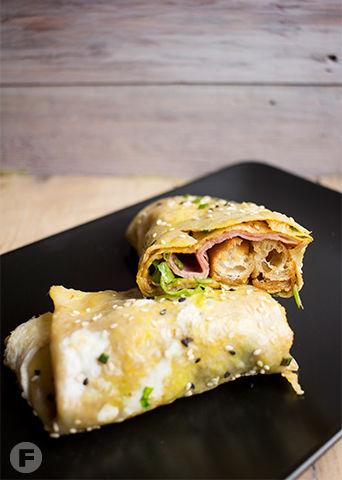 Bing Bing fills the approximately 800-square-foot space previously occupied by Moya Grill, with seats for around 20 guests. Aside from remodeling to create an open kitchen area and adding lights, the room maintains its previous occupant's light and airy,  minimal contemporary feel.
To build your own jianbing, make your selections from the menu. Shandong-style jianbing is a yellow corn, soybean and wheat flour-based crepe with scrambled egg, sesame, scallions, cilantro, lettuce, Chinese pickles and crunchy wonton. Tianjin-style jianbing is a mung bean, wheat and rice flour-based crepe that will likely be available in the future.
Bing Bing offers two options for sauce: a traditional sauce with a hoisin base and a house sauce with a mayonnaise base. The last step is to choose your protein. More than a dozen options are available including barbecue pork, lemongrass beef, Taiwanese sausage and Liu's personal favorite: golden crispy chicken.
Sides include salt grill chicken, fried squid, pot stickers and spring rolls. Kushiage, or deep fried Japanese-style meat skewers, are also available. Choose from options such as fried fish ball and lamb. For something warming, choose from four soup bowls such as marinated duck soup with glass noodles, slow-cooked ox-tail noodle soup and shrimp-wonton soup with seafood stock and handmade wontons.
To drink, choose from a variety of unique beverages such as color-changing tea, derived from butterfly pea flower. Flavors include raspberry milk, lychee, plum tea and aloe tea. Smoothies are also available in a variety of fruity flavors. A couple of other specialties include a housemade milk tea as well as Thai tea and hawthorn tea.
Bing Bing is currently open daily from 11am to 9pm.
Bing Bing, 567A Melvile Ave., Delmar Loop, University City, Missouri, 314.669.9229, instagram.com/bingbingstl