If you've ever tried to snag a table at Half & Half on a busy Saturday morning, there's good news: The popular Clayton cafe plans to open a second location in Webster Groves.
Co-owners Mike and Liz Randolph, who also own Randolfi's and Público, announced today that the breakfast, lunch and brunch restaurant will open a new location at 220 W. Lockwood Ave. The Randolphs are working with SPACE Architecture + Design on the design of the space, which is currently home to a First Watch restaurant. Similar to the Clayton location, the Webster location of Half & Half will feature a large coffee bar and rustic décor with accents like mason jars, white barnwood and antique mirrors. 
"We've been talking about it for at least a year and for us it was important to find something that checked off all the boxes," Liz tells Feast. "In Clayton, we feel like we're part of a really great community with the people who live and work there. For us, it was important not to just pick a location that might be high traffic, but to have that neighborhood feel as well. We've been taking our time and when we found out that this space was available, it just checked all the boxes."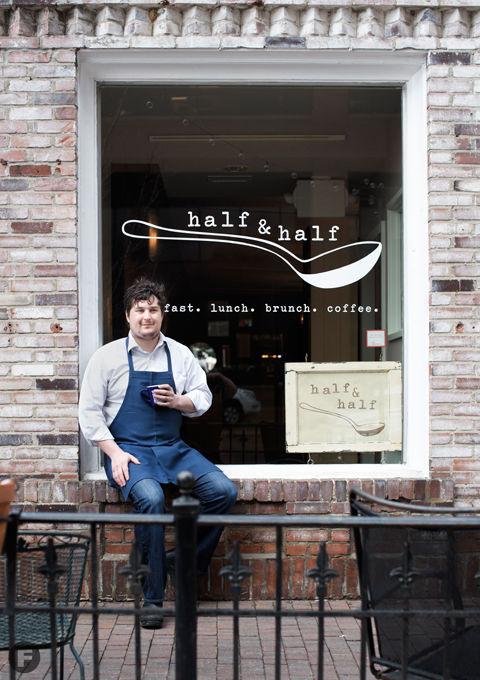 Like its sister restaurant in Clayton, the Webster location of Half & Half will feature a strong commitment to quality ingredients as well as a dedicated coffee program from Blueprint Coffee. Half & Half executive chef Dale Beauchamp will oversee the kitchens at both restaurants, and diners can look for popular dishes like the veggie hash, chorizo and guacamole eggs Benedict and Clara Cakes, in addition to unique weekend brunch specials.
"We'll have the same set menu at each location, but our chefs will have an opportunity to continue to do brunch on the weekends independently of each other," Liz says. "It's important to have an opportunity to play around in the kitchen – that's something that keeps morale up. When people are given creative outlets, they're passionate about their work."
The Webster Groves location of Half & Half, which is expected to open in late spring or early summer, will operate with the same hours as the Clayton location.
The Webster Groves location of Half & Half will be open Tuesday through Friday from 7am to 2pm, Saturday and Sunday from 8am to 2pm and closed Monday.
Half & Half, 220 W. Lockwood Ave, Webster Groves, Missouri, halfandhalfstl.com