The first phase of one of St. Louis' most anticipated openings of the year debuts soon. St. Louis Union Station Soda Fountain opens on Sept. 30, offering a retro diner with a modern spin complete with handcrafted sweet treats and classic American fare for downtown diners.
As reported in the September issue of Feast, the unique eatery is one of three brand-new restaurants that will open inside the much-anticipated $187 million St. Louis Aquarium at St. Louis Union Station later this year. Russel Cunningham – the longtime executive chef of Union Station – helps oversee the development of the soda fountain as well as upcoming concepts The Train Shed and 1894 Café.
Get an early taste – literally – of the St. Louis Aquarium at St. Louis Union Station when the first phase opens this fall.
"The soda fountain is kind of a blast from the past. It's a '50s-style soda fountain and diner meets modern day," says Lodging Hospitality Management's director of restaurants Blaise Pastoret. "If you have a sweet tooth, this is the place to be. We're going to have malts, shakes, floats and a large portion of the space is dedicated to a candy shop."
St. Louis Union Station Soda Fountain fills the space previously occupied by Hard Rock Cafe, including a spacious patio with a view of the adjacent lake light show. Lawrence Group served as the architects, filling the area with bright, clean lines, pastel candy colors, globe lights and bronze finishes.
"We want this to be a St. Louis institution for a long time, so we kept it fun and bright," Pastoret says, explaining that in addition to the candy store and full-service seating options, a marble-topped bar is also split up for two experiences. Eight seats will be available on a first-come, first-serve basis for drinks, while the other side is designated as a walk-up counter for ice cream treats to-go.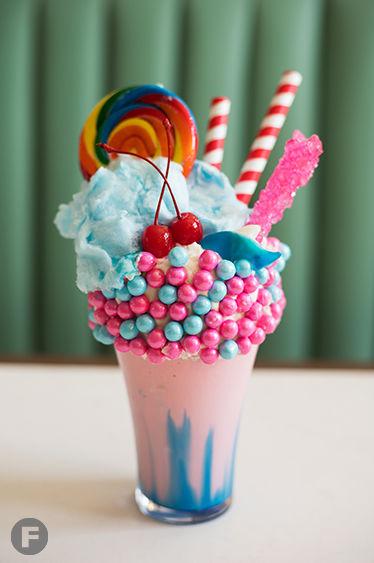 LHM partnered with Clementine's Naughty & Nice Creamery to provide all of the ice cream utilized on the dessert-forward menu, with a dozen different flavors including a rotating vegan option. Choose from sundaes, scoops and floats, milkshakes and malts. The colorful 22-ounce "freak shakes" are a signature treat; the cotton candy freak shake comes with a vanilla frosted rim and pearl chocolates topped with a lollipop, rock candy, whipped cream, blue cotton candy and a gummy shark.
Highlights from the food menu include single or double griddled cheeseburgers featuring an 80-20 chuck and sirloin blend. Additional options include a fried chicken sandwich, G&W hot dogs (available as chili dogs or Chicago-style), a BLT and an egg salad sandwich. 
Non-alcoholic drink options include Kaldi's nitro cold-brew coffee and housemade sodas such as the One, Tea, Three with Big Heart chai tea concentrate, gum syrup, milk, lactart and soda. The adult beverage list features a selection of beer, wine and "remedies" created by LHM bar manager Kyle Mathis. Purple Stars, for instance, is made up of Clementine's Roman punch sorbet, Manicardi Lambrusco Vigna Ca'del Fiore and Dirty Girl Farms wild shiso tincture.
"This can be somewhere you hang out for a couple hours, or you can just stop by for a quick sweet or savory treat," Pastoret says.
St. Louis Union Station Soda Fountain will be open daily from 11am to 10pm.
St. Louis Union Station Soda Fountain, 201 S. 18th St., St. Louis, Missouri, sodafountain-stl.com