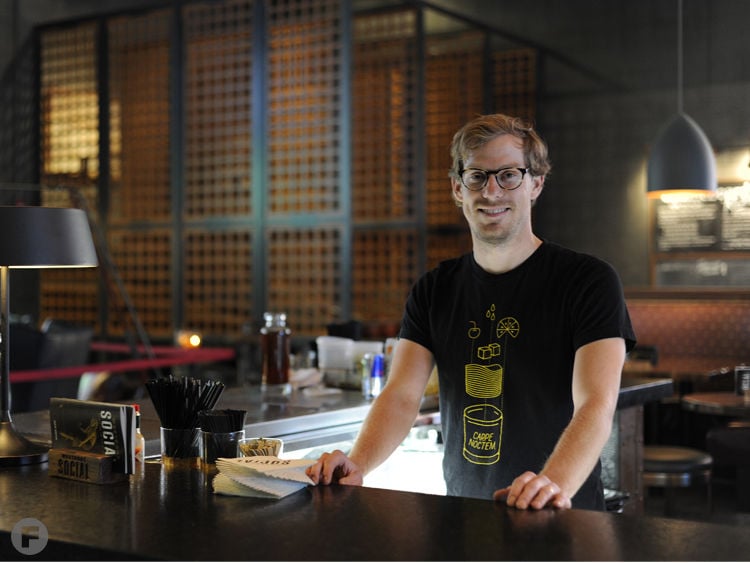 Kyle Mathis has a lot going on these days. Once considered a rising star at Taste, Mathis has worked his way up the ladder, now overseeing bar programs for Lodging Hospitality Management's (LHM) Westport Social and Three Sixty and working closely with the teams at Boundary and Basso to update their offerings as well. As if that wasn't enough, Mathis is currently developing menus for two new LHM projects inside St. Louis' historic Union Station: The Train Shed Gastropub, a World's Fair-inspired bar, and Soda Fountain at Union Station, a retro diner serving modern spins on boozy sodas, phosphates and more.
Still, reflecting on the past year, Mathis credits his time at Taste with giving him the confidence to take over bar operations for LHM.
"I was a Gerard Craft child from the very beginning," Mathis says with a laugh. "It was a really awesome foundation for me; I felt grounded in a lot of ways and had the confidence to go into something that I had no idea about and know I could execute it and make it happen. I jumped [into Westport Social] not necessarily knowing what I was getting into, and as things usually happen, it was exactly what I wanted to happen and what was supposed to happen right now."
Early in the development of Westport Social, Mathis was able to take his background in classic and creative cocktails honed at Taste and apply that same standard of quality and experimentation to the game lounge's bar.
"Westport Social is a volume bar – we're doing so much all the time there," Mathis says. "Coming from a background where craft and controlling the amount of customers and the experience is really the main focus, it took me probably three weeks to come to that middle ground where I can deal with volume but also have that foundation, quality and hospitality."
The end result is a cocktail list that feels familiar yet fun and thoughtful. For example, the Highball at Westport Social is made with Japanese whiskey, a housemade lime cordial, club soda and quinquina, an apéritif wine, while a Mule is mixed with grapefruit cachaça, a strawberry syrup and Stiegl Radler. He's particularly proud of the almond granita cocktail, which combines dark rum, amaretto, almond and nutmeg for a frosty take on the popular frozen Italian treat.
"I always, with any new cocktail I put on the menu, try to squeak something in there that maybe our customer base has never even heard of before," Mathis says. "When I curate the menu, I make it so that my bartenders can make it as quickly as possible and as accurately as possible every time; we do a lot of cocktail batching. So our customers get the best of both worlds: They can have a drink in front of them in 30 seconds but it's also a curated menu."
After helping open Westport Social, Mathis introduced an entirely new fall menu at Three Sixty and collaborated with Boundary and Basso bar manager Ray Edwards to make some seasonal updates to those cocktail lists as well. His biggest undertaking to date, though, may be the cocktail programs for The Train Shed Gastropub and Soda Fountain at Union Station. The latter will source ice cream and sorbet exclusively from Clementine's Naughty & Nice Creamery in St. Louis for its boozy creations; Mathis and team have already started recipe testing.
"At the soda fountain, the menu will diverge a little bit from the normal boozy shakes here in town," Mathis says. "One thing I'm really excited about is Clementine's Roman Punch Sorbet that's really citrus-forward and kind of raspberry, which we'll put in a glass with dry Lambrusco, the red, slightly tart, tannic Italian sparkling wine. We're going to utilize tinctures and bitter as much as possible, too, sourced from Dirty Girl Farms. [Farmer] Ann Lehman is awesome; it's cool bringing in one of the purveyors who I worked with a lot at Taste again."
Meanwhile, at Train Shed, Mathis says guests can expect a cocktail menu built on a foundation of mostly pre-Prohibition classics, plus a few seasonal offerings and "exclusive classics" made with hard-to-find ingredients and long-aged spirits.
We recently caught up with Mathis to learn more about what informs his approach to cocktail R&D, why you should be making Sean Brock's chicken and dumplings this winter and more cocktail sneak peeks from the two new concepts at Union Station.
What's your favorite ingredient to work with and why? I think the ingredient I like to keep on hand at any bar I'm working out of is a salted lime cordial. It's essentially a simple syrup made with lime juice instead of water and then we add a little salt in it. It's just a really easy way to make a balanced, depth-driven cocktail, because you add a spirit to it and you've got sweet, sour, savory. So instead of using Rosa's lime juice, we've got this homemade lime cordial. It makes an amazing Gimlet; it's a great all around spirit to keep on hand. I tend to defer from a lot of bartenders in the fact that if somebody is making a product on the market, I generally accept the fact that it's probably the best that they can do. I'm not a huge in-house, homemade person, for the most part – I think there are so many great products on the market, and you can then spend your time on training your staff or doing different things to make your bar program better beyond making homemade ingredients. But there are certain exceptions to that, and the lime cordial is definitely one of them.
Do you have a secret weapon ingredient/technique/tool? My secret weapon, at Westport [Social], at least, is my younger brother, Chad; he's one of my bar backs. He does all of the production for us, so all the batching and syrup production. He creates the foundation for executing everything on a day-to-day basis.
What's your perfect day of eating or drinking in St. Louis? This has probably changed a lot over the past couple of years because I've got two little ones at home, so it's much harder to get out. [Laughs.] I wouldn't say I'm as well versed in the food world as I was a couple of years ago. But before breakfast, for coffee, I'd go see my old friends at Sump [Coffee]. I've spent a lot of really fun afternoons on the patio at Bar Italia ordering obscure bottles of wine from there on a nice fall day. For an early evening dinner I would go to Mi Ranchito in U. City and eat way too much food and have a Marga-rona there – it's just a really big frozen Margarita with a Corona in it. [Laughs.] From there I probably wouldn't have a full sit-down dinner… I'd probably go to Yellowbelly and visit old friends like Tim [Wiggins] and Matt Sorrell. It's cool to see a spirits-specific bar go into full effect in St. Louis.
How has the local food and-drink scene evolved over the past year? Casual is probably the key term with food and beverage these days. Being able to have a small plate at a restaurant and a drink and then move on seems like the way that people are heading. And it works really well for the way people are living these days, being on-the-go all the time. It's really cool to see single spirit establishments start to pop up in other cities, like rum bars; hopefully somebody will do an agave-spirit bar here, because that would be a cool one to have. And as I grow my family, I'm looking for places that are kid-friendly; I tend to find myself at Urban Chestnut in The Grove quite often, because it's just a really big, open place where kids don't draw as much attention. That's what I'm looking more for: Family-friendly places in a more casual setting.
Who are St. Louis bartenders you admire at the moment? I think it's really easy to point at all the awesome people like Tim [Wiggins at Retreat Gastropub and Yellowbelly] and Terry Oliver [at Frazer's Restaurant & Lounge] and all of those guys, but honestly, when I've been finding time to get out and drink with friends or family, I go to Cousin Hugo's in [Maplewood] or Hammerstone's in Soulard, and those bartenders I have a new appreciation for. They don't necessarily get a ton of attention, but they're treating every customer so well… Just these hospitality-centric bartenders who have been doing it for so long and don't get a ton of attention.
What concepts or styles in food or drink do you hope to see added or expanded in St. Louis? I think my ideal bar, and the thing I'd like to see here… There's a place in Kansas City called Thou Mayest, and it's like an all-day café, I guess. You can go in the morning at 7am and get your coffee and a bite to eat, and then they're open till 1am, so you can go in the early evening for happy hour or late night. So somebody who's willing to commit to that, to supplying people what they need throughout the day and stays open late, would be awesome.
What do you like to cook at home or on your day off? Or what drinks do you make at home on your day off? I think a high-gravity beer is what I grab at home; you know, I'll have one beer and that's it for me with the kids. My wife and I have fallen into the Instant Pot society, so any braise we can put in there is nice. We'll do a mole in there or Mississippi pot roast… It's delicious. Any braised meat in the Instant Pot is the story of our life right now. [Laughs.]
What's your favorite comfort food? We do a lot more home cooking than we do going out these days. Every winter, several times for us a year, Sean Brock's chicken and dumplings is my go-to. It's so simple: It's just a pot of chicken and you reduce the broth for a couple of hours. Then you take the dark meat off the chicken, and make dumplings out of buttermilk and self-rising flour, so they're like these sourdough cloud dumplings that you put into a really simple, brothy soup with dark meat chicken.
If you could tell home bartenders one thing, what would it be? It's all about simplicity for me. Keeping a couple of your favorite ingredients on your bar at home and executing your favorite cocktails over and over again is what I'm about. I think nowadays it's more important to spend that extra time with whoever you're drinking with, reading a book or doing something else like that as opposed to mixing 25 ingredients from your bar into a cocktail.
What's your first food memory? I would have to say the first time I sat down to a tasting menu at Niche in Benton Park with my younger brother, Chad. I think I was 20 at the time and he was maybe 18. We sat down for a seven-course tasting menu and essentially giggled for hours; it was the most giddy, eye-opening food experience I had ever had and will ever have, experiencing new thing after new thing. It almost kind of ruined me for the rest of my life, because nothing will ever be so new and exciting as that three-hour dinner was. [Laughs.] Stepping into Niche at that point in my life was like stepping into a portal; that was the first time I'd experienced anything like that.
What's the most intriguing cocktail you've made recently, and why? I'm pretty excited about the almond granita on the menu at Westport [Social]. It was kind of a direct translation of something that inspired me… I like to watch cooking shows, and on Chef's Table there was a sweets episode where they were in Sicily following around this candy maker and gelato maker, and I didn't realize it at the time, but apparently Sicilians eat granitas for breakfast every single day. And you're either an almond person or a lemon [granita] person, and I'm definitely an almond person. So as soon as I saw that, I had to make a cocktail out of it. It really is just a Sicilian breakfast item that happens to have some amaretto and rum in it. It's very almond-forward and kind of sweet and decadent. I was really excited about that cocktail.
What inspires your drinks? How do you approach R&D at your bar, and what inspires that process? I tend to get inspiration from food items; from dishes I see either in a restaurant or on a show like Chef's Table or Ugly Delicious… cultural dishes that are foundational. Classic cocktails have balance built into them in their own way, and I always try to find inspiration there. I try to ground a drink from the perspective of food, because you also have to have that same balance in food to be delicious – salt, fat, sweet, acid, heat. So I try to do the same thing with cocktails.
What are your future plans? I'll be with LHM for the foreseeable future; it's an amazing opportunity and a fast-growing company that's developing new restaurants all the time. It's really exciting. The older I get, the more I think that opening a bar may be in the realm of possibility, and if that were the case, that sort of all-day café model is definitely something I would strive for. I want it to be more like a Spanish café where you can get anyone, anytime – big groups, parents and children – and find a really great place to be social.
Union Station, 1820 Market St., Downtown, St. Louis, 314.621.5262, stlouisunionstation.com
Westport Social, 910 Westport Plaza Dr., Maryland Heights, Missouri, 314.548.2876, westportsocial-stl.com