Brennan's Work & Leisure debuted in November with breakfast, lunch and a co-working space. To complete the concept, it recently rolled out later hours and a new set of evening offerings. The Midtown gathering place debuted its small plates and cocktail menu on April 26.
The endeavor comes from Kevin Brennan of Brennan's, which opened in the Central West End in 2003. Brennan co-owns Work & Leisure with Jordan Renaud and Tim O'Connor, who are joined by chefs Ben McArthur and Chloe Yates to carry out the menu. McArthur previously served as a consultant for Taco Buddha and prior to that was the chef-owner of J McArthur's An American Kitchen, while Yates' (aka the Pin-Up Chef) resume includes serving as kitchen manager of OSP Tap House and being a contestant on Guy's Grocery Games on the Food Network.
The chef and kitchen manager recently competed on Guy's Grocery Games.
"We want to give people multiple reasons to come down to Midtown," Renaud says. "It's a multipurpose space that starts out as a café with coffee and breakfast in the morning that becomes a bar with small plates and cocktails in the evening – more leisure than work."
According to Renaud, who has been with Brennan's for 10 years, Work & Leisure shares a similar size and vibe with its sister concept with a decidedly more open layout to be adaptable for co-working and larger events, with a capacity for 250 people. Brennan spearheaded design aspects and partnered with O'Connor, a general contractor who owns O'Connor Property Services, to carry out his vision.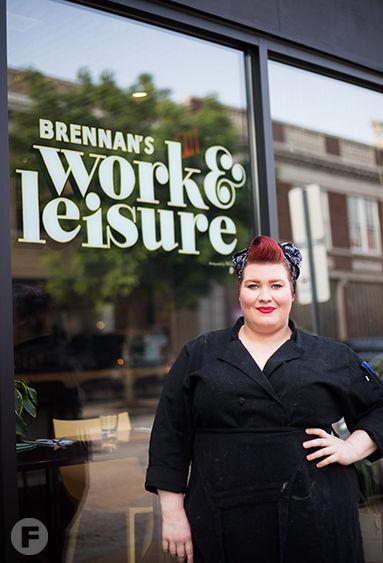 After purchasing the 6,000-square-foot building, which was an automobile showroom at the turn of the century, the team set out to bring new life to the space. The main area includes three projection screens, a bocce ball court with a stage, a vinyl record listening room and a custom-built shuffleboard table crafted by Goebel & Co. Furniture. The anterior space features a café and bar.
From the menu, choose from snacks such as a charcuterie and cheese board as well as Yates' deviled eggs with smoked salmon, dill and pickled mustard seeds. Small plates include a meatball with pork and beef, shiitake, shallot and Chardonnay; a tartine with charred corn, avocado, radish and herbs; and seared tuna with avocado and wasabi cream, ponzu, aji and watercress.
The beverage list includes a selection of beer, wine and cocktails: classics, originals, low alcohol and no alcohol. Choose from highlights such as "I Want To Get a Buzz, But I Don't Wanna Drink, Drink" with vodka, St. Germain elderflower liqueur and lime.
"It's a unique space where creatives can come together, kind of forget about time for a little while, play some games and have some good food, drinks and conversation," Renaud says.
Brennan's Work & Leisure is open Monday through Tuesday from 8:30am to 6pm, Wednesday through Thursday from 8:30am to 11pm, Friday from 8:30am to midnight and Saturday from 4:30pm to midnight. The evening menu is available Wednesday through Saturday beginning at 4:30pm.
"The Worst Kept Secret" happy hour is available Wednesday and Thursday from 4:30 to 6pm and 9 to 10pm, featuring a buy one, get one deal on all food items.
Brennan's Work & Leisure, 3015 Locust St., Midtown, St. Louis, Missouri, 314.620.3969, brennanswl.com