As chef and kitchen manager at OSP Tap Haus in Oakville, Chloe Yates spends her days developing creative ways to sneak beer into the restaurant and bar's pub fare. She's drenched wings in hot sauce made with Urban Chestnut Brewing Co.'s Zwickel, made a blackberry vinaigrette using blackberry cider from Crown Valley Winery and whipped up brown gravy laced with Tallgrass Brewing Co.'s Buffalo Sweat stout. And that's just for the regular menu: Yates develops a new dish and beer pairing each weekend. A recent pairing featured housemade meatballs with red sauce and an Italian salad with Old Bakery Beer Co.'s Golden Oat.
Today, Yates runs OSP's kitchen with creativity and confidence, yet just two years ago she'd never cooked professionally. About a year and a half ago, she left her career in the medical field to join her husband in England, but plans didn't work out as they'd hoped. After navigating a painful divorce, Yates was ready for a completely new challenge. Around the same time, one of her friends, Colleen Miskovic, owner of OSP, asked Yates if she'd want to cook at Sports Pub, OSP's sister restaurant located just next door. For a time Yates ran both the Sports Pub and OSP kitchens. Yates, an avid home cook who grew up cooking with her grandmothers, says her culinary education has been a little trial by fire – trusting her instincts and learning along the way.
That knowledge paid off this past January, when she appeared alongside three other chefs from across the country on Guy's Grocery Games. The episode, titled "Clash of the Classics," challenged chefs to recreate classic comfort-food dishes in fresh new ways. Yates opted for a chicken-fried steak-meets-chicken fingers dish with mashed potatoes and gravy acting as a spread and dip. "My grandmother made everything from scratch. My goal is to take the food I grew up on with my grandma and put a spin for 2017," Yates said in the episode.
Although she didn't take home the $20,000 prize, she says the experience has validated her work as a chef and inspired her to push her food even further. "It was incredibly intimidating," she says. "I told Guy Fieri I wasn't a real chef, and he said, 'Don't you run a restaurant kitchen?' and I said, 'Well, yeah.' And he was like, 'Well I'm pretty sure that's what that means.' And I laughed. I expected it to be far more competitive, but in the end it was also so much about cheering each other on. It gave me that much more respect for people in this industry."
Fresh off her Food Network debut, we caught up with Yates to chat about what inspires her work at OSP, the unsung glory of white gravy and why she's proud to be a Rick Lewis "fangirl." 
What's your favorite ingredient to cook with and why? I couldn't not have garlic; garlic is used in so many applications of what I do. I would try to put it in dessert if I could get away with it – I think I could figure it out. I think most dishes feel flat without garlic.  
Do you have a secret weapon spice/ingredient/technique? My most trusted cooking technique is grilling. I grew up learning to grill, and I incorporate something grilled into nearly every dish I do. I just love that inherent smokiness.  
What's your perfect day of eating in St. Louis? There's a little diner off Gravois called Breakfast and Burger, and if I'm not making breakfast, that's where I take people. It's really good. It's really homey, almost a hole in the wall. I'm from a town of 300 people, where everything is kind of like that place. You go in and the service is always phenomenal, the coffee is black, simple and amazing, and the pancakes are the size of plates. Their omelets are amazing, their skillets are amazing. I'm such a breakfast person. I love to make breakfast. We do a brunch here, and everything is from scratch. They kill it. For lunch I'm going to say Blues City Deli; normally I get the muffaletta. Either that or I'd go to Steve's Hot Dogs. Where I want to go for dinner is Grace Meat + Three, because I still haven't been. Otherwise I would go to Sam's Steakhouse; I fell in love the first time I went. It was close to Christmas – and I'm a Christmas fanatic – and it was decorated, and I remember feeling so struck by the lights and wonderful service. The food is also very consistent, the steaks – I've never been when it wasn't just perfect. Consistency is such an important thing in a restaurant; people can forget that. For a cocktail I'd go to Cellar House in Oakville – best handmade cocktails in St. Louis!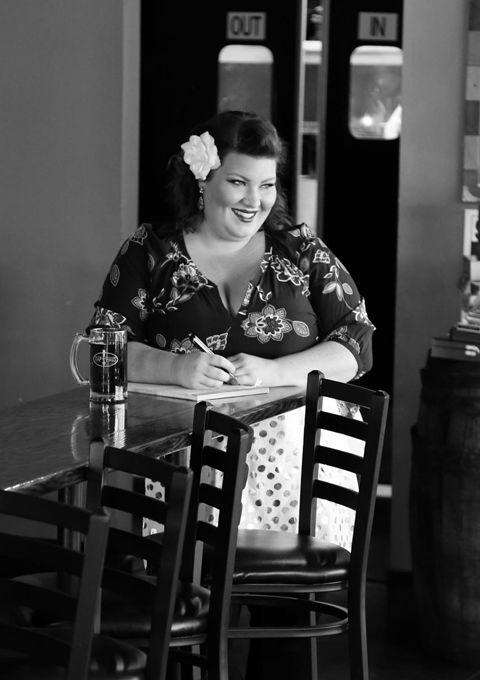 How has the local food scene evolved over the past year? Growing up and always watching cooking shows, I didn't hear Missouri enough. I don't hear St. Louis often enough now, but it's changing. I want to continue to see us on the map. To get to go to a place [like Guy's Grocery Games] where people I admire have gone, like Rick Lewis, was an honor. We have some really amazing local chefs, and hopefully one day I'll be able to be in the same room with them.
Who are St. Louis chefs you admire at the moment? I think it's awesome to see people like Rick Lewis – he was also on Guy's Grocery Games and I'm like a fangirl about him – doing what he's doing. Maybe it's because it's the kind of food I cook, but it's awesome to see his take on Southern classics, and making them just upscale enough. He's making Southern comfort food in an elegant way, and I'm excited to see what he brings at Grace.
What do you like to cook at home or on your day off? I'm big into hors d'oeuvres; that was a big thing my family would always do for Christmas Eve. My grandma would spend a week prepping and baking everything you can imagine. My job was making pickle wraps – some people call it hillbilly sushi, but it's when you stuff thinly sliced deli meat with cream cheese and it's wrapped around a pickle. You do that like four times and then cut the pickle into pieces. If I'm having friends over or even if it's just myself, I like to have fun. I think eating should be fun, entertaining and exciting. I usually want to color with all the crayons in the box, and hors d'oeuvres let you share a variety of foods.
What's your favorite comfort food? I'm sure it's a carbohydrate… [Laughs.] Probably mashed potatoes with white gravy. That's my jam. Where I come from, I didn't know what brown gravy was. I knew it existed on Thanksgiving, or giblet gravy, but when I moved to St. Louis, it was such an adjustment. Sweet tea wasn't a thing, and if you ask for gravy on something, it will come out with brown gravy. It was devastating. [Laughs.] So white gravy is just nostalgic for me.
If you could tell home cooks one thing, what would it be? Always get your pan really hot. I think a lot of home cooks are afraid of heat; I never was because my grandma cooked everything on high heat. If you want a really good crust on a steak or a pork chop, or really crispy skin on chicken, you need heat. Grease that pan up and get it hot before you put your meat in – you want to hear it sizzle.
What's your first food memory? My grandma, my mom's mom, could cook anything. She really could. My dad's mom baked everything; she made all my birthday cakes and decorated them. Being in the kitchen with them… Most of the time I was pulling up a chair and sitting on the counter with my feet on the chair, trying to help them make food. My mom's mom made these burritos – she'd make like 40 of them – and then we'd wrap them up and freeze then, so when we came in town she'd microwave you one. She'd never buy shredded cheese, and like five pounds of shredded cheese went into them, so I'd have to shred it by hand. I'd tell her I didn't want to do it anymore and asked why she didn't just buy it shredded, and she'd say, "Oh no, honey, shredded cheese is trash. You shred your own." And that's stuck with me to this day. Little things that they taught me like that have made me a better chef. When I feed people here, everything I make, there's such a part of me in [it].  
What's the most intriguing dish you've made recently, and why? I'm going to have to go with the special salmon dish we have on the menu tonight [for our Valentine's Day dinner]. I don't know if it's the most intriguing, but it's exciting for me to get to make a dish that I'd love to make at home, that I'd be happy to eat any day of the week, and being able to share that with people here. It's a pan-seared salmon with a walnut-basil pesto and a blistered tomato-fennel salad with couscous with leeks and pomegranate seeds in a lemony, bright vinaigrette. It's so far removed from what you'd expect from me – on Guy's Grocery Games I did country fried steak. I'm getting to a place where I'm comfortable making things outside of my wheelhouse, and it's exciting to do that here.
What inspires your cooking? How do you approach R&D at your restaurant, and what inspires that process? I'm very lucky to work where I do, because it's definitely given me much more creative freedom, instead of being somewhere where the menu is completely set. My goal is to make things that are exciting and new, to an extent, but yet people don't feel uncomfortable ordering it. Part of the excitement of getting to introduce someone to something is making it accessible, to put it on their level. It's really exciting to get to put my ideas into play and then see them come to fruition. Creative jobs are so much different, because you actually get to see your own work; it's tangible, it's in front of you. That's incredible.
What are your future plans? I probably won't be in St. Louis in five or 10 years. The biggest thing I've learned turning 30 and from going through this divorce is that there's so much out there in the world. After going out to California for Food Network, I kind of fell in love with San Francisco; I'd never been. It was stunning and emotional because it was something I thought I'd never do. I went to Nashville this year, and I love getting to see what this country has to offer; we have so much. In the next several years I'd like to take some time and get to have some fun and visit some places that I love or have never been and learn things. If I stay in the food world, I definitely want to open a place, and definitely in the South. If you've seen Fried Green Tomatoes, they have a place called Whistle Stop Café, and there's a place in Kentucky that I went to on a daytrip with the same name. I absolutely love when people take a minute to slow down and sit with their family or friends and enjoy a meal together, breaking bread. I want people to feel like they can come in, take a breath and slow down. That's my dream – to do that for other people.
OSP Tap Haus, 6346 Telegraph Road, 314.293.9642, Oakville, Missouri, osptaphaus.com