St. Louis' only exclusively vegan, gluten-free bakery has a new brick-and-mortar home. Prioritized Pastries opened in Southampton on Oct. 5, serving fresh, from-scratch baked goods and desserts.
As reported by Feast earlier this month, chef-owner Alex Feick comes from a pastry background working in kitchens including The Mud House and the now-shuttered Niche and The Libertine. About three years ago, she left the long hours of the restaurant behind and started Prioritized Pastries as a way to spend more time with her daughter. Since then, Feick's sweets have become a staple at the Tower Grove Farmers' Market, Local Harvest Grocery and through wholesale accounts at businesses including Pizza Head, TechArtista and Brick River Cider.
"We started off baking overnight in the kitchen at Pie Oh My! in Maplewood, where I've worked before. I thought a little side gig would be perfect, and that rapidly grew into what it is now," Feick says. "The great thing about having our own space now is that I can guarantee a bit of extra peace of mind for those with allergies and dietary restrictions – no gluten, milk or eggs pass through our door."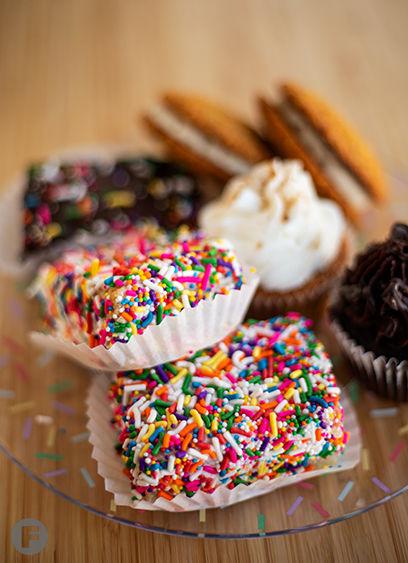 Prioritized Pastries fills the approximately 600-square-foot space previously occupied by Contrary Cupcakes, with about a dozen spots to sit inside and additional seats on a front patio. The kid-friendly storefront features a bright and cozy interior, with a decidedly vintage-meets-modern feel complete with a chalkboard wall and antique kitchen playset for little ones to enjoy.
Visitors will find at least eight different items to choose from at any given time, with rotating flavors based on seasonality. In the morning, the bakery offers scones, muffins and quick breads. Dessert options throughout the day include cupcakes, dessert bars and more. Top-sellers include ganache-topped cosmic brownies and Feick's homage to a petit four – her signature sprinkle bar made up of confetti cake and buttercream.
"My favorite recipes are the ones that happen to be vegan and barely need any tweaking to be gluten-free as well, so it doesn't taste like it's specially made with those restrictions," says Feick, whose go-to is her childhood favorite, an oatmeal cream pie with whipped maple buttercream.
To drink, choose from Kuva coffee and bottled beverages. For the holidays, Feick will offer a special order menu featuring whoopie pies, cupcakes and pies in flavors including caramel apple, maple-pecan and pumpkin.
"I think it's really cool that we can offer this to St. Louis. I love that idea that I can provide a product that anyone can eat," Feick says. "When we say 'Pastries for all,' we really do mean pastries for all. I wanted to have an all-inclusive bakery. I didn't want people to have an excuse to say no to a cupcake. That was our goal, and I think we're able to achieve it here."
Prioritized Pastries is open Wednesday through Friday from 9am to 6pm as well as Saturday from 2 to 6pm. Hours will tentatively expand following the end of the farmers' market season.
Prioritized Pastries, 4904 Devonshire, Southampton, St. Louis, Missouri, 314.858.0333, prioritizedpastries.com