Logan Ely has a new restaurant in St. Louis – but this time, the location is no secret.
The chef, who made a name for himself hosting a series of underground dinners under the name Square1 Project, is just about ready to open the doors to his first brick-and-mortar restaurant, Savage.
Ely first announced plans for Savage, located in the former A&B Liquor Mart at 2655 Ann Ave. in the Fox Park neighborhood, this spring. The restaurant is an extension of the cooking he did with the weekends-only Square1 Project, which featured intimate 12- to 14-course meals prepared with just a toaster oven, an induction burner and two pots. The dinners were hosted in a secret retail location in the Delmar Loop.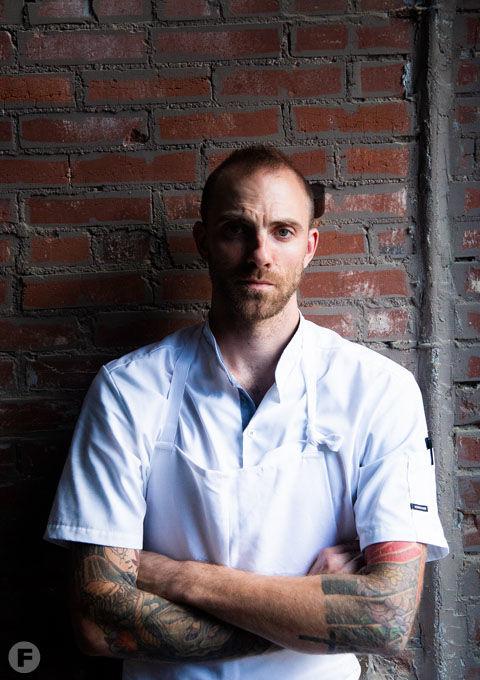 Savage is no traditional restaurant either. The kitchen is located in the center of the restaurant, surrounded by a wraparound chef's counter of sorts with seats for 20 diners. There's no table seating; Ely likes this format better because he can interact more easily with guests. Seven seats are available on the patio, plus around 10 more at two corner benches near the door. Ely says these seats are designed for guests who don't necessarily want to commit to dinner; Savage offers beer and wine only from 2 to 5pm before dinner service begins.
The menu, which will change frequently, is reminiscent of Ely's Square1 pop ups, featuring what he describes as humble local ingredients prepared with primitive techniques. Initial menus might include dishes like crispy chicharrónes-style beets with squid and lettuce; toasted yeast with turnips and preserved onions; or a fermented potato tart with Penicillium and ants. Diners can choose from snacks (five small bites) for $25, six courses for $55 or 12 courses for $75. "We're trying to be as approachable as possible with those sizes," Ely explains. "The last thing I want is for this to be a restaurant where you have to book a reservation a couple months in advance."
To that end, Savage will also accept walk-ins. Wine and beer pairings are available for each menu for an additional $25, $35 and $45, respectively, and a la carte beverages are also available. Since the menu changes so frequently, diners are encouraged to let the team know of any allergies and aversions, and all members in the party are asked to choose the same menu.
In keeping with Ely's humble, hands-on ethos, the chef and his team did almost all of the work on the space themselves, including building the benches and an accent table and tiling the floors. The intimate space features a dark color palette; exposed brick walls are juxtaposed with charcoal walls and ceiling, a shiny black bar top and minimalist light fixtures. Dishes are served in rustic ceramic plates and bowls made by local artist Phillip Finder.
Ely hopes to have doors open at Savage the weekend of Sept. 7 or 14, pending some final liquor-license paperwork. Reservations can be made at savagestl.com/reservations.
Savage, 2655 Ann Ave., Fox Park, St. Louis, Missouri, 314.354.8488, savagestl.com