Two years after opening in Maplewood, Missouri, a neighborhood restaurant continues to add to its set of diverse offerings. Toasty Subs debuted in June 2017, and despite its name, put out much more than just sandwiches. The menu also featured sushi, and in February 2018, it expanded yet again to include ramen. Last winter, the business changed its name to Yummi Tummi and developed another food option in the process: poke bowls.
"We wanted to change the name because 'Toasty Subs' was a little misleading. We also have sushi, ramen and poke, which is a very unique combination, and wanted something that would help people know what to expect," says Sophia Liu, the daughter of owners Alex and Lily Liu.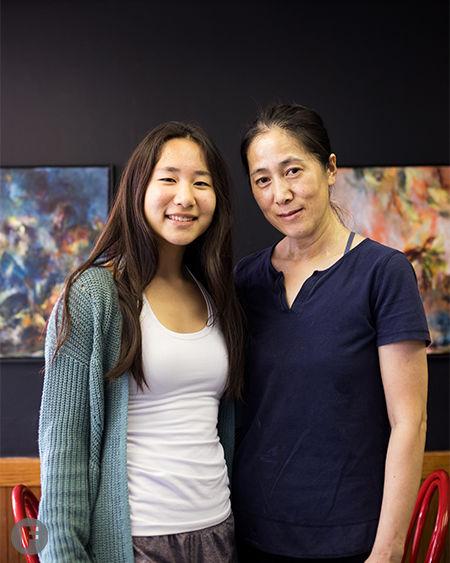 "I really appreciate the help and support from everyone over the years," Lily adds. "We're always trying to develop and improve to make our food as appealing to our customers as possible."
Regulars brainstormed names and the decision was narrowed down to two options: Lily's Lunchbox or Yummi Tummi. Visitors voted between the two and a new brand, whose name was originally suggested by Dana Huth of Mauhaus, was born. The retooling coincides with a light renovation of the interior, which includes a fresh coat of black paint in the dining area, additional tables and colorful paintings by family friend Fan Na Xin.
Visitors can still get the Liu's best-selling items such as a rainbow sushi roll, tonkotsu ramen topped with a requisite sunny soft-boiled egg, and an Italian sub with pepperoni, salami, capicola, ham, Provolone, black olives, tomatoes, red onions, lettuce and red wine vinaigrette. 
Newer items on the broad board of fare include a toasty salmon skin roll with toasted salmon skin, cucumber, eel sauce and sesame seeds. Another special-turned-mainstay is a spicy steak ramen featuring a beef-bone broth with black Angus steak that's also used on the house cheesesteak sub.
Last, but not least, the Lius have most recently cross-utilized their eclectic ingredients for tuna or salmon poke bowls as a lighter option on the menu. The rice bowls come topped with your choice of fish with cucumber, onions, lettuce, seaweed salad, edamame, masago, crab meat, ginger, poke sauce, spicy mayo and sesame seeds.
Yummi Tummi now only offers bubble tea on Fridays and Saturdays, available in flavors such as taro and mocha latte. The Lius hope to acquire a liquor license for the business soon in order to offer sake, beer and wine. Happy hour is now available on Wednesdays from 4 to 9pm featuring sushi specials.
Yummi Tummi is open Monday through Saturday from 11am to 9pm.
Yummi Tummi, 3001 S. Big Bend, Maplewood, Missouri, 314.833.3277, toastysubs-sushi.com