A highly anticipated new diner debuts soon on Cherokee Street. Morning Glory Diner opens on Thu., Feb. 14, serving up classic "greasy spoon"-style fare from chef-owner Ari Jo Ellis for breakfast and lunch.
As reported by Feast in August, opening a diner has always been a dream for the local rising star chef, who previously served from-scratch sausages and bratwursts with her business, The Cut, just down the street inside The Fortune Teller Bar. Ellis works with general manager David Stavron and kitchen manager Chris Hill to bring the concept to the neighborhood.
"It's just classic American diner food – no frills really. The goal is to make it affordable," Ellis says. "It has a different feel than Courtesy or Tiffany's though. We really wanted to create an environment that makes people want to come back often. I really want the feel of this place to be something different and be something special."
Morning Glory Diner fills the space previously occupied by Vista Ramen, which held its final dinner service in August. Ellis brought in her own touches to brighten up the already beautifully renovated space, such as a sea-foam green paint job, her great grandmother's vintage kitchen accessories and macrame hanging plants.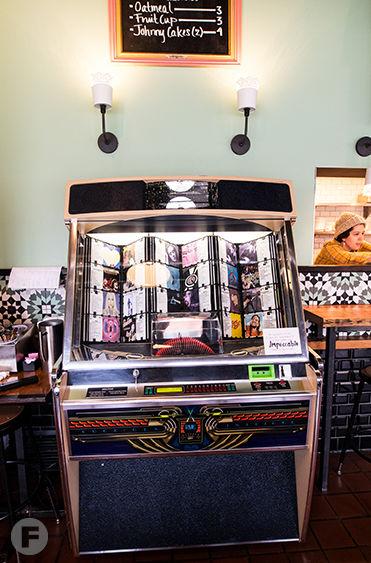 Between window-side seating and a reinstalled bar top lining the open kitchen, the dining area has seats for around 30 guests. Novelty salt-and-pepper shakers lend a homey touch to the modern space, which is highlighted by a large hanging menu board created out of a refurbished window frame from Refab. An old-school jukebox – soon to be filled with 100 CDs with suggestions sourced the community – ties it all together.
From the menu, choose from all-day breakfast options such as Ellis' personal favorite: a completely from-scratch biscuits and gravy. The dish features a housemade sage breakfast sausage made into a gravy atop buttermilk biscuits. Additional staples include options like a slinger with a burger patty, hash browns and two eggs, smothered in chili.
Chicken and Johnny Cakes, or cornmeal pancakes, features a buttermilk chicken-brining process pulled from Ellis' time at Quincy Street Bistro and a heavy cornmeal breading. For something light, try a parfait with layers of Greek yogurt, fruit, housemade granola, honey and cinnamon.
Lunch items include single or double smashed burgers topped with cheese, a tuna salad sandwich on buttery toasted bread, vegetarian chili, and a wedge salad with blue cheese, bacon, hard-boiled egg, tomatoes and your choice of blue cheese or onion vinaigrette dressing.
A monthly rotating special will feature items such as French toast bread pudding with a maple syrup glaze. Housemade pie is also available for dessert with fillings such as mixed fruit. To drink, choose from a simple beverage list that includes coffee, apple juice, orange juice, milk and root beer floats. Eventually, mimosas, Irish coffee and Bloody Marys will also be available.
"We're really looking forward to finally opening. It felt like an eternity since I've gotten to cook for people," Ellis says. "I can't wait to get back into the kitchen and see the gears turn on a day-to-day basis."
Morning Glory Diner's hours will be Wednesday through Sunday from 7am to 3pm. Breakfast is served all day, with the lunch menu available after 11am.
Morning Glory Diner, 2609 Cherokee St., Cherokee Business District, St. Louis, Missouri, 314.250.6007, facebook.com/morningglorydinerstl