A new contemporary American restaurant recently debuted in the space previously occupied by Element, which closed in October 2018, in Lafayette Square. The Bellwether, from the team behind Polite Society, softly opened on June 6, featuring a seasonal menu of small plates, pastas and more.
"We love the neighborhood and the space," says Brian Schmitz, who is a co-proprietor along with Jonathan Schoen. "When the opportunity presented itself, we thought, OK, this makes a lot of sense."
The Bellwether fills around 7,000 square feet of the historic City Hospital Power Plant building. Its main dining area and bar are located on the third story with around 68 seats, while its kitchen and an in-development private events space – the Reference Room – are on the second story. Each level also has its own outdoor patio.
Elements of the restaurant's interior – with consultation by designer Diane Zebell – include banquettes and booths by Gomez Upholstery, Moroccan-style hanging lights and Victorian-esque curtains. The color palette includes maroon, mauve, white and silver as well as dark wood. Much like the menu, the aesthetic doesn't ascribe to any particular style and instead draws inspiration from all over.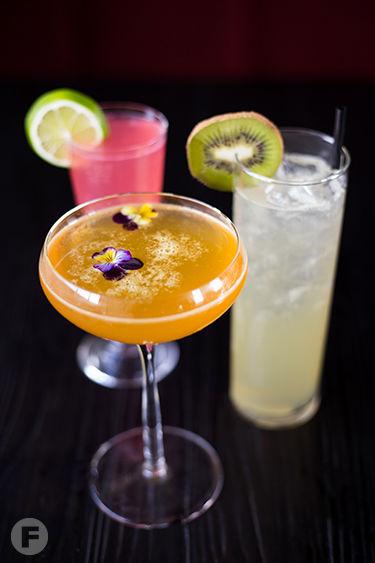 "The Bellwether's name means 'leading indicator,'" Schmitz says. "I want it to be a two-way street representation of what's going on in St. Louis as well as bringing in what resonates with us from outside of it. We wanted to stretch our legs and reach to try some different things, so we thought that'd be a great way to encapsulate it."
Executive chef Thomas Futrell's menu begins with salads and small plates such as mushroom and ginger dumplings with tamari soy-based dumplings, green onions and black vinegar dipping sauce. Another highlight is lamb meatballs with Aztec blue grits, lamb fat lavash and Calabrian pepper jam.
Pasta options include fava bean rotolo with fine herbs, fava beans and ricotta fonduta, while entrees include octopus with roasted carnival cauliflower, Calabrian pepper oil and curried mustard beurre blanc. In the future, a tasting menu will also be available in the Reference Room.
From the beverage list, choose from wine by the glass, and specialty cocktails by bar manager Travis Hebrank such as Siddhartha with Wheatley vodka, A.E. Dor VSOP Cognac, Los Nahuales mezcal, amara braulio, turmeric simple syrup, lemon juice and Bittermens Hellfire shrub.
"I'm really proud of what this team has done," Schmitz says. "I think it's a continuation of the hospitality that I hope we display at Polite Society and a space with its own unique identity."
The Bellwether's kitchen hours are Sunday and Tuesday through Thursday from 4:30 to 10pm as well as Friday through Saturday from 4:30 to 11pm. The bar is open later.
The Bellwether, 1419 Carroll St., Lafayette Square, St. Louis, Missouri, 314.380.3086, thebellwetherstl.com