Witness brewing history in the making at the Anheuser-Busch St. Louis Brewery and Tour Center. Now, for a limited time only, all tour participants can see where the St. Louis Blues celebrated their Stanley Cup championship win: in front of Tank 104, which holds Bud Light's Gloria Brew.
The special batch of beer is being brewed with the sounds and spirits of the team's unofficial victory anthem, "Gloria" – the tank is even wearing massive headphones in order to absorb every note of the song, which will be played on repeat, 24/7, for the entirety of the historic brewing process. During their revelry, every member of the 2018-2019 championship team also signed the tank.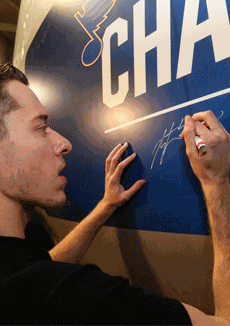 Once ready, the beer will be poured into limited-edition championship packs that will be released later this year.
Can't make it down to the brewery? Tune in to the livestream to watch the brewing process as it happens.
Anheuser-Busch, 1200 Lynch St., Soulard, St. Louis, Missouri, 314.577.2626, anheuser-busch.com