On Monday, August 1, one of St. Louis' most anticipated restaurant openings of 2016 debuted quietly in Kirkwood: Nathaniel Reid Bakery. For award-winning, internationally recognized pastry chef Nathaniel Reid, the concept – which features artfully created from-scratch pastries – is the culmination of 15 years worth of experience and planning.
"Ever since I got my start in this industry, it's been my dream to do this," Reid says. "I've been really blessed going through all these travels around the world and have seen and tasted a lot of different things. Now, I'm able to bring those ideas home and tie it all together."
Reid, who originally hails from Farmington, Missouri, co-owns the bakery with his wife, Lee Lee – a pastry chef at the Algonquin Country Club. Most recently, Reid established his own company, St. Louis Baking and Pastry LLC, to serve as a consultant, educator and brand ambassador for companies including Valrhona and Sasa Demarle.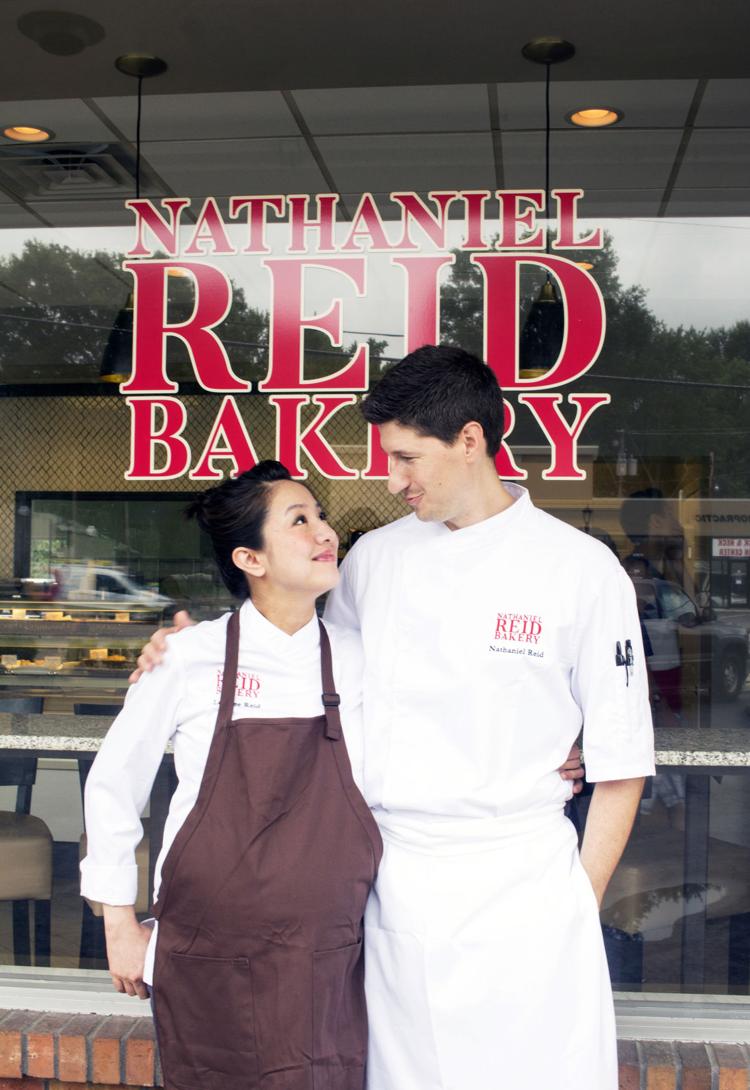 The graduate of the University of Missouri as well as Paris' Le Cordon Bleu boasts a lengthy career resume that includes numerous competition titles including Pastry Chef of the Year in the 2010 U.S. Pastry Competition. He was also recognized as one of the top 10 pastry chefs in America by Dessert Professional Magazine in 2012.
Additionally, Reid also served as the executive pastry chef at Norman Love Confections in Fort Myers, Florida, as well as at the Ritz-Carlton in St. Louis. The kitchens at St. Regis Hotel in Dana Point, California, and Joël Robuchon Restaurant at the Mansion Hotel in Las Vegas, Nevada, also lent to his set of experiences.
At Reid's new brick-and-mortar business, the worldly chef gets to the root of his passion for pastry with a bakery case of his own to showcase his talents.
"We're using a lot of experience and great techniques to provide the best-quality products we can," Reid says. "We want to share our experience and the artistry of what we do. It starts from the inside out – caring that the cake's cooked perfectly, that the mousse is just the right texture and making a great display on the outside. I care about the whole product from the beginning to the end."
The 1,900-square-foot space features a 600-square-foot front of the house renovated with the help of Reid's father and retired carpenter, Denny Reid. Longtime friend Angela Francis assisted with the interior design, which features neutral tones, decorative white tiles, and pops of color to highlight shelves full of fresh baked goods.
"We're offering a place to stop in for breakfast, lunch or on your way home for dinner, so we have a little bit of everything," Reid says. "We have breakfast pastries, a whole coffee and espresso program, sandwiches, salads, quiche, lunch, snacks and cakes – something for all times of the day."
One of Reid's signature items, also featured in the New Pâtissiers, is the Amber. Inspired by New Orleans, the dessert channels pralines with pecan caramel, sablé breton, vanilla-bean mousse and caramelized pecans. Like many of Reid's other creations, the Amber is available in individual tart size as well as larger cakes for sharing.
Another specialty, twice-baked croissants, come stuffed with chocolate and almond cream. Patrons will find them alongside regular selections including macarons, chocolate bars and fruit-filled danishes. Look for these staples as well as rotating seasonal offerings to pair with Kaldi's Coffee and Firepot Teas.
Plenty of savory options abound as well, including cheesy filled croissants and even sandwiches. Reid's take on a Parisian sandwich, for instance, features a buttered house-baked baguette topped with prosciutto, gruyere and cornichons. Grab any of the above to go, or try it warmed up to enjoy on premise at one of the shop's few window seats.
"I wanted it to feel welcoming here, like you're coming to someone's home," Reid says. "There's a window that looks into the kitchen so people can see the products being made here, but most importantly it's so the staff can see clients' expressions. We get to see their faces light up when they walk in. There's nothing more rewarding."
Nathaniel Reid Bakery's current hours of operation are Monday through Saturday from 7am to 6pm.
Nathaniel Reid Bakery, 11243 Manchester Road, Kirkwood, Missouri, 314.858.1019, chefnathanielreid.com