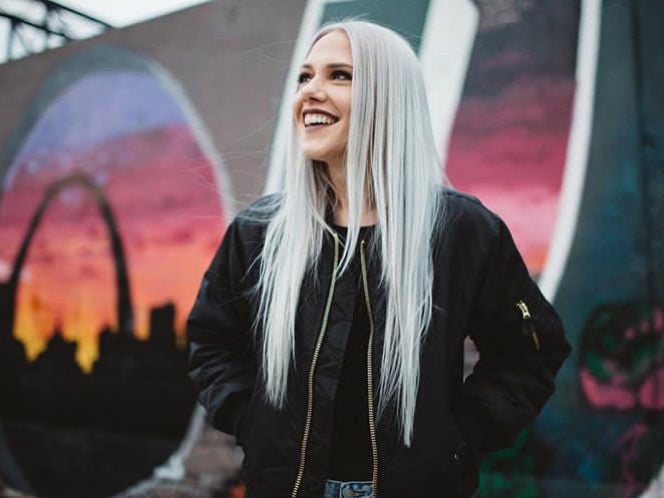 Sara Trikenskas knows a thing or two about chocolate. The former craft chocolate maker is currently a pastry chef at The Ritz-Carlton, St. Louis, and this fall, she'll help judge the eighth annual Good Food Awards in San Francisco. The national competition recognizes "tasty, authentic and responsibly produced" foods in 15 categories including beer, confections and more. For the second year in a row, Trikenskas is lending her expertise to the chocolate category.
Trikenskas got her start in chocolate learning and working for Alan McClure of the renowned Patric Chocolate in Columbia, Missouri. Before joining The Ritz, she participated in the Good Food Awards from the other side of the competition alongside McClure. We sat down with Trikenskas to learn more about craft chocolate, her inspirations and what she's most excited about in St. Louis.
What is your favorite ingredient to cook with and why? It'll be chocolate. People aren't familiar with the capabilities of chocolate. It's very interesting to make something as simple as a chocolate chip cookie using really high-quality chocolate and to let people taste the difference between a craft chocolate bar or a Hershey's chocolate bar. It's just like wine or coffee. Where it's grown affects the way it tastes. It's nice to showcase that in cooking.
Do you have a secret weapon spice/ingredient/technique? Cinnamon. I somehow manage to sneak cinnamon into almost everything I make. It's almost a joke in our kitchen that people need to hide the cinnamon from me. I drink black coffee with cinnamon in it. I'm all about that.
What's your perfect day of eating in St. Louis? Without a doubt, I would start with getting coffee at Kaldi's Coffee. I'm a big fan of getting early breakfast at Winslow's Home. Then, I'd like to get a pretzel at Union Loafers. If I have to get dinner, I'd get the sushi at the Ritz-Carlton. For dessert, I'd go to La Patisserie Chouquette for something from Simone Faure. You can never go wrong with that or Nathaniel Reid Bakery. It's a toss up!
How has the local food scene evolved over the past year? I think it's a very exciting time to cook in St. Louis. Getting to travel, especially with food in mind, I'm always glad to come back home and see that we have so many of the great things people are seeking out in larger cities. It's very exciting to see the way that the city is willing to spend money for good quality ingredients. They truly learn where their food is coming from and see the difference in quality. This is going to exponentially grow the food scene in the city.  
Who are St. Louis chefs you admire at the moment? I admire Nathaniel Reid. He hired me at the Ritz-Carlton about three years ago. I think he has a beautiful showcase of true, fancy, delicious pastries for St. Louis. I also really admire him because he's a world-renowned chef who chose to open in Kirkwood. I really admire this about Tara and Michael Gallina from Vicia as well, including the work they do to keep food in the city with things that are grown and produced locally. It's something happening in larger cities, and they're partially responsible for that movement here. Also Frank McGinty from Kaldi's! His food is incredible. It's amazing that this man doesn't cook every day.
What concepts or styles of cooking do you hope to see added or expanded in St. Louis? This isn't necessarily a cooking style or restaurant concept. Something that I really want to see St. Louis get more on board with is more specialty food stores like Larder & Cupboard and Parker's Table. They're two specialty stores that carry carefully curated items and bring delicious foods into the city. They're little hidden gems!
What do you like to cook at home or on your day off? I'm a big breakfast person. I think I spent all of college not eating breakfast, and then made up for it since then. I definitely am a big brunch fan. I'm all about the eggs and bacon to keep it simple.
What's your favorite comfort food? I want to say pizza, but I feel like a big, big bowl of pasta with red sauce – classic marinara, definitely.
If you could tell home cooks one thing, what would it be? It's important to remember that some things are not meant to be convenient. If you have to drive a little bit further to go to a grocery store to get something fresher, or you go to a different coffee shop and not the big chain one on the corner, take the extra time. You'll be amazed at how your food at home can be just as good as stuff you get in the delicious restaurants here.
What is your first food memory? The thing that set forth my career is Gianduja, a blend of chocolate and hazelnut. It's basically like a luxury version of Nutella. It is the first time I tasted something that changed the way I thought about chocolate, and candy in general. It ruined all commercial candy bars for me. I had never tasted anything like this before. I had to find out how it was made, what was in it, why it was so delicious. I have pretty much gone in with that mindset for food ever since.
What's the most intriguing dish you've made recently, and why? I've been making pastries that look like other things. I've made macarons that look like waffles, and I just made French macarons that are in the shape of lemons. People are losing their minds over it. It's hysterical and so simple. I've also been making dessert tacos, like a glorified chocolate taco, that people have been losing their minds over. Pastries that look like savory foods are all the craze right now.
What inspires your cooking? I would say the Midwest. I'm like an ambassador for the region trying to trick everyone into moving here and showing them how cool it is. Being born and raised here and having my mom cook for me my whole life inspires me. I didn't realize potatoes came in a box until I went to college. I didn't realize how fortunate I was to grow up with home-cooked meals every day in the Midwest.
What are your future plans? I would like to start bringing more of the chocolate that I'm judging at the Good Food Awards and the notion of craft chocolate to St. Louis. In the next few months, I'm going to start having pop-up chocolate tastings to share the delicious information. I really believe it's an educational experience I'm bringing that just happens to be delicious. I've been busy at the Ritz, but feeding all the St. Louis people chocolate is definitely in my near future.
The Ritz-Carlton, St. Louis, 100 Carondelet Plaza, Clayton, Missouri, 314.863.6300, ritzcarlton.com/en/hotels/st-louis