A new bakery and kitchenwares boutique recently debuted in Ladue. Dottie's Flour Shop opened on Nov. 9, specializing in pies and more made with organic ingredients alongside a selection of high-end kitchen goods and gifts.
The concept comes from lawyer turned baker Dottie Silverman along with Jess Lucas of Fozzie's Sandwich Emporium. Lucas previously co-owned The Humble Pie, a pizza-centric concept that occupied the Ladue space until closing in October 2017 to make way for a sweets-centric counterpart. Dottie's Flour Shop first made an appearance on The Humble Pie dessert menu, and a dedicated web store rolled out four months ago. The duo brought on baker Marcia Mermelstein – a pie-making veteran who has made baked goods for Kaldi's Coffee Roasting Co., Winslow's Home and local farmers' markets – to join them in the kitchen.
The 400-square-foot space features a freshly outfitted retail area with custom marble-topped cabinetry and shelves to display a smorgasbord of sweets and carefully curated wares. Silverman refers to a book in stock, Lagom: Not Too Little, Not Too Much: The Swedish Art of Living a Balanced, Happy Life, as inspiration for the storefront's cozy, functional design philosophy. Therein, visitors will find everything from cookbooks, tea towels and Fresh Coast Candles to old-fashioned pine wood pie boxes and local pantry items such as raw honey.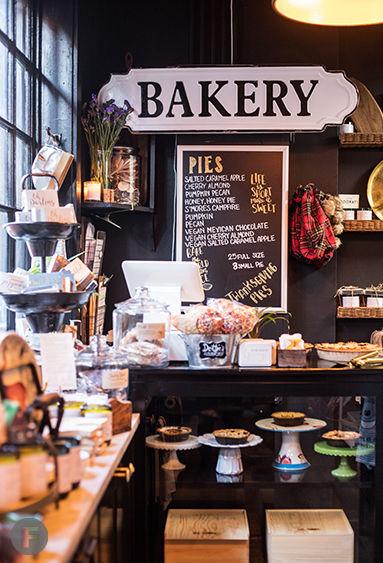 In the kitchen, the baking team whips up a variety of handcrafted pastries. Silverman's pies feature a light empanada-like butter crust. Lucas brings her expertise in vegan baking to the table with items including a coconut oil-based pie crust for a dairy-free alternative. The pie menu changes seasonally, featuring local produce whenever available.
"Aside from a number of vegan offerings we'll always carry, we really just try to go with whatever the season is producing. We really let the fruit speak for itself in our pies," Silverman says. "We don't heavily sweeten our pies so you really get the full flavor profile of the ingredients."
Highlights include salted caramel apple pie, cherry-almond pie, vegan Mexican chocolate pie and campfire s'mores pie with chocolate hazelnut ganache and roasted marshmallow. A newer flavor is the Honey, Honey pie, which is a custard pie flavored by local Hawthorne raw honey. Winter flavors coming soon to the menu include eggnog, pumpkin pie and pear pie.
Deep-dish pies are available in 9-inch and 5-inch sizes, and online ordering is available as well as message and design customization. Pie pops are also on hand and include flavors such as berry. Cookie selections include a vegan chocolate chip cookie, a vegan matcha green tea sugar cookie and Starry Skies, a dark chocolate cookie with white chocolate morsels. 
"This is really pursuing a passion and it's a labor of love. We hope that people who come into our shop – whether it's to peruse or purchase  – that they sense that the people who are here are really passionate about what they're doing and really want to share that passion with others," Silverman says.
Dottie's Flour Shop is open Monday through Saturday from 10am to 5pm.
Dottie's Flour Shop, 9783 Clayton Road, Ladue, Missouri, 314.915.5681, dottiesflourshop.com