If you have fond memories of eating Dippin' Dots – "The ice cream of the future" – at Busch Stadium, the Saint Louis Science Center, the Saint Louis Zoo, Six Flags or even the Gateway Arch, it's thanks to southern Illinois native Curt Jones.
Jones founded Dippin' Dots 30 years ago in Paducah, Kentucky, just across the Ohio River from southern Illinois. After exiting the internationally successful company he built in 2015 (he sold his ownership in 2012), Jones wasted no time applying his knowledge and experience in the science and business industries to a new venture: 40 Below Joe.
The company, which officially launched last month, produces coffee and coffee creamer beads made in a similar way to Dippin' Dots' iconic spherical ice cream. With a production facility based on the campus of Southern Illinois University-Carbondale (SIUC), 40 Below Joe is also something of a homecoming for Jones, who earned his master's in microbiology at SIUC in 1986 before founding Dippin' Dots in 1988. The foundation of both businesses sprung from Jones' research work in the mid-1980s at a biotechnology company.
"I was in charge of growing all of these bacterial cultures [for animal feed], and we would freeze them using dry ice and other things," Jones says. "I started using liquid nitrogen at the time because I wanted to freeze them faster to get smaller ice-crystal formations. After playing with that for a while, I found that you could make little pellets if you did it a certain way, which made it a lot easier to handle and freeze."
About a month after his discovery in the lab, Jones was making ice cream on his front porch when a lightbulb went off. "I got the idea to try to make ice cream that way, and of course the novelty of the beads was the fun part – I think that's what got people to try it at first," Jones says of that first batch of Dippin' Dots.
Now, with 40 Below Joe, Jones is hoping to recreate that same novel and fun experience with coffee. Like ice cream, he believes that cryogenically freezing coffee helps capture its purest flavor, and therefore the frozen coffee beads provide the freshest product possible.
"We started to experiment with it, and I found that I could still capture all the flavor and essence of coffee," Jones says. "Most baristas will tell you that as soon as you draw an espresso shot, you want to use it right away, because it starts to oxidize or change a little. That was my curiosity: I wonder if I froze it at 320°F below zero, if it would lock in? You're putting it in nitrogen, which also displaces oxygen, so I thought maybe it would just lock it in. And then what would it be like a week, two weeks later? A month later? We kept checking it, and it never changed. We have some product that's even a couple years old, and you can't tell the difference from the day it was frozen. That was really encouraging to me."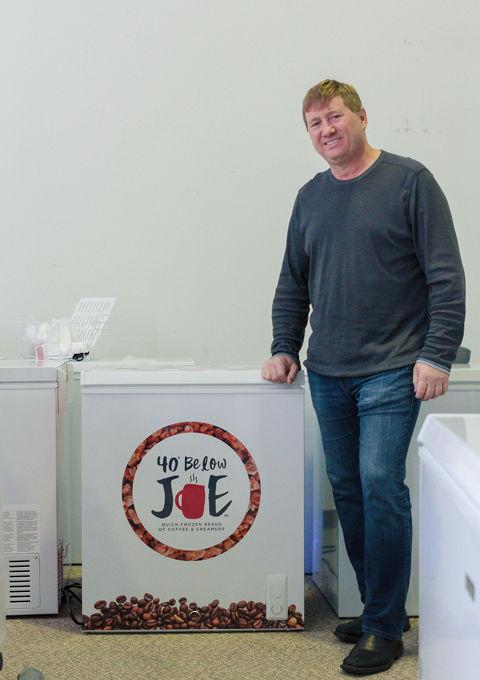 The company's first coffee-bead blend to hit the market is a Brazil/Guatemala blend sold in 20-ounce packages that can be shipped in dry ice to your door. The beads are made by flash-freezing fresh-roasted Arabica coffee beans using liquid nitrogen. Jones says the coffee beads are intended to be enjoyed frozen, like Dippin' Dots ice cream, or heated using a milk steamer or in a mug in the microwave. To complement the coffee beads, Jones developed three flavors of nondairy creamer beads that are sold in packages with coffee beads: French vanilla, hazelnut and vanilla. The French vanilla and hazelnut creamer beads are made with coconut milk, organic cane sugar and natural flavoring; the vanilla is made the same way but with almond milk.
"I've been supplying my wife with the coffee beads for the past seven or eight years, and she just puts it in a cup, adds water and microwaves it and then adds creamer," Jones says.
If you want to enjoy the coffee alongside a full breakfast, no problem: 40 Below Joe with hazelnut creamer beads, for example, clocks in at just 76 calories, fewer than in a typical latte. "This is a low-calorie product because coffee is basically no calories," Jones says. "The idea is that you can grab our product at a convenience store or coffee shop and have a 75-calorie snack."
Originally, Jones envisioned 40 Below Joe launching either in partnership with coffee shops or as brick-and-mortar stores – "My first idea was that we can do anything that Starbucks can do; we just start with beads instead of beans," he says – yet ultimately he chose to first launch it as a packaged product in retail and online. The company's soft retail launch includes stores in Metropolis, Illinois; Lexington, Kentucky; Jonesboro, Illinois; Ste. Genevieve, Missouri; and Carbondale. 40 Below Joe also debuted on the Grand Canyon University campus in Phoenix in January. "We delivered them a good-sized order on January 8, and they're already getting ready to reorder [on February 6]," Jones says. "That's a good sign."
Just as he did with Dippin' Dots, Jones would like to expand 40 Below Joe into amusement parks, ballparks and other large entertainment venues. He recently struck a deal with Silver Dollar City in Branson, where he expects to be serving his product by spring. Jones would also like to break into retail and venues in the St. Louis market this spring.
"It's been a lot of fun; it's kind of like the early days of Dippin' Dots," Jones says. "We're getting a lot of good responses, so we're feeling really good about it."
With production picking up at the 40 Below Joe facility at SIUC, Jones has come full circle – yet in some ways, he's just getting started.
"One of the things I'm most proud of about Dippin' Dots was that we created a lot of jobs in southern Illinois over the years, because Paducah is just across the [Ohio] River," he says. "And as I was getting ready to start this coffee business, I thought, 'I'm from southern Illinois, and if we put it here, we can develop more employment in the region.'"
40 Below Joe, 40belowco.com