A taste of New Orleans has arrived in University City.
PerJax Americana Kitchen quietly opened its doors on Fri., May 20 in the former Bici Cafe. The new restaurant, which takes its name from its location at the corner of Pershing (Per) and Jackson (Jax), comes from chef-owner Steve Cupp, a St. Louis native and the longtime owner of Glenn's Café in Columbia.
Those familiar with Glenn's will recognize a few items – in particular, Cupp says the Pastalaya and grilled marinated chicken are inspired by his menu at the Columbia staple (which also operated in nearby Boonville for a few years). Grilled marinated chicken with pepita sauce (a new iteration of the mesquite chicken at Glenn's) is served with a black bean quesadilla and jicama salad. The aptly named Pastalaya features shrimp, duck, andouille sausage, tasso and penne in a spicy seafood/demi glace reduction.
Newcomers include a Green Goddess salad with tomato, cucumber, sweet onion, fennel, corn, olives, capers, feta and flat parsley and a Blue Bayou Steak. The latter features two grilled bacon-wrapped Angus petite tenderloin steaks with blue cheese glacage topped with barbecued shrimp and served with maque choux mashed potatoes and fried shoestring onions.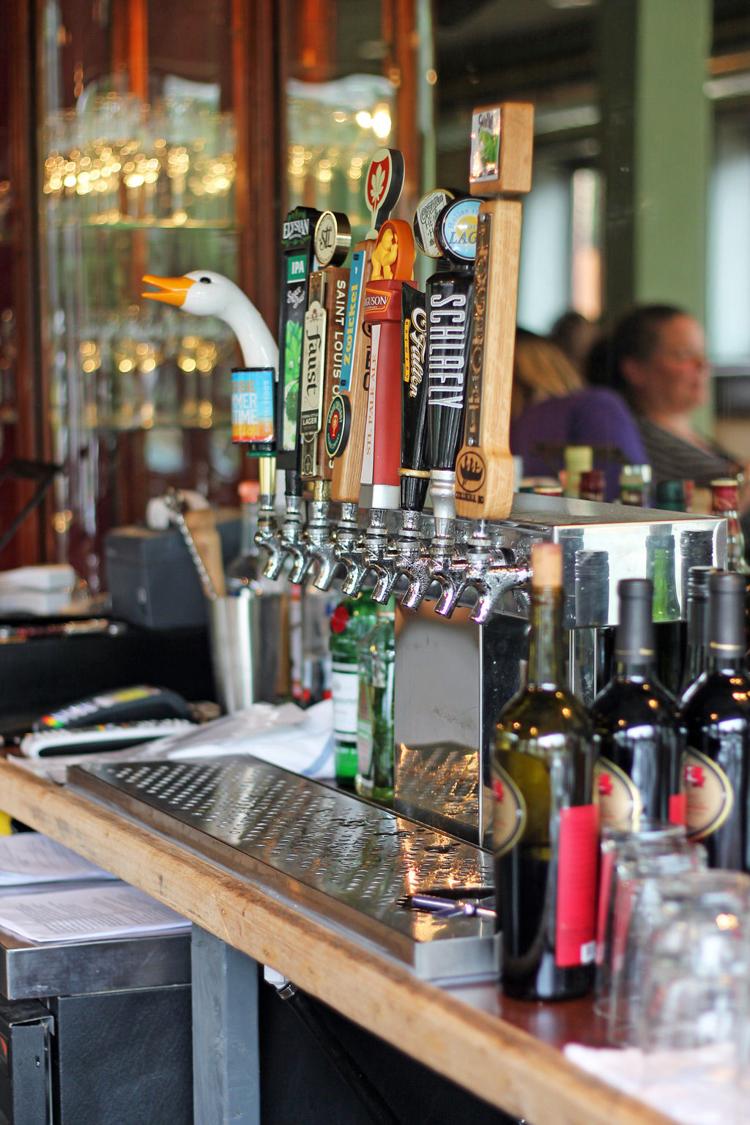 To start, diners can choose from appetizers like hot-spinach artichoke dip with wonton chips, quinoa and black bean fritters, jerk chicken wings with apricot-tamarind dipping sauce and seafood gumbo with shrimp, crawfish, oysters and andouille sausage. Seafood plays heavily into the roster of entrees and sandwiches, including shrimp Creole, blackened redfish, fried oysters, catfish fillets and a smoked salmon reuben with Jarlsberg cheese, fresh sauerkraut and caper-horseradish dressing. Comfort-food favorites include a bronzed double pork chop, chicken-fried steak and a burger with Jack cheese, guacamole, sprouts and mayo. Sides range from cole slaw, braised greens and green beans to fresh-cut fries, maple-glazed baby carrots and black beans.
At the bar, choose from eight craft beers on tap, including local offerings from Schlafly Beer, O'Fallon Brewery and Urban Chestnut Brewing Co., in addition to a modest wine list.
Cupp says to look for an expanded menu featuring cocktails, more steaks and seafood in the near future, in addition to lunch hours.
PerJax is currently open Tuesday through Thursday, 4:30 to 9pm, and Friday through Saturday, 4:30 to 10pm.
PerJax Americana Kitchen, 7401 Pershing Ave., University City, Missouri, 314.932.5903, perjax.com