Coffee and craft beer combine at a new collaborative concept in south city. Brandon Nickelson, who is a franchise co-owner of Craft Beer Cellar in Clayton, recently debuted a second St. Louis location of his bar and bottle shop in Southampton. For a daytime counterpart, he partners with siblings Nate and Hannah Larson of Maplewood café Living Room.
"Coffee and beer are amazing friends, but not many people are going to come in and drink a beer before noon. Having a place like Living Room serve coffee out of here seemed like an obvious choice for us," Nickelson says.
As reported by Feast in March, the two businesses will operate out of the same space. According to Nickelson, the total area is approximately 2,700 square feet, with one half dedicated to the retail shop and the other half for the bar and café.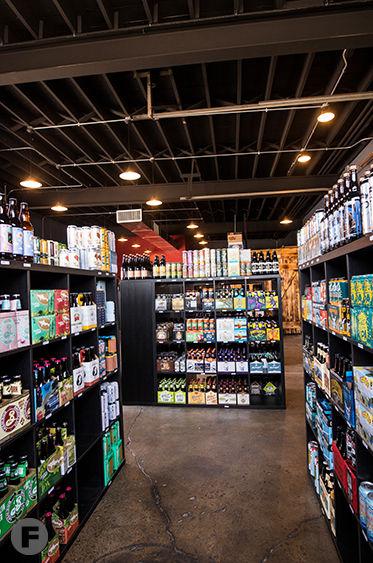 The building retains many of the former service station's features such as a set of garage doors redesigned into convertible windows that open up to lend an airy, patio-like feel to the bar. The space's design, created with assistance from interior designer Mindy Klatt, features a modern industrial vibe rounded out by wood finishes and red accents.
On the retail side, Craft Beer Cellar offers more than 700 beers grouped by region. A cooler is organized by style such as IPAs, sour beers and imperial stouts. During the day, Living Room offers a full coffee menu and scratch-made pastries on the bar side.
"We roast all of our coffee and make our bakery items in Maplewood and bring those over here," Hannah says. "We're hoping to capture people on their way to work, school or lunch who are looking for a really good cup of coffee."
Living Room's beverage menu includes espresso drinks with housemade syrups, batch-brewed house coffee, pour-overs, cold brew, tea and additional signature drinks such as the "Sunset" made up of blood-orange soda with espresso over the top. 
Snack offerings include cookies, layer cake, savory biscuits and a variety of scones with housemade jams. Vegan options such as a sandwich cookie and muffins are also available. In the future, Living Room will expand food offerings to include cold lunch items as well as weekend brunch.
From the bar's draft system, guests can choose from 14 different beers on tap such as Art of Neurosis from 2nd Shift Brewing and an apricot Gose – a sour beer with apricot and sea salt – from Perennial Artisan Ales. For the business' grand opening on July 21, Tropical Incarnation IPA by 4 Hands Brewing Co. will also be available.
Craft Beer Cellar's Southhampton bottle shop is open Monday through Saturday from 10am to 10pm and Sunday from 12 to 6pm. Living Room is open 7am to 1pm daily. Draft beer from the bar is available from 1 to 10pm daily.
Living Room and Craft Beer Cellar Southampton, 5760 Chippewa St., Southampton, St. Louis, Missouri, facebook.com/cbcsouthcity