Strange Donuts corporate chef Mary Bogacki (née Boehne) and baker Mary Jane "MJ" LaRowe recently announced they were both moving forward to pursue new opportunities. When the pair broke the news to their team, they had the full support of the Done Zone.
Co-owners Jason Bockman and Corey Smale proudly announced in a Facebook post that Bogacki would remain a consultant to the business and begin teaching at her alma mater St. Louis Community College at Forest Park, while LaRowe has joined Gerard Craft's Niche as assistant pastry chef under Sarah Osborn.
After a year as corporate chef, Bogacki says she is leaving Strange Donuts feeling successful in the mission they set out to accomplish. Not only did she elevate the quality of the donuts by making 90 percent of its product from scratch, she was there to see two new storefronts open in Kirkwood and Columbia, as well as the Trap Kitchen at Brennan's in the Central West End.
"(Smale and Bockman) have an amazing brand and really strong following," she says. "I hope to have opened the doors to the professional side of things and a product they can all be proud of."
With experience at the Four Seasons also under her belt, Bogacki is moving forward into an instructor role with the hope to give back some of what she has learned to students, as well as the former baking staff at Strange Donuts.
"You can progress so much further when you have support behind you," she says. "I just hope I can help and provide for the up-and-coming students and culinarians who are going to help shape this industry."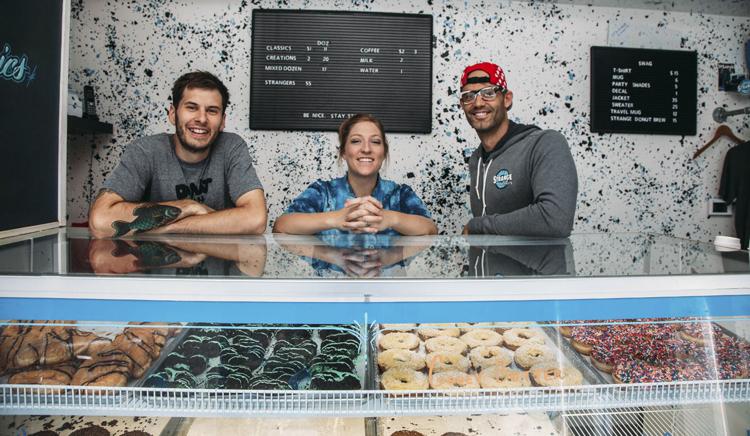 LaRowe joined the Strange Donuts crew – while still in culinary school at Forest Park – in its early days as one of the Maplewood shop's first bakers. She had little kitchen experience, other than a part-time job in the café of The Magic House St. Louis Children's Museum.
"They really took a chance on me having no other kitchen jobs, and just letting me in and teaching me everything they knew, and I really appreciate that," LaRowe tells Feast.
Now, at just 23, she's working alongside pastry chef Sarah Osborn – named best pastry chef in St. Louis in the 2015 Feast 50 – and bringing her skills to the kitchen of James Beard Award-winning chef Gerard Craft at Niche.
It was noted by Strange Donuts on Facebook LaRowe "always challenged herself and those around her – 99 percent of the time with a smile on her face." LaRowe also credits the support of her Strange Donuts family as the source of confidence she needed to keep working and honing her craft.
"I feel like there's pressure, but it's a pressure to do better and not any sort of negative pressure," she says of working for such a well-respected restaurant. "I want to learn as much from them as I can, and I know it will make me a better pastry chef in the end."
Strange Donuts, 2709 Sutton Blvd., Maplewood, Missouri, 314.932.5851, and 107½ E. Argonne Drive, Kirkwood, Missouri, 314.394.2323, strangedonuts.com