"Making healthy eating simple and accessible." That's the motto of Alexandra Caspero Lenz, a registered dietitian, recipe developer, food blogger and, now, cookbook author.
In her new cookbook, Fresh Italian Cooking for The New Generation, which debuted last month, Caspero Lenz highlights that fresh Italian food is not overly complicated. It's simple, nourishing and filled with vegetables.
From Virginia to California and now, settled in St. Louis with her husband, one thing has stayed with Caspero Lenz each step of her journey – nutrient-dense eating and sharing that with others. Caspero Lenz's proposition seems effortless: Source fresh ingredients and you don't have to do a lot to make them taste good.
Growing up with an Italian father and Danish mother, Caspero Lenz found herself always in the kitchen cooking. For her family, food was and is the center of everything.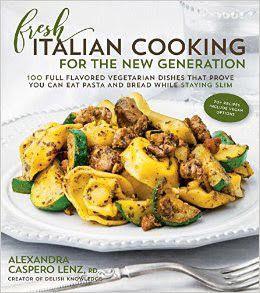 "We're that family where we're sitting down for breakfast and talking about lunch," Caspero says, remembering it as a joyous, celebratory experience.
And one thing was often around table – pasta, which, in recent years has drawn an unhealthy stigma. In Fresh Italian Cooking for The New Generation, Caspero Lenz proves "you can have your pasta and eat it too." What matters is how you eat it.
"It's how we get the most nutrition bang for your buck," explains Caspero Lenz, emphasizing portion size and vegetable-heavy dishes. For instance, Caspero Lenz will build a meal with one cup of whole-grain pasta, two cups of vegetables and a sauce. The result is a bowl of pasta that feels nourishing, but is also filled with vegetables.
In today's society, people are strapped for time and more often than not, convenience becomes a major factor. Caspero Lenz hopes her readers will pick up her cookbook and think, "I can make this." If you can learn a few basic recipes, you are well on your way to making healthy decisions.
All the recipes in the cookbook are vegetarian, as Caspero herself is plant-based. And most include a vegan option. The "new generation," Caspero Lenz explains, is more open to plant-based eating.
You can find Caspero Lenz's cookbook at Left Bank Books in the Central West End, in addition to other bookstores. Pick up a copy and quickly become inspired to not only eat fresh, seasonable food, but prepare it in a way that is irresistible.
Caspero Lenz's favorite recipe in the cookbook is the gnocchi with fresh corn and zucchini sauce, which she describes as a "celebration of summer." The fresh corn cut straight off the cob creates a silky sauce. You can use Caspero Lenz's homemade gnocchi she shares in her cookbook or buy it pre-made at the store.
Gnocchi with Fresh Corn and Zucchini Sauce
¼ cup (60 g) butter
½ cup (45 g) white or yellow onion, finely diced
Salt and freshly ground black pepper
2 cloves garlic, chopped
4 cups zucchini (about 3 zucchini), diced
2 cups fresh corn kernels (about 3 ears corn)
1 tsp dried oregano
1 (17.5-oz) package vacuum-packed gnocchi
½ cup fresh basil, chopped
¼ cup Parmesan cheese, freshly grated
| Preparation | Bring a large pot of salted water to a boil.
Heat the butter in a large skillet over medium-high heat until melted and slightly browned. Add the onion and cook until soft, about 3 to 5 minutes. Add in a generous pinch of salt and pepper. Add the garlic, zucchini, corn kernels and oregano. Cook for 5 to 8 minutes until soft. Season to taste with salt and pepper.
While the zucchini and corn are cooking, add the gnocchi to the boiling water and cook until gnocchi start to float to the top. As soon as the gnocchi float to the surface, scoop out and place in a large bowl. Add the cooked zucchini and corn mixture to the gnocchi. Stir in chopped basil leaves and Parmesan cheese.
For a vegan version, replace butter with non-dairy butter, same amount. Replace Parmesan cheese with vegan Parmesan cheese (recipe in the cookbook), same amount.