Vacationers might recognize Mellow Mushroom from hot spots across the nation. The hippie-inspired concept, founded in Atlanta circa 1974, currently has more than 200 locations across the country. On July 25, the first Mellow Mushroom franchise in Missouri debuted in Sunset Hills.
"We specialize in pizza. Something about our dough is absolutely amazing. People love it and crave it," says general manager Chris Deatherage, who previously served as the area director of Buffalo Wild Wings. "We also make calzones, hamburgers, sandwiches and salads. We're huge on gluten-free, vegetarian and vegan offerings – there's a little bit of everything."
The full-service restaurant fills a large space previously occupied by Growler's Pub. According to Deatherage, no two Mellow Mushrooms are identical. SPACE Architecture + Design incorporated elements of the brand's retro identity with eclectic contemporary elements.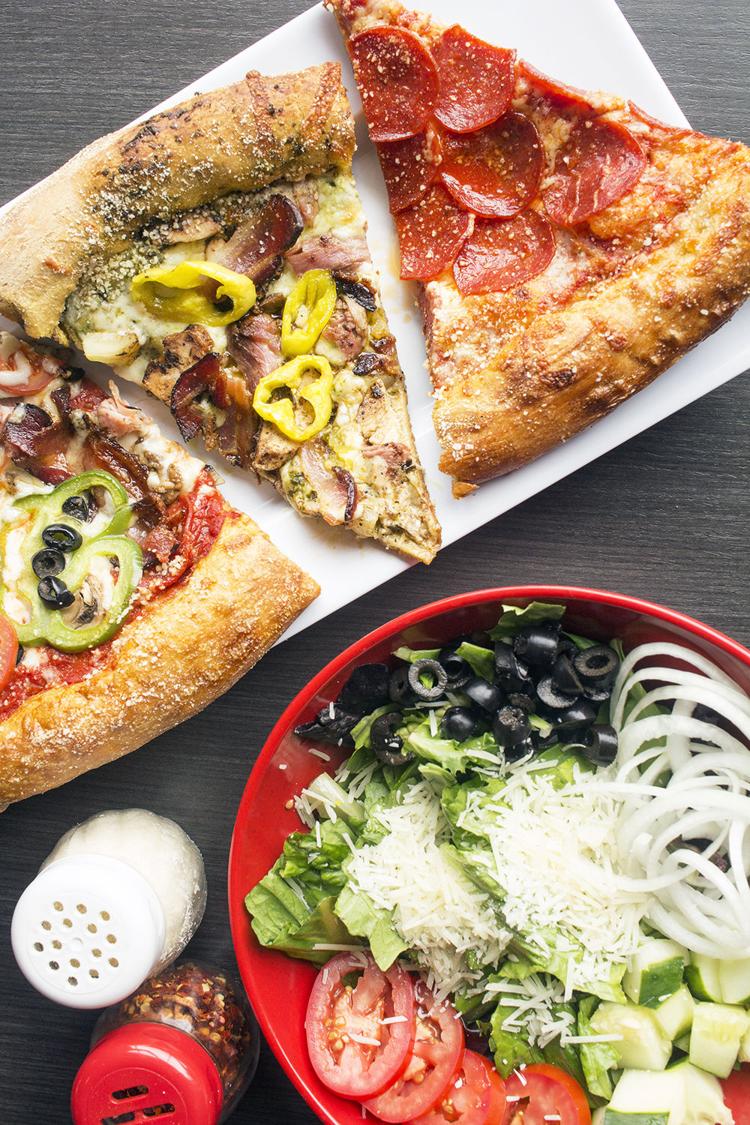 Altogether, the restaurant accommodates seating for around 200 guests. In the dining room, wavy ceiling decor meshes with colorful tiles and booths, hanging globular lights, funky statues and paintings by local artist Phil Jarvis. The sizable patio features a full bar, bocce ball and plenty of seating including tables locally crafted by Mwanzi Co.
"It's a sit-down place with a lot of local flair and all fresh ingredients," Deatherage says. "All of our dough is hand-tossed when you order it. It's not as thick as Chicago-style but not thin crust by any means. It's a little bit thicker with cornmeal and some other things to make it moist and sweet."
According to its website, Mellow Mushroom's signature dough features high protein, unbleached wheat flour, Appalachian spring water and no refined white sugar. Its pizza sauce is made with vine-ripened tomatoes and a proprietary blend of herbs and spices free of additives and preservatives.
Popular specialty pies include the Mighty Meaty, which features red sauce topped with mozzarella, pepperoni, sausage, ground beef, ham and applewood-smoked bacon. Another highlight, the Magical Mystery Tour, features a pesto base with button and portobello mushrooms, feta and mozzarella, spinach and light jalapeños on a pesto-baked crust.
The menu mostly mirrors that of its other locations. However, after 90 days in business, the franchise can develop a local-only food menu with up to five unique specialties – to be decided. The drink menu features a full bar with 32 draft beers and more than 30 wines by the glass.
MO Mellow LLC intends to establish additional locations of the pizza chain in the greater St. Louis area. For now, guests can stop in to the Sunset Hills location for a taste of stone-baked classic Southern pizza.
Mellow Mushroom's Sunset Hills location is open Sunday through Thursday from 11am to 10pm and Friday through Saturday from 11am to 12am — the kitchen closes at 11pm during the weekend.
Mellow Mushroom, 3811 S. Lindbergh Blvd., Sunset Hills, Missouri, 314.473.1135, mellowmushroom.com/store/st-louis