The summer heat has arrived in St. Louis, and Guerrilla Street Food's Joel Crespo and Brian Hardesty have brought diners a new way to cool down. The pair has opened a permanent halo-halo bar, serving customizable versions of the traditional Filipino shaved ice dessert, at the restaurant's Delmar Loop location.
Ever since the launch of the original Guerrilla Street Food truck, Crespo and Hardesty hoped to offer halo-halo, which translates to "mix-mix" in the Tagalog language. Their tasting trip to the Philippines in 2017 sparked even more inspiration to bring it to St. Louis.
Owners Joel Crespo and Brian Hardesty share their two-week tour of the Philippines.
"Once we went to the Philippines, I probably had six or seven different kinds of halo-halo," Hardesty says. "It definitely reinvigorated our plan and jump-started us to know that once we got the Delmar location opened, we would get it going."
New dishes sour fried chicken, salted egg duck toast and kinilaw with diver scallops.
The Delmar location, which opened in March, features a 2,100-square-foot space, giving Hardesty and Crespo the opportunity to finally bring halo-halo to the table. Once the system is fully established, they hope to open halo-halo bars at Guerrilla Street Food's other locations on South Grand and in The Grove.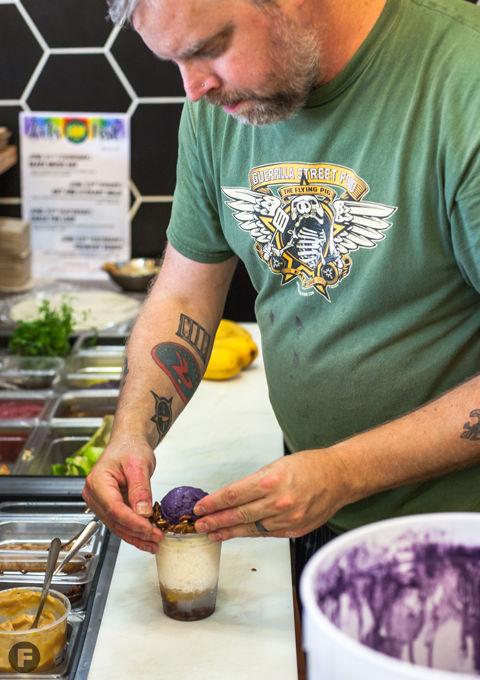 The traditional dessert features countless varieties of mix-ins and combinations, so Hardesty and Crespo knew those familiar with halo-halo would be used to enjoying theirs a certain way. To that end, they decided to go with a "choose your own adventure" approach to customizing the dessert.
For $3, the base dessert is served in a cup with a base of shaved ice, evaporated milk, sweetened condensed milk and ice cream. From there, the customer chooses from about a dozen different mix-ins (offered for $.25 to $.50 each) such as sweetened red and white beans, nata de coco, Saba banana chips, coconut jam, jackfruit and candied pili nuts. The finishing scoop of ice cream is currently Serendipity's ube, a sweet purple yam, but will change to different Filipino flavors like corn or green mango, which Hardesty says he hopes to make in house eventually.
"Since we launched last week, we have sold out almost every day," he says. "There has already been huge support from the Filipino community and just everybody in general, so we are pretty happy."
Guerrilla Street Food, 6120 Delmar Blvd., Delmar Loop, St. Louis, Missouri, 314.226.9786, guerrillastreetfood.com