To celebrate 100 years, fifth-generation pig farmer Todd Geisert and his wife, Katie, are opening up Farm to You Market today in Washington, Missouri. A grand opening with live music and sampling is slated for May 6 and 7.
Todd sees Farm to You as a place for locals to pick up all of their grocery needs – he says they have everything but the paper products. And he's right, but the beauty lies in the Geiserts' larger mission to source local for all of these needs, within about a 200-mile radius, and to also connect these local producers with one another for collaborations. For example, he's particularly proud of salted caramel-honey ice cream from Giofre Apiaries, which incorporates his bacon, as well as Thompson Farm old-fashioned soup mixes, which use McKaskle Family Farm's Braggadocio organic rice. Todd is also excited to collaborate with Midwest Pasta Co. to offer fresh pastas including red-pepper vermicelli, cresta rigate and ravioli made with his eggs and pork sausage.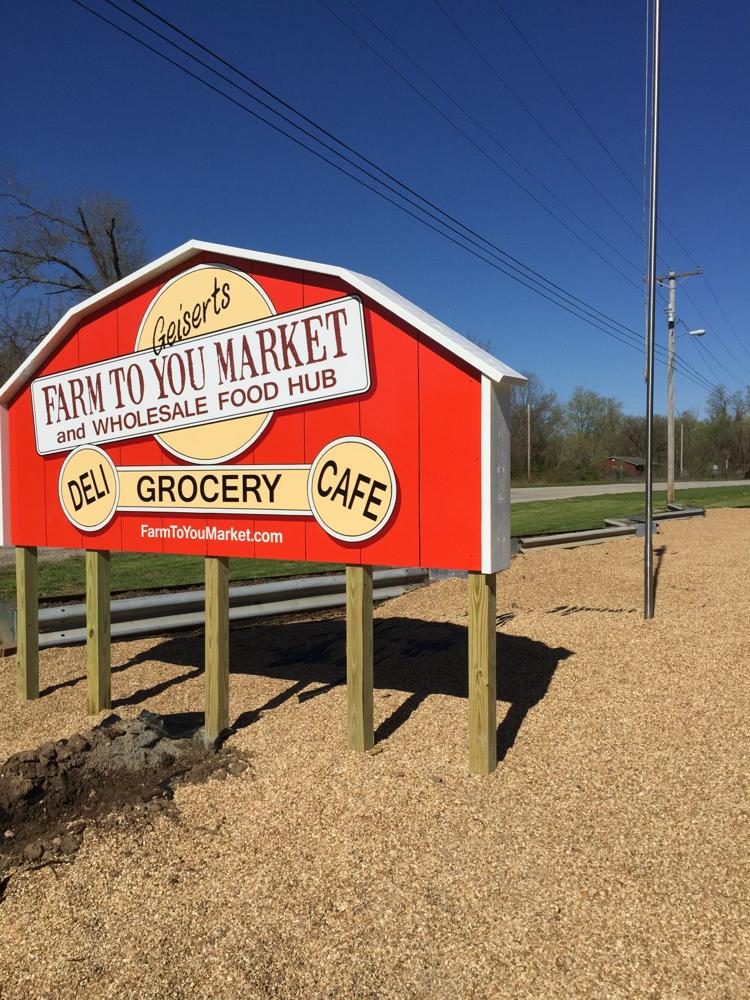 "A lot of people and producers thought Farm to You Market was going to be just a little boutique shop," Katie says. "They're always surprised when they come in for the first time and see how much we have available and the amount of local options available."
Available are all of your grocery staples including fresh fruits and veggies, milk (like Ozark Mountain Creamery), freshly baked bread (Companion, Great Harvest Bread Co., Hermann's Hummingbird Kitchen), cheese (try Homestead Creamery's smokehouse Cheddar), grains and, of course, meat. The Geiserts' own pork products, including brats (like bacon-Cheddar-jalapeño and beer-onion), smoked kielbasa, pork burgers, baby back ribs and more are sold fresh. Also available are meat products from other local farmers including Boeckmann Family Farm's high-quality Mangalista cured bacon, Boston butt, chorizo, bone-in pork chops, as well as its ground beef and sirloin and more, plus duck eggs and what Todd calls "Easter eggs" – multicolored chicken eggs.
The Geiserts stock the remaining shelves with much more than just the basics, however, including Stringbean Coffee Co.'s beans, Excel Bottling Co. sodas, frozen Dogtown Pizzas, Hammons Products Co.'s black walnuts and black-walnut oil, Ozark Forest Mushrooms' rubs and mushroom mixes, Two Men and a Garden salsa, and many other canned and preserved goods, like spreadable creamed honey that Todd says he's recently been getting a lot of requests for. Missouri wine, spirits and beer from Blumenhof Winery, Westphalia Vineyards, Pinckney Bend Distillery and more are also available.
In addition to the market, the 40-seat The Barn Yard Cafe serves seasonal daily sandwiches (like Geisert's pulled pork with Cowboy Chris' barbecue sauce), soups, salads, Companion cheesecakes and more. Patio seating is also available out front, overlooking soil-filled repurposed highway guardrails that will grow fresh basil, thyme, rosemary and other herbs for customers to purchase along with their other grocery items.
"Nothing is going to waste here; everything is recycled," Todd says. "We'll never throw food away – at the very least, we can feed it to the pigs."
A ½-mile down the road from the hog farm, Farm to You Market takes up 10,000 square feet of a 165,000-square-foot multiuse warehouse. The Geiserts had been searching for an adequate space in downtown Washington for three years before happening upon the neighboring facility. The retail area and The Barn Yard Cafe replace 15-years-vacant offices, and the rest of Farm to You's square footage is filled with a rentable commercial kitchen and a massive distribution center to ship off Geisert products to its 50 or so retail and restaurant partners.
Long-term, the Geiserts are planning a hydroponic greenhouse to grow produce year-round – as well as opening it up as an incubator for local producers – and dream of building a mill for grinding their own grains to sell at Farm to You.
Closer to present day, Todd has been planning bimonthly dinners with St. Louis-area chefs, where they will collaborate at Farm to You Market with some of its farmers, growers and producers. The first dinner planned for mid-May is with Ben McArthur of J McArthur's, and other chefs on board include Grapeseed's Ben Anderson, Vista Ramen's Chris Bork and Matthew Dubois of Wild Flower Restaurant & Catering. This winter, the Geiserts also hope to have an online store up and running for out-of-staters to purchase the products available at Farm to You Market.
Farm to You Market will be open Monday through Saturday, 9am to 7pm, and Sunday, 10am to 4pm.
Farm to You Market, 5025 Old Highway 100 #101, Washington, Missouri, 844.682.2266, farmtoyoumarket.com