St. Peters has a new craft-beer tasting room complete with in-house brews and a full food menu. Third Wheel Brewing's American-style brewpub held its grand opening on Wed., June 7, featuring five in-house beers on draft, guest taps, burgers and more.
As reported by Feast in September, the concept comes from co-owners Brad Wheeling, Ron and Valerie Woerndle and Wade and Erin Alberty. Certified cicerone Abbey Spencer serves as Third Wheel's brewmaster.
"Bringing the culture of local artisanal beer to St. Charles County means a lot to me," Spencer says. "Everyone's just been so welcoming, and it's exciting for so many people out here. They don't need to cross the river to get a beer and have a hang-out spot."
The facility features a 5,000-square-foot brewery and storage space as well as a 4,000-square-foot tasting room with a rustic, industrial feel. The clean and simple space features warm wood tones and pendant lighting alongside blue and gray hues. Décor so far is minimal, but entertainment is available in the form of shuffleboard, a classic arcade cabinet and TouchTunes.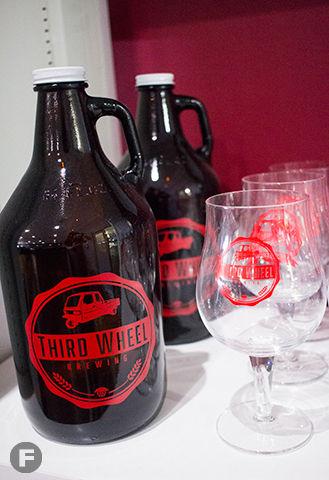 Third Wheel's debut beverage list includes short or tall pours of five of its signature drinks. Choose from options such as Trixie's pale ale, which is named after the brand's three-wheeled mascot and beer wagon. The malty beer features hints of citrus and pine. Another option is Ophelia's Wit, a traditional Belgian wit beer with shades of coriander, orange peel and rosemary. Quit Your Day Job American brown ale features mild chocolate and toffee notes.
Guest drafts currently include Schlafly Beer's raspberry hefeweizen and Six Mile Bridge Beer's Irish red and Crispin cider. Wine is available by the glass, and beer flights, growler refills to go and Excel Bottling Co. soft drinks are also available. 
To pair with beer, a long list of savory offerings are available from The Window – a literal window inside the tasting room. Scott and Steve Kline, known fondly as the Kline twins, created the food menu with chef Kevin Hummel. 
"It's basically all upscale brewery food: Everything is made fresh. We offer everything from deviled eggs to burgers," Steve Kline says.
Highlights include a BLT wrap, chicken wings and a fried footlong hot dog topped with chili, cheese and onion. Burgers are grilled to order at your temperature of choice – "pink, some pink or no pink" – and come in varieties such as the Island Burger with grilled pineapple, provolone, bacon, teriyaki sauce and spring greens on a toasted bun.
Another specialty of The Window is its lengthy condiment selection. Each order of regular or sweet-potato fries comes with a dipping sauce. Choose from more than a dozen options such as French onion, marshmallow, queso and IPA pub mustard.
"I'm really proud to share what we've created. I brew what I love to drink, which is all over the map," Spencer says. "Come have some high-quality beers and a bite to eat with a book or some friends. Sit as long as you wish and hang out with us."
Third Wheel Brewing is currently open Wednesday through Thursday from 3 to 10pm, Friday and Saturday from 11am to 11pm and Sunday from noon to 6pm.
Third Wheel Brewing, 4008 N. Service Road, St. Peters, Missouri, thirdwheelbrewing.com