In the Shaw neighborhood, Future Ancestor offers carefully curated vintage furniture and modern housewares. The local shop originally debuted on Cherokee Street's Antique Row in 2014 and moved to its current home recently, opening on Feb. 24. The new space nearly doubles the size of the former storefront, with plenty of room to display everything from classic home decor to contemporary and handmade gifts.
"We just love the Shaw neighborhood. There's so much history and architecture, and so many of our customers live around here," says Julia Leenig, who co-owns the concept with her husband, Brian. "We're here to help them fill their spaces."
The new white-washed showroom fills the 900-square-foot space previously occupied by Restituo and Nom-Enu, set up to represent different household rooms. The storefront takes on a decidedly minimal approach – "selected, not sparse," according to Julia.
"Everything we carry is high quality – things that are made to last," she adds. "I think the mix of new and vintage together is what really makes us unique. A lot of stores have just one or the other. Bringing it together is representative of how most people live, and it's how we set up our store."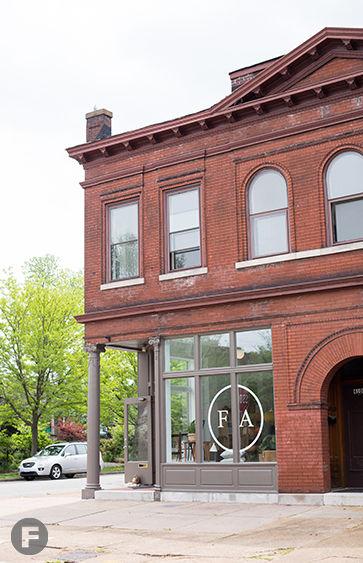 The couple recently began offering design services to accompany their ever-changing selection of lifestyle accessories, which are sourced from both artisans and estate sales. On premise, visitors will find plenty of options for outfitting their living spaces. The broad assortment features items such as textiles, pillows, blankets and rugs from around the world, arranged studiously among items such as potted plants, handmade candles and smudge sticks.
"We like the idea of heirlooms – pre-existing items that are in your family or new things like intended heirlooms to pass on to your kids," Julia says. "We also have plenty of things that add the extra decorative element to a kitchen that are also functional."
Additional utilitarian products include waxed canvas market totes, reusable lunch bags and utensils for the kitchen. Choose from accessories such as bar carts and glasses, ceramics, antique cutlery, wooden bowls, salt and pepper shakers, and herb scissors to accompany an eclectic pantry.
"With the bigger space, we're able to have a lot more items in our store and we're able to have a wider range for our customers," Leenig says. "We're expanding into a lot of modern handmade items, and it's really nice to meet artists and delve more into that. I think the mix of styles is what makes it a great collection."
Future Ancestor is open Thursday through Sunday from 11am to 4pm.
Future Ancestor, 4100 Shenandoah Ave., St. Louis, Missouri, 314.201.2359, future-ancestor.com