Clayton has a new destination for "flex-casual" comfort food with its roots in Asian cuisine. On June 11, Akar opened in the space previously occupied by Anthony's Italian Eats, featuring the cooking of executive chef and owner Bernie Lee.
"The whole idea here is to showcase what I like to eat. It's what I like to cook inspired by experiences from my travels and memories from my motherland, Malaysia," Lee says, explaining that Akar means "roots" in Malay. "It's also a different platform to showcase things I've never done before. The bottom line is comfort food."
In May, Lee closed his longstanding concept, Hiro Asian Kitchen, after six years of operation. His daytime business that debuted last year, Hiro Poké Co., continues to operate downtown in The Eatery Food Hall. At Akar, Lee is joined in the kitchen by chef Samantha Pretto, who previously served as the executive chef of The Dark Room.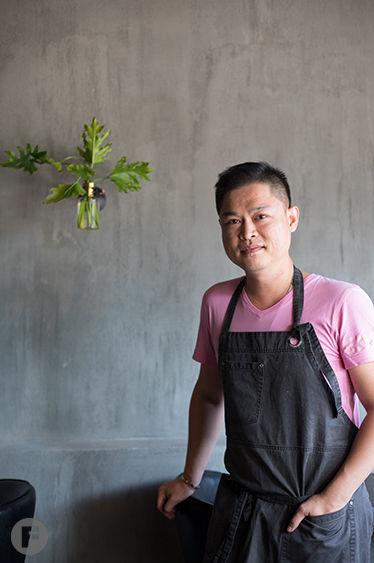 No structural changes were made to the 850-square-foot space, which seats 12 to 14 guests inside and 24 more on a dog-friendly patio. However, the interior design was updated to reflect Lee's personal style, which he describes as "relaxed, laidback, urban, chic – a boutique restaurant feel." 
Highlights include custom lamp shades from Bali as well as pillowcases by local fashion designer Nina Ganci of SKIF International. Additional work by artisans includes a new bar top made by Goebel & Co. Furniture, serveware by local artist Jeremy Segel-Moss and specialty candles by Post Pouring Co.
Lee's seasonal menu, which features many vegan and gluten-free dishes, is divided into different day parts. For lunch, counter service is available and includes options such as a Malaysian-spiced coconut curry bowl with chicken, brown rice and quinoa mix, crispy chickpeas, roasted cauliflower, rice chips and pickled green peppercorns.
Another highlight is a modern vegan take on mapo tofu with mushroom "mincemeat," brown rice and quinoa mix, spicy Sichuan pepper and herbs. A "snack time" menu is available between the hours of 2 to 5:30pm, with items such as shiitake croquettes with Thai basil pesto as well as beetroot hummus with rice chips.
A full-service dinner menu is offered at 5pm, featuring items such as tempura soft-shell crab with summer corn and Lee's mother's recipe for Singapore chile sauce. Another dish close to Lee's heart is Mama Lee's noodles, inspired by a vegetarian entree his mother made every year for Chinese New Year. His version features a veggie meatball with confit mushrooms, cashew and cured egg yolk bottarga.
From the bar, choose from a wine list that includes around 30 bottle options as well as a selection of Asian spirits that are utilized in specialty cocktails like the Taiyo with Haku Japanese vodka, mandarin and lime juice, and sugar.
"I'm looking forward to sharing our dishes with everybody," Lee says. "There are a lot of foodies here who love and appreciate good food."
Akar's current hours of operation are Tuesday through Thursday from 11am to 9pm, Friday from 11am to 10pm, Saturday from 5 to 10pm and Sunday from 10am to 5pm.
Akar, 7641 Wydown Blvd., Clayton, Missouri, 314.553.9914, akarstl.com