Three years after announcing plans for Strange Donuts' first brick-and-mortar location, co-founder Corey Smale is parting ways with the hugely popular donut shop he built with co-owner Jason Bockman.
Smale is now a partner in a new concept, Good Fortune, a Chinese-inspired restaurant developed in collaboration with Byrd & Barrel chef-owner Bob Brazell and chefs Ryan McDonald and Hana Chung, who also work in the kitchen at Byrd. Smale describes the concept as "Chinese Americanese" and says the restaurant is slated to open in the Central West End this fall.
"I love food – that's why I created Strange Donuts," Smale says. "What I did for Strange… Not to say that there was ever going to be a time when [my work] was done, but it's time now for Jason to take what we have and bring it to the next level. That's his part of the game, just like [with Good Fortune]: I want to drive this thing, and these guys are going to pick it up and make the food amazing.
"I feel like I've made a name marketing the sh*t out of stuff, and Bob's made a name cooking the sh*t out of stuff, and now [we're] bringing those two things together. It's a new challenge." 
Although the lease hasn't yet been signed, the team is planning to open Good Fortune at 508 N. Euclid Avenue in the Central West End, formerly home to Silk Road Chinese Restaurant. The building is owned by Jim and Nicki Dwyer, who also own the neighboring Pierce Arrow Building, where Eric Hamblett and Chris Holt manage and operate Tech Artista coworking center. Smale and Wes Hoffman, owner of Treehouse Networkshop and co-founder of the Strangehouse podcast and workshop series with Smale, currently rent office space in Tech Artista.
Smale and Brazell say the food at Good Fortune will draw influence from classic and Americanized Chinese fare as well as dishes and flavors native to countries throughout Southeast Asia. The restaurant will serve lunch and dinner, including a range of vegan and gluten-free options. Brazell says the most expensive menu item will be around $15, while smaller dishes like an order of dumplings might be only $5 or $6. Customers can order take-out, delivery or dine-in at one of the restaurant's 30 or so tables.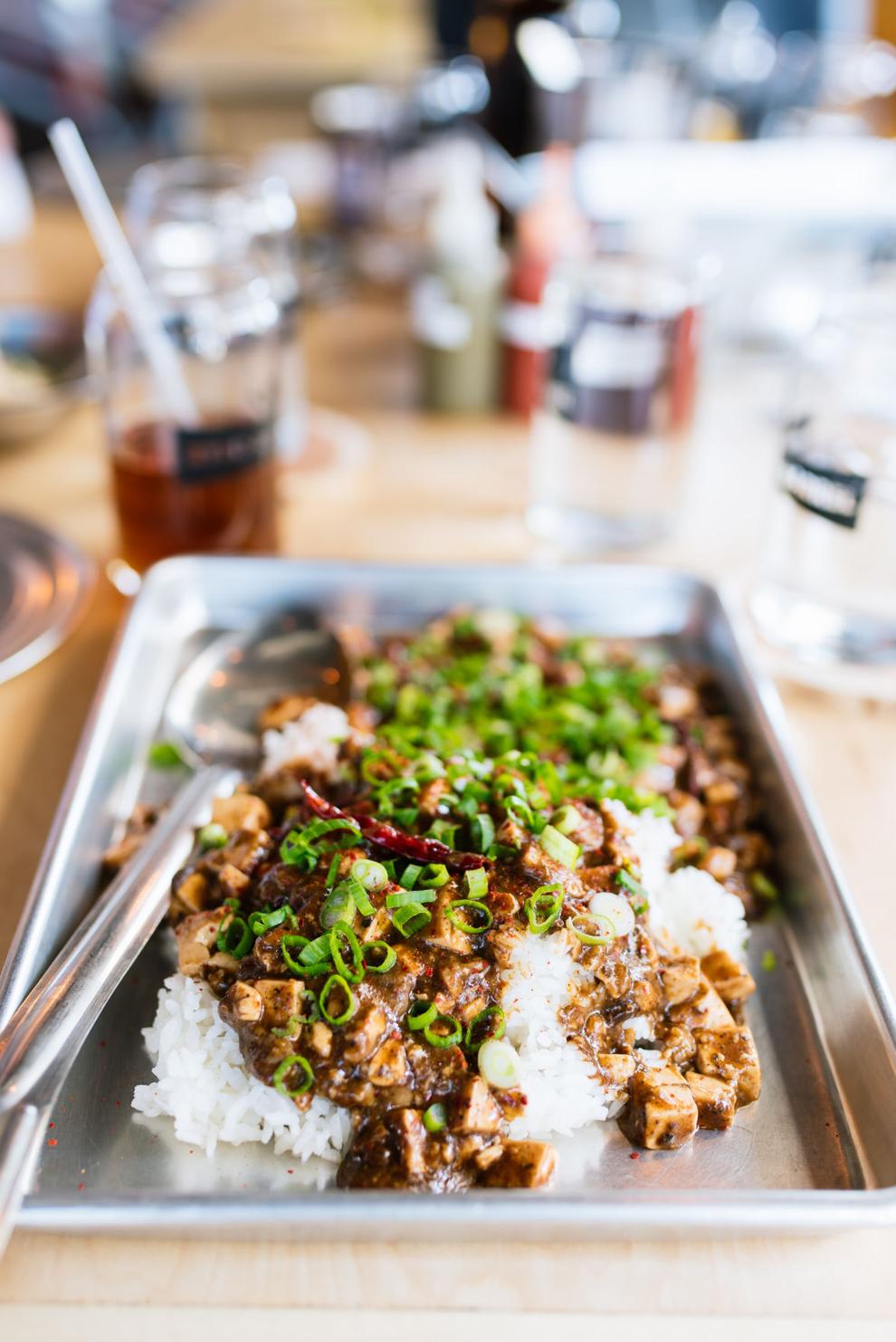 "I'm always pumped to do a new concept," Brazell says. "I love creating stuff; it's what I do. I cook food because I like creating something and then immediately watching somebody enjoy it. And I'm really excited to work with Corey. It's really cool to have another person who I've looked up to in the past in this industry to bounce ideas back and forth with."
When opening day arrives, McDonald will transition to the Good Fortune kitchen full-time as the restaurant's head chef, while Brazell and Chung will divide their time between it and Byrd. 
"Hana and Ryan are not only my best friends in the world, but in my opinion, they're two of the best cooks in St. Louis," Brazell says. "Being able to have these opportunities to keep investing in them is way bigger than just me and what I can do."
Prior to working at Byrd, McDonald managed operations, butchering and charcuterie at Truffles Butchery in Ladue and was chef de cuisine at Juniper in the Central West End, where he first met Chung. The three chefs have already started research and development for the menu, including several tastings for friends and family. McDonald says he's excited to experiment with vegetable-driven dishes and fermentation for the Good Fortune menu. He plans to source fresh produce from local farmers like Dave Blum and Autumn Sij of Such and Such Farms in DeSoto, and to use foraged ingredients like mushrooms and ramps when in season. 
"We were originally going to do the classics like General Tso's and cashew chicken – the stuff people are used to seeing – and once we started cooking it became something a little more traditional," McDonald says. "I'd say it's going to be very technique-driven – simple, but all of the flavors will be pronounced. You want the menu to be balanced so that somebody could come in, get a little bit of everything and not feel like they've had too much fat or too many vegetables." 
Before Chung's year and a half stint at Juniper, she worked at Sasha's on Shaw for two years, among other kitchen gigs in St. Louis and across the country. She describes the menu at Good Fortune as drawing from a wide range of cultural influences, from a dish of Filipino lap cheong sausage with bok choy, white rice and dehydrated kimchi to coconut red curry with rice noodles, ground pork, coconut, red curry paste, bean sprouts, cilantro and mint. The unifying focus, she says, is that the food will be "light, fun, hip and approachable – East meets Midwest."
"We want to do a fun spin on Chinese food that's familiar to the American public, but give it respect," Chung says. "I like that Southern and Midwestern food has a weird correlation to Asian food: lots of pork, lots of fermentation and pickling, lots of family-style. I want to do things that are more culturally relevant, too. Pork is a sign of prosperity in China; grilled pork is a sign of good fortune, small things like that. It's helpful for me, because Asian food is my background, and when I moved to the Midwest, the food already felt familiar to me." 
Other recent R&D dishes have included siu mai dumplings with pork, ginger, garlic and scallions; cold rice noodle salad with pickled veggies, roasted pork belly and a fish sauce vinaigrette; mapo tofu with tofu, fermented black beans, red chile and garlic; crab rangoon filled with crab meat, cream cheese, scallions and wrapped in rice paper; and kung pao chicken with scallions, Szechuan peppercorns, bean sprouts, red chile, garlic, ginger and fried rice.
"I'm super excited about the chilled noodle salad with pork belly, because people aren't used to eating noodles or pork belly cold," McDonald says. 
And just as Brazell has integrated St. Louis staples into the menu at Byrd, he and Smale say local touches like Vess soda and a St. Paul sandwich will also be on offer at Good Fortune (no alcohol for the time being, though).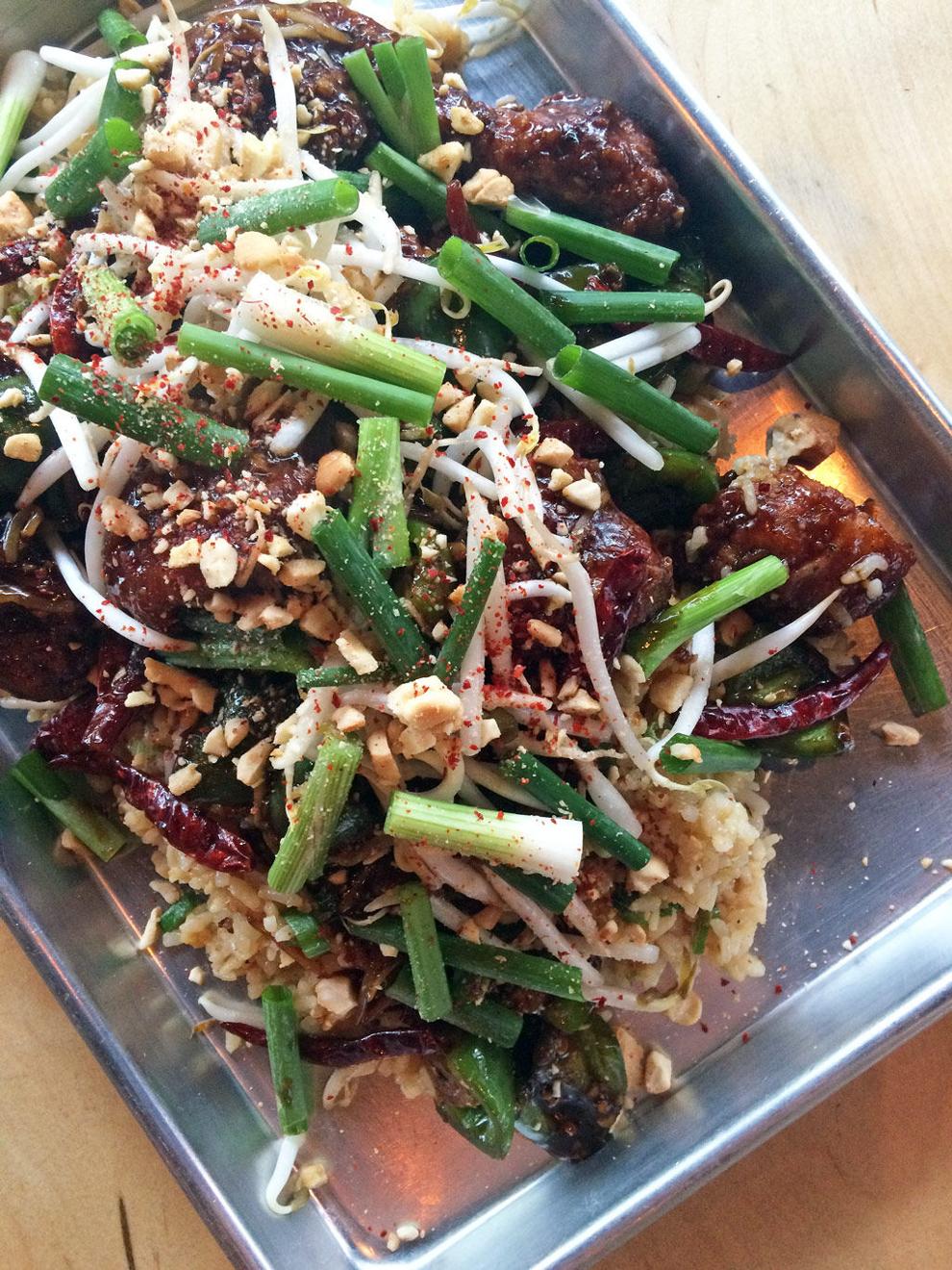 Smale cites the food of chef Danny Bowien from Mission Chinese Food in San Francisco as an inspiration for Good Fortune, and says the concept has been heavily informed by Hop Alley, St. Louis' first Chinatown. The community flourished in Downtown St. Louis for more than a century, from the late 1860s through the 1960s, when Civic Center Redevelopment Corp. began buying up properties in the neighborhood to build the original Busch Stadium. Many of the displaced residents moved their businesses west to Olive Boulevard in University City, where a large swath of Chinese- and Southeast Asian-owned restaurants, food shops and businesses now thrive, including LuLu Seafood & Dim Sum, which Brazell and Smale both cite has a influence on Good Fortune's menu.
"I eat dumplings at LuLu's till they kick me out," Brazell says with a laugh.
As Brazell, McDonald and Chung refine the menu, Smale is delving deeper into the local history to honor and incorporate it into the restaurant's interior and identity.
"There will be nods to the history of the Chinese in St. Louis in the [restaurant's] entryway," Smale says. "In that space we'll have maps… our landlords are so cool, they linked me up with an archivist at the [Missouri] History Museum and he emailed me like 18 articles [about Hop Alley]. In terms of the concept, I'm in love with the history right now. We want to be as educated as possible about the history, the food, the location, the neighborhood, the concept – everything."
The restaurant's location and Smale's relationship with the Dwyers at Tech Artista has also already led to conversations about offering catering for local businesses. "Ideas like bento boxes keep coming up," Brazell says. "Really clean, good food with a bunch of different little bites for lunch, and it's boom – one box."
Investing in the City of St. Louis and becoming a part of the community in the Central West End is important to both Brazell and Smale, as well.
"I'm excited about the neighborhood," Brazell says. "I love being down here [with Byrd] because we have Cherokee [Street], so we get to do a lot of things with the community. I've worked in the Central West End before, but I've never really been a part of that community, and now we get to do that – create events there, bring people there."
You can get an early taste of Good Fortune on Mon., May 16 from 6 to 10pm at Byrd & Barrel, when the restaurant hosts the first in a series of monthly Monday Night Meals leading up to the grand opening. Dates and locations for future Monday Night Meals have yet to be finalized, and Smale and Brazell are hoping to host other Good Fortune pop ups and collaborations outside of the monthly series.  
"We're going to do pop ups like crazy, but you can count on [the Monday Night Meals] once a month," Smale says. "You RSVP online, let us know you're coming, and then it's pick-up. It's a Monday night, you don't have to cook dinner and it also kind of gets people in the to-go mentality, because that's very much the vibe [of Good Fortune]. And then we'll just have little surprises – we'll be blitzing all summer with a lot of fun stuff."
As Smale turns his focus to Good Fortune, Jason Bockman is now the sole owner and operator of Strange Donuts and its three locations (Maplewood, Missouri; Kirkwood, Missouri; and Columbia, Missouri), well-known for its classic, creation and Stranger collaboration donuts. Smale's last day with Strange will be April 30. 
"Corey and I created this together, and he wants to go create other things, and I want to really press the gas on Strange Donuts," Bockman says. "I love it as a company, the employees, and I want to see it grow."
Bockman will be taking over the brand's social media and marketing, which Smale has managed since Strange Donuts launched in 2013. Aside from the shift in ownership, Bockman says nothing else is changing with Strange Donuts – although he's open to new opportunities to further grow the business and brand.
In the meantime, Bockman is excited to host Strange's third-annual National Doughnut Day party on Fri., June 3 at Kaldi's Coffee Roasting Co.'s St. Louis roasting facility at 3983 Gratiot Street. Expect event details soon, including an announcement about the live entertainment – Bockman says he's approaching national touring acts – and food and drink collaborations. Recipients of this year's Strange Cares scholarships will be announced at the festival.
Strange Donuts and Strange Cares will also be partnering with Big Brothers Big Sisters of Eastern Missouri to host its Bowl for Kids' Sake fundraising event series from June 3 to June 4 at bowling alleys across the St. Louis area.
While the Good Fortune crew gears up to host its first Monday Night Meal, Smale is also hard at work on a series of projects with Wes Hoffman. Both operate Strangehouse (despite Smale's exit from Strange Donuts, he and Hoffman will retain ownership of the Strangehouse brand); Concentrate Co., their new agency, which represents hotly-anticipated Rockwell Beer Co.; and Why Not, their pop-punk band, which celebrates its first show on Thu., May 5 at The Demo in The Grove. The show also marks Rockwell's first public beer tasting event. 
As Smale reflects on the past three years and all of the projects he and Hoffman and Brazell have lined up for 2016, he expresses gratitude for the support and success he and Bockman have experienced with Strange Donuts, and excitement for what's to come.
"Jason is going to take Strange Donuts to places that I can't," Smale says. "I took it to where it's at now with the brand, and I wouldn't have been able to do [Good Fortune] without Strange Donuts, or Strange Donuts without Jason. I think it's very important, even as I have all of these cool concepts and ideas… everything has come from that: the workshop, the podcast, the band, [Good Fortune], everything. I don't forget that, and there's one person who I was able to do all of that because of and with. I'm very loyal to my people, and I think Jason is a great example of that – to watch us both be successful doing our own things. This feels like the start of something really good."
Follow Good Fortune on Twitter, Instagram and Facebook to keep up-to-date with its Monday Night Meals and pop ups leading up to its fall opening. Follow Strange Donuts on Twitter, Instagram and Facebook to learn details about its upcoming National Doughnut Day party and other upcoming events.
Good Fortune, 508 N. Euclid Ave., Central West End, St. Louis, Missouri, goodfortunestl.com