How does celebrity chef David Burke – whose signature dishes include clothesline candied bacon and cheesecake lollipops – make gooey butter cake?
At the brand-new Grand Tavern by David Burke, he applies his trademark whimsical approach to one of the city's most beloved dishes: Crispy fried donuts are stuffed with gooey butter cake, topped with wedding cake-flavored cotton candy and served with some piping-hot gooey butter cake sauce for good measure. 
Burke, who also owns Tavern 62 by David Burke in New York City and BLT Prime by David Burke in Washington, D.C., first announced plans to open Grand Tavern in late February. Grand Tavern is part of a new brand of restaurants he's developing with the ESquared Hospitality group, which also owns and operates the BLT restaurant brand. Burke says his decades of restaurant experience have come to a head at Grand Tavern, which he describes as on the higher end of a traditional tavern. "It's not a steakhouse, it's not a burger joint; it's a modern American restaurant with the comfort of a tavern," he says. "It's kind of a combination of what works for my other restaurants: It's got some fine-dining elements, it's got some steakhouse elements, it's got some whimsical elements."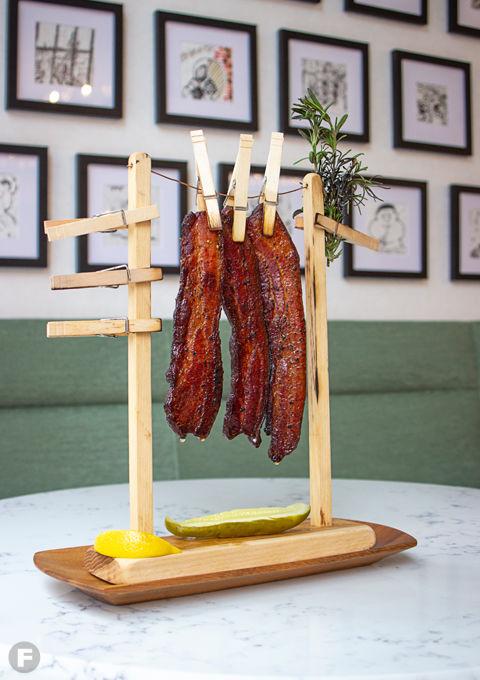 Located in the redeveloped Missouri Theatre building, Grand Tavern is the signature restaurant, bar and lounge for the brand-new Angad Arts Hotel, which offers guests the ability to select a room based on emotions: red for passion, green for rejuvenation, yellow for happiness and blue for tranquility. The artsy theme extends into Grand Tavern, too: Designed by the Lawrence Group, the 2,300-square-foot restaurant features a gallery wall of framed napkin artwork submitted during a recent contest.
Grand Tavern serves breakfast, lunch and dinner and weekend brunch, and also operates full food and beverage service for the hotel's 146 rooms. The breakfast menu, available daily starting at 6:30am, features dishes like brioche French toast with sauteed apples; eggs Benedict with pastrami salmon and spinach; a full continental breakfast; avocado toast and more. One of Burke's signature dishes is also available on the breakfast menu: the Lobster Scramble features soft scrambled eggs with fresh lumps of lobster, topped with crème fraîche and caviar and served inside a halved ostrich egg with a side of breakfast potatoes.
The dinner menu is split into shareables, starters and larger entrees. Shareables include Burke's famous clothesline bacon, which features three thick slices of candied bacon hanging from – you guessed it – a mini clothesline, served with a few sprigs of rosemary. The Emotional Lobster Dumplings are a twist on Burke's famous Angry Lobster (inspired by spicy lobster arrabiata); he says he changed the name in keeping with the theme of the Angad Arts Hotel, and the dish is also less spicy than the original.
From the list of starters, choose from items like crab cake Benedict with quail egg, country ham and tomato jam; corn and black bean soups served side by side in the same bowl with a spiced shrimp and Jack cheese quesadilla; roasted oysters with burnt ends, corn and chicharrones and a new St. Louis Salad with burrata, shrimp, octopus, vegetables and black oil vinaigrette with a swipe of chorizo paste..
For something a bit heartier, look to the mains, which include roast chicken with cauliflower puree and pistachio agnolotti; crackling pork shank over vegetable fried rice; bison short rib and wild mushroom cavatelli with truffle mousse, roasted acorn squash with sweet potato puree and branzino served with artichoke hummus, black olive and vegetable vinaigrette. Grand Tavern also offers a few steaks aged – and served – on Himalayan salt bricks, including an 18-ounce bone-in KC sirloin for $59 and a 34-ounce porterhouse for $118. The menu will also feature rotating daily specials; on Fridays, for instance, you can order a lobster steak made with fresh lobster meat and shrimp.
On the sweet side, the dessert menu includes an apple tart with vanilla gelato, salted caramel and apple chips; coconut panna cotta with passionfruit gelee and dry coconut meringues; butterscotch crème brûlée with cranberry syrup, caramelized bananas and sorbet; and baked Alaska with pistachio, chocolate, vanilla gelato, liquor-soaked muffin, meringue and fresh blueberries. In addition to those gooey butter cake donuts, you can also find Burke's famous Cheesecake Lollipop Tree, with cheesecake pops in flavors like Reese's Pieces and pistachio. The tree is served with a dollop of bubblegum whipped cream, which Burke says only adds to the playfully nostalgic aspect of the dish.
From the bar, choose from an ample selection of wines and local craft beers in addition to a handful of house cocktails. These include the St. Sazerac with rye, cognac, smoked demerera, Peychaud's and absinthe, as well as the Murphy's Walkdown with Fernet Branca, Branca Mentha, Tahitian vanilla bean and lime.
Guests can also head upstairs to the Angad Rainbow Terrace – abbreviated, naturally, as ART – which offers sweeping views of Downtown St. Louis and the Arch. The rooftop bar serves a separate menu of cocktails and a few small bites from the downstairs menu, including tuna tartare, pastrami smoked salmon carpaccio, a cheese and charcuterie platter featuring Salume Beddu products, cheesecake lollipops and Hipster Fries with Parmesan, shishitos and beef jerky. In keeping with the theme, guests can select cocktails here based on color: The green Counted Conditioner, for instance, is a take on the classic amaretto sour with pistachio liqueur, Averna amaro, mint, lemon and crème de mezcal foam.
Burke says the menu will evolve over time – and he definitely plans to try his hand at another St. Louis signature: toasted ravioli.
Grand Tavern by David Burke is open Sunday through Thursday from 6:30am to 10:30pm and Friday through Saturday from 6:30am to 11pm. The Angad Rainbow Terrace is open Sunday through Thursday from 11am to midnight and Friday through Saturday from 11am to 1am.
Grand Tavern by David Burke, 626 N. Grand Blvd. (inside the Angad Arts Hotel), Midtown, St. Louis, Missouri, grandtavernstl.com