If you're skeptical about a meat-free burger ever tasting like the real thing, there's a new option in St. Louis that proves it's quite possible. As of this writing, the Impossible Burger is now served at four restaurants in the St. Louis area: Retreat Gastropub in the Central West End; Polite Society in Lafayette Square; Wang Gang Asian Eats in Edwardsville, Illinois; and Frida's in University City.
Natasha Kwan, chef-owner of Frida's, has been trying to source the Impossible Burger for her vegetarian restaurant since last summer. The company behind the burger, Impossible Foods, finally reached out in December, and last month, Kwan debuted her take. She's already well known for serving excellent veggie burgers, including the award-winning Signature Frida Burger. But because the Impossible Burger resembles meat – the raw product is pink like uncooked ground beef, and the burgers can be cooked with a medium-rare-looking pink center – Kwan sees it as ideal for people trying to reduce their overall meat consumption.
"It's bringing in people who know they need to eat healthier," Kwan says. "A guy came in last night whose doctors told him to basically stop consuming meat like he had been. He became vegetarian Jan. 1, and he's kept with it. He had the Impossible Burger, and he said, 'Oh my God, that's the first thing I've had that reminded me of meat, like identical!'"
At Frida's, the Impossible Burger comes topped with organic arugula, grilled onions, white Cheddar, tomato and Buffalo mustard on a local bun.
"It's super meaty," Kwan says. "To me, I'm getting used to the product because it is so meatlike. Some of our clientele who have been vegetarian for a long time find it to be way too meaty. They're like, 'I could do without the pink in the middle.' Even though it's not meat, it's that mental vision of pink in the middle of a burger… You don't see that in a veggie burger."
Still, Kwan says she's seen "a huge upswing in business" because of the burger and is excited to introduce existing and new customers to its unique flavor.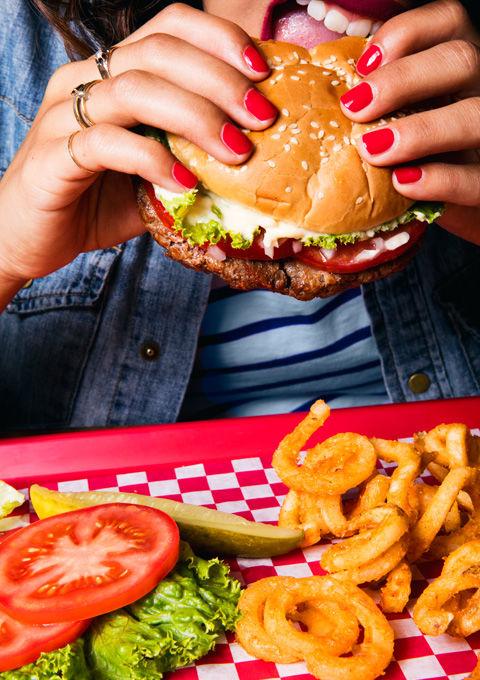 "My concept is, if we can get people just a little bit healthier, then I'm doing my job," she adds. "If it's just one meal out of 20 in a week that doesn't have meat, then I've done something."
Customers looking to either reduce their meat consumption or give up meat altogether were the original primary market for the Impossible Burger. Prior to founding Impossible Foods, creator Pat Brown was a world-renowned geneticist and professor of biochemistry at Stanford University.
"People around the world love to eat meat – and who can blame them? It's delicious," Brown said in a June 2016 TedMed Talk. "And we're not going to ask them to stop, so we've got a problem. The problem isn't that people love meat, it's how we produce it. … Five years ago I gave up my dream job as a tenured professor at Stanford and started putting together a team of brilliant, mission-driven scientists to take on the challenge to make the best meat in the world directly from plants."
That's what Brown believes he's introduced to the restaurant industry with the Impossible Burger. Made with 100-percent plant-based ingredients, including wheat, coconut oil and potatoes, the burger's key ingredient is heme, a component of the hemoglobin protein that, among other things, gives blood – and meat – its red color.
"We discovered that heme is the magic ingredient responsible not just for the bloody taste of meat in its raw form, but for the explosion of aromas and flavors when meat is cooked," Brown said.
To make the Impossible Burger, Brown and his team of scientists isolated the naturally occurring heme in yeast. "It looks like blood, tastes like blood, and it's what gives our burger its red color and beefy taste," he said. "It takes more than flavor to make great meat. You need to deliver the texture, the juiciness, the nutritional value, the visual appeal and even the sizzle when it cooks. Each of those were the challenges for our team, and one by one they've solved them."
Currently the Impossible Burger is only served in restaurants across the country; no retail plans have been announced yet. David Chang was the first chef to test out the Impossible Burger at his New York restaurant Momofuku Nishi, followed a few months later by chef Chris Cosentino at Cockscomb in San Francisco. The burger soon made its way to menus in Los Angeles; Las Vegas; Houston; Tampa, Florida, Chicago and now St. Louis.
As a product, the Impossible Burger is sold to restaurants in two forms: as pre-formed burger patties and in a brick or log, similar to how ground beef is sometimes packaged. At Retreat Gastropub, owner Travis Howard says the kitchen crew is still experimenting with non-burger preparations, including a patty melt and meatballs for an Asian-inspired dish that may be on offer later this week.
The restaurant isn't currently promoting the product on its menu, but word-of-mouth has spread and diners are ordering it off-menu with increasing frequency. The patty melt, for instance, is made on toasted sourdough and served cut in half so diners can see the pink center.
"That's one of the more interesting things: seeing that it looks like a medium-cooked beef patty," Howard says. "You can see the pink and almost like blood inside the patty when you cut it in half. This seems like the most meatlike product that's totally plant-based that I've ever seen."
Like Kwan, Howard has seen the product appeal to far more than vegan or vegetarian customers.
"It's been crazy; the buzz around it is awesome," he says. "And the feedback has been really, really good. We haven't had anyone who tried it and didn't want to eat it or really didn't like it."
Polite Society, where the Impossible Burger has been served since Jan. 7, is also currently offering it on a patty melt. Stop in for lunch, dinner or brunch for the sandwich, which combines the patty with roasted onions, Emmental cheese and a sauce made with Polite Society's house ketchup on marbled rye. Executive chef Thomas Futrell is also now offering the Impossible Burger in place of beef on the house signature burger, The Jimmy, which comes with American cheese, onion straws, a sweet smoky tomato glaze and whole-grain mustard aïoli on a pretzel bun. Because Impossible Foods is initially targeting meat-eating consumers in an effort to reduce meat consumption, Futrell followed that formula for the patty melt.
"We've gone with the style that Impossible Foods wants to market this product, which is why we didn't tailor the patty melt to be vegan, although we can modify it to suit guests," Futrell says.
Another pro of the Impossible Burger? According to Futrell, the product costs more upfront than most ground beef, yet it produces a higher yield, evening out budget margins.
"When you've actually cooked it, the yield is higher than with ground beef," Futrell says. "With the Impossible Burger, you don't lose nearly the amount of water or fat content as you would with ground beef, and that makes it more economical."
So far, Futrell says he's been encouraged by the response from diners as well. As a result, in addition to the patty melt and modified Jimmy Burger, he's soon hoping to use the Impossible Burger meat in a Bolognese sauce and potentially a meat-stuffed ravioli.
"The response recently from people has been, 'We looked [the Impossible Burger] up, we know what it is and we came in specifically for it,'" Futrell says. "We've definitely seen an uptick in our lunch business. It's as close to ground beef as you're going to get without ground beef."
Just across the river, the Impossible Burger made its southern Illinois debut at Wang Gang Asian Eats. President and operating partner Ryan O'Day wanted to take a slightly different approach from the standard burger, as well, so Wang Gang is offering the product as sliders with cheese (a vegan cheese is also available) on sticky buns.
"I'm always willing to try something out, run it for five or six weeks, and if it works, we keep moving with it," O'Day says. "The response so far has been tremendous. We're thinking of other ways to use the product, like, say, in a spring roll. We'll do a full burger, and then we'll look at other options that we can put the product into as a protein."
O'Day says, out of curiosity, the kitchen crew tried making smash burgers with the Impossible Burger to see if it would still retain its juiciness. "I was curious if it just dries out," he says, "but it still tasted great; it's crazy."
Frida's, 622 North and South Road, University City, Missouri, 314.727.6500, eatatfridas.com
Polite Society, 1923 Park Ave., Lafayette Square, St. Louis, Missouri, 314.325.2553, politesocietystl.com
Retreat Gastropub, 2 N. Sarah St., Central West End, St. Louis, Missouri, 314.261.4497, retreatgastropub.com
Wang Gang Asian Eats, 1035 Century Drive, Edwardsville, Ill., 618.655.0888, wanggangasian.com