The Hill has a new family-owned and operated steakhouse. Carnivore debuted with a soft opening on May 15, featuring flame-grilled steaks, a menu of Italian-inflected fare and a full bar with handcrafted cocktails. 
The concept comes from longtime friends Joe Smugala and Mike Lutker, and their wives, Kerri Smugala and Casie Lutker. The couples both have roots in the neighborhood – Casie's great-uncle was famed former resident and sports icon Yogi Berra. The Smugalas also own J. Smugs GastroPit, which debuted on the Hill last year. Mike, who previously ran the kitchen at the nearby Gian-Tony's Ristorante for seven years, serves as the head chef.
"We're really steak-centered, hence the name, and that's what we focus on and take pride in," Joe says. "We also have a little bit of Italian flair. Most restaurants on The Hill have a steak, but we wanted to really focus on it and it well. That's why we brought this concept here."
Carnivore fills the nearly 4,000-square-foot space previously occupied by Mona's, An American-Italian Joint, with 80 seats in the dining area, 40 by the bar and 30 more on an outdoor patio. The interior features an industrial feel, with neutral colors and newly installed lighting. A mural of the Hill's markets and restaurants by artist Wendy Weller of House of Paint & Design Co. provides a colorful focal point.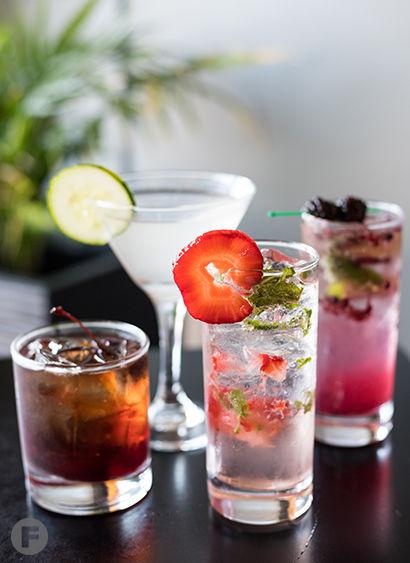 From the menu, choose from a variety of appetizers, entrees, steaks, pastas and sides. Steak cuts, hand-selected from PFG Middendorf and seasoned with a housemade "steak sprinkle" seasoning, include filet mignon, top sirloin, strip steak and the most most popular pick so far – a 14-ounce ribeye. Optional additional toppings include mushrooms, shrimp and a signature selection of compound butters: garlic and herb, blue cheese, red wine reduction, Worcestershire-chive and garlic-Parmesan.
"A lot of the food here is what we cook at home. We'e brought it over and made it on a larger scale as fresh as can be," Mike says. "Seeing the butter melting on your steak when it comes to your table is so mouthwatering and appealing. The juiciness and flavor of the steak is ridiculous."
Highlights include arancini, risotto balls stuffed with Provel, served with meat sauce and Parmesan; a Modiga flatbread with steak or chicken, olive oil, Provel, prosciutto, mushrooms and Modiga sauce; and the Herbivore salad with romaine, baby spinach, cucumber, pimentos, green onions, Provel, Feta, Italian dressing and pepperoncinis.
From the bar, choose from a selection of wine, beer and cocktails such as the Strawberry-Cucumber Cooler with Pearl cucumber vodka, muddled strawberries and mint, simple syrup, lemonade and club soda. 
A brunch menu is also coming soon, featuring items such as avocado toast; hash with potatoes, peppers, onions, a six-ounce steak and fried egg; spicy scrambled eggs with spinach, ham and Thai chile; and the Hangover Helper burger topped with tomato, avocado, Cheddar, bacon and a fried egg. A Bloody Mary and Mimosa bar will also be available.
Carnivore is currently open Tuesday through Wednesday from 4 to 10pm and Thursday through Saturday from 4 to 11pm. Following a grand opening during the last weekend of June, brunch will be available Saturdays and Sundays from 10am until 2 or 3pm.
Carnivore, 5257 Shaw Ave., The Hill, St. Louis, Missouri, 314.449.6328, carnivore-stl.com