On Main Street in Edwardsville, Illinois, bargoers now have a new place to drink and dine. Foundry Public House opened on June 14, serving up beer, burgers and more.
"The atmosphere for lack of better term is an upper scale dive bar," says co-owner Jason Armbruster. "Our spin on food is basically American comfort food with a little Southern kick."
Armbruster has operated businesses including Paddy O's, Jim Edmond's 15 and most recently Lake St. Louis's Town Square Pub N Grub. He partners with co-owners Rodney Lanham and Greg Elmore – who previously served as bar manager at McGurk's Public House in O'Fallon, Missouri – for the new venture.
The business fills a 3,700-square-foot space formerly occupied by Robust Wine Bar with 106 seats available in the dining area, bar and patio.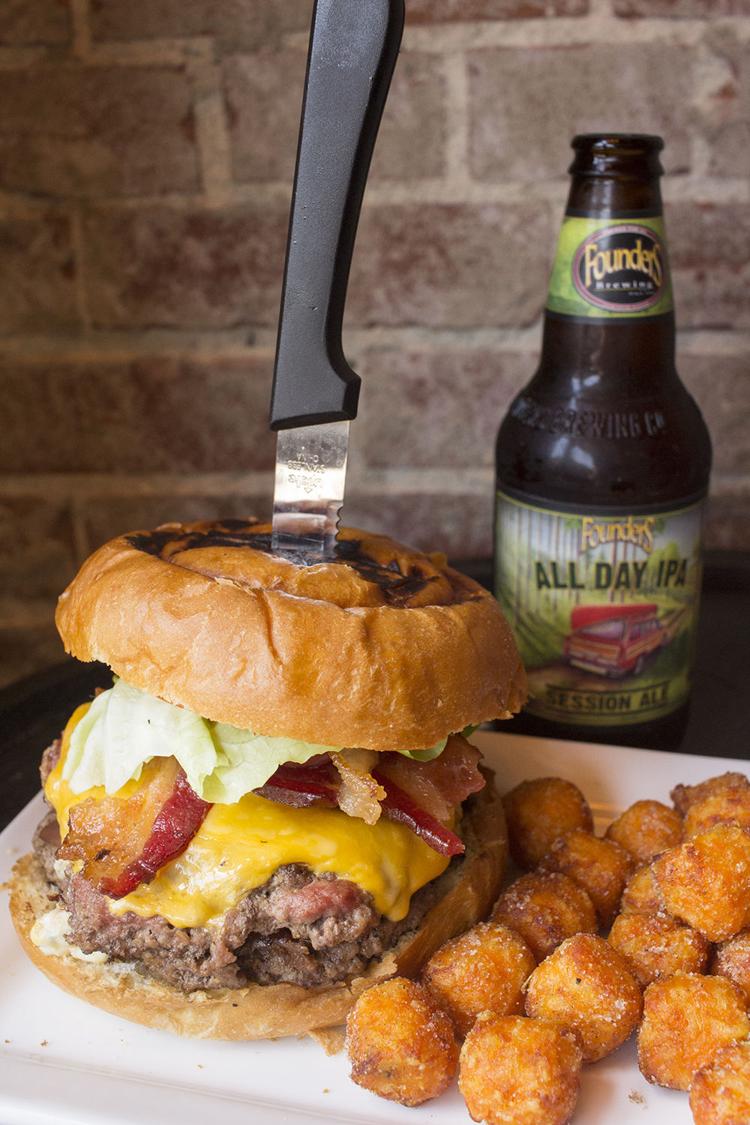 "We're named after a metal working and fabricating shop, so everything has a metal feel to it. It's very industrial," says Armbruster, who credits Brian Wallace of Wallace Welding for much of the decor including the hand-welded bar. "A lot of our design is also wood, including booths we built in the middle room."
In the kitchen, chef Thomas Hayes – most recently of Bar Louie in St. Charles – cooks up a hearty selection of appetizers, salads, flatbreads, sandwiches and sides.
"It's elevated bar food. Everything's fresh and handmade – nothing comes out of the box. We fillet the salmon for our salmon reuben in house and it's absolutely delicious," Armbruster says.
Another highlight of the menu is the Foundry burger, which consists of two five-ounce patties topped with blue cheese steak butter, balsamic onions, Cheddar cheese, bacon, bibb lettuce, bread-and-butter pickles and tomato.
Additional sandwich options include Caribbean jerk sliders and the Lan-A-Ham made up of two grilled cheese sandwiches piled high with house-smoked ham, pickles and a honey-mustard glaze. Appetizers include beer-cheese fondue and Smoke on the Water, which consists of smoky dry-rubbed chicken thighs with barbecue sauce.
From the salad and flatbread lists, select from options such as a salmon nicoise salad and an Italian-style flatbread topped with capicola, marinated tomatoes, roasted garlic, shaved red onion, mozzarella and Parmesan. Sides include seasoned tater tots and red beans and rice.
From the bar, choose from around 30 bottled and canned beers as well as 16 drafts. Wine is available by the bottle or glass. A full menu of spirits is also featured, with a list dominated by whiskeys and bourbons.
"We have anything from $2 Miller High Lifes to $80 bourbons," Armbruster says. "Overall, this is really just a warm, inviting place to hang out. We're hoping people will try it out and want to come back for more."
Foundry Public House's current hours are Sunday through Wednesday from 11am to 1am and Thursday through Saturday from 11am to 2am.
Foundry Public House, 126 N. Main, Edwardsville, Illinois, 618.307.9585, foundrypublichouse.com