Made-to-order ice cream is now available in St. Charles. Craving the Curls opened on historic Main Street St. Charles on May 18, offering rolled ice cream available in a cup, cone or "puffle" – a unique hybrid of a waffle cone and bubble waffle.
The concept comes from first-time business owner Joe Wirth, a Waterloo, Illinois, native and recent graduate of Kentucky's Murray State University. It was while attending college that Wirth first experienced rolled ice cream at Craving the Curls' original Paducah location, which originated in 2017.
"I was so fascinated with rolled ice cream. It was so simple, unique and different, so I went and looked for it every time I went on vacation in a new city," Wirth says. "Craving the Curls announced that they were franchising late last summer, so I sent them an e-mail and one thing kind of led to another. In December on the day before my college graduation, we signed our franchise paperwork and became the first franchise of the brand."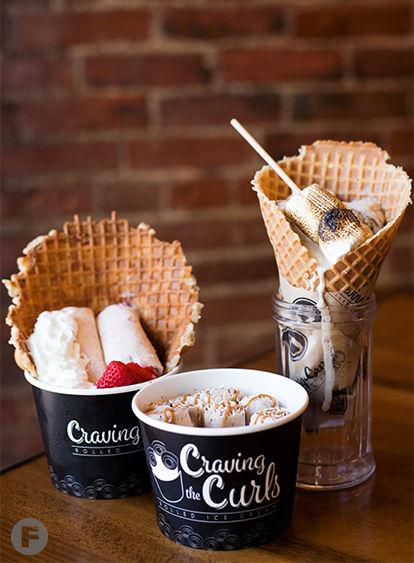 Craving the Curls fills a former office space that's just under 3,000 square feet, with around 25 seats. The modern, cozy interior design features exposed brick, a chalkboard menu and simplistic textures such as scrap wood juxtaposed with dark neutral tones.
"We're here to offer an experience rather than a product. We're not scooping ice cream out of a tub," Wirth says. "It's a really family-friendly environment and a perfect date place as well for people to come sit down, have some ice cream and relax."
Guests can choose from a vanilla or chocolate custard base or a dairy-free coconut milk option to begin. From there, select from 10 different flavor options or a flavor of the week. The liquid base is poured into a frozen pan, chopped up with mix-ins until frozen, spread out into a square and then scraped into rolls. To finish, choose three different topping options such as gummy bears, toasted marshmallows and strawberry popping boba.
Popular flavor combinations include peanut butter-brownie with two brownie halves and peanut butter drizzle and Wirth's personal favorite: Go Bananas with banana, Nutella and vanilla wafers. Flavors of the week include specials such as Fruity Pebbles and turtle pecan cheesecake. Milkshakes of any of the flavors are also available, and additional drink options include bottle sodas, water, tea, coffee and hot chocolate.
"If people are looking for something new and exciting, this is a great place to have a fun experience," Wirth says. "We'll give you the best rolled ice cream you can have anywhere in the U.S."
Craving the Curls is open Tuesday through Thursday from noon to 9pm, Friday through Saturday from noon to 10pm and Sunday from 2 to 7pm.
Craving the Curls, 215 N. Main St., St. Charles, Missouri, 636.493.1329