Waffles and whiskey meet at a new eatery in The Grove. Iron & Rye debuted on June 30, featuring breakfast all day in the form of sweet and savory liège waffles alongside a selection of brunch cocktails.
The concept comes from Amrit and Amy Gill of Innkeeper Hospitality and Restoration St. Louis. The Gills also own and operate area restaurants including Union 30, The Sliced Pint and The Restaurant At Seven Gables Inn.
"Amrit's roommate in college used to make him liège waffles, and he always dreamed of opening a place that specialized in them," says Mary Blesz, who serves as a marketing administrator for Restoration St. Louis. "The owners took a trip out west and found a similar concept, and it inspired them to share their own take with St. Louis."
Chef Matthew Birkenmeier serves a menu of comforting dishes including Mayfair Salad, Famous Barr's French onion soup and pork chops.
"We are bringing a breakfast concept to an untouched market down here in The Grove," general manager Wes Rowley adds. "It's a breakfast bistro that centers around the liège waffle and the use of the waffle iron."
Iron & Rye fills the 950-square-foot space previously occupied by O'Shay's Pub, with around 60 seats throughout the dining area and bar. Renovations transformed the room into a contemporary eatery complete with a new bar and updated floors, lighting and furniture.
The liège-style waffles are made using a rich dough-like batter laced with chunks of pearl sugar that caramelize when cooked on a hot iron. The result is a thick, chewy waffle with a crisp crunch in every bite. From the menu, choose from savory, sweet or "in the middle" toppings for each; gluten-free waffles are also available.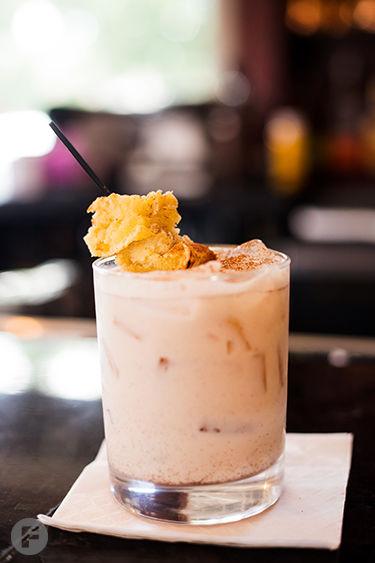 Highlights include options such as The Goat In The Grove waffle topped with goat cheese, avocado and two sous-vide eggs, lightly dusted with paprika and coriander and topped with basil chiffonade. Another popular savory pick is an open-faced chicken-and-waffle sandwich with crispy fried Buttonwood Farm chicken thighs.
Sweet selections include classic toppings such as strawberry compote or Nutella and banana. "In The Middle" options include a waffle topped with pear, housemade onion jam, melted Brie and balsamic reduction. Dessert options also include housemade waffle cones with Bella's Frozen Yogurt flavors such as sea salted caramel pretzel and Red Hot Riplets.
From the bar, choose from local beers on tap, a selection of bottles and canned options and cocktails including mimosas, Bloody Marys and the Iron & Rye signature cocktail with Absolut vanilla vodka, RumChata and a shot of Fireball, topped with a cinnamon waffle. Kaldi's Coffee and assorted teas are also available.
"We're really trying to push the phrase 'Staying Grove-y one liège waffle at a time,'" Blesz says. "It's breakfast with an attitude. Come out and try us for breakfast, lunch or dinner."
Iron & Rye is open Wednesday through Thursday from 7am to 11pm, Friday through Saturday from 7am to midnight and Sunday from 9am to 2pm.
Iron & Rye, 4353 Manchester Ave., The Grove, St. Louis, Missouri, 314.449.6005, ironrye.com