Mike Randolph is back at it again.
Last year, the James Beard-nominated chef, who owns two locations of the brunch concept Half & Half, closed two of his most critically acclaimed restaurants: the Latin American-inspired Público and the weekends-only tasting menu concept Privado, both located in the Delmar Loop. Both concepts were incredibly popular with St. Louis diners and restaurant critics alike (the incredibly ambitious Privado earned a rare four-star review from the St. Louis Post Dispatch), so fans have spent the past year eagerly awaiting Randolph's next move.
The chef described the concept as fine dining, but on his own terms.
They needn't wait much longer: Randolph plans to open Original J's Tex-Mex & Barbecue this fall alongside his wife and restaurant co-owner Liz Randolph. Located at 7359 Forsyth Blvd. in the former home of a Fortel's Pizza Den, the casual new restaurant will specialize in Texas-style barbecue alongside Mexican-inspired starters and sides. While Randolph acknowledges that St. Louis isn't short of barbecue restaurants, he believes Original J's will add something new to the mix.
"I've always loved doing barbecue – I have four or five smokers in the backyard at any given time," Randolph says. "But I also knew that in St. Louis we have a good deal of really good barbecue already and that if we were going to do something along those lines we had to figure out a way to make it unique, so that's where the Tex-Mex and the Texas-style [barbecue] came in. I've always had a real affinity toward that central Texas style of barbecue. The more I cooked – and Privado was case in point – the more it became about beauty and simplicity rather than needing to have 27 different ingredients. Once I switched over my barbecue to a salt and pepper rub, I really never looked back and I love everything about the simplicity of central Texas-style barbecue."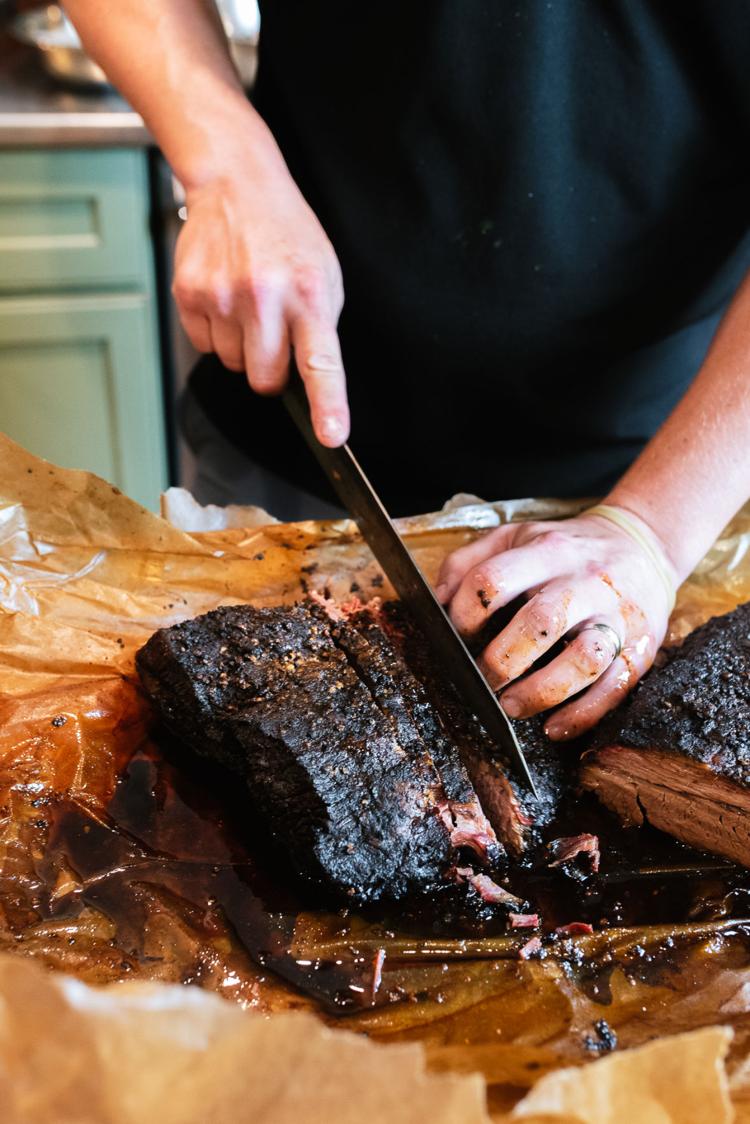 Original J's is also a resurgence of sorts of Randolph's acclaimed Público, albeit in a decidedly more casual form. Barbecued meats will be served as tacos, platters and bowls in a counter-service format.
"I loved the flavors of Público," Randolph says. "I loved cooking the food. We weren't quite ready to give up on all the hard work we put into hammering out that flavor profile of Público. So as the landscape of the restaurant world has shifted, it just seemed to me that a concept that was more approachable is just where we felt comfortable settling in. We're really excited to be throwing our name into the hat at this price point."
The restaurant will offer a range of barbecued meats including brisket; sausage links; Mexican-style barbacoa; spicy spare ribs with a rib rub and habanero sauce; and one-fourth of a chicken with a guajillo chile marinade. Proteins can be ordered as a bowl (served over lettuce or rice with pico de gallo, pickled vegetables, salsa verde and queso fresco) as a platter (with two sides and tortillas) or as tacos. The latter are meant to spotlight the meat, with choices including Mixed Hog Tacos (avocado salsa with onion, cilantro and sour cream) and Brisket Tacos (smoked tomato salsa with onion, cilantro and sour cream). Original J's will also offer vegetarian tacos, including a crispy potato option, as well as breakfast tacos served from 10am to 2pm daily.
Starters will be heavily Mexican-inspired, including chips and salsa, queso, pulled pork nachos, brisket chimichangas, smoked wings, chicharrones with barbecue rub and a Michoacán-style salad with avocado, pico de gallo and lime. Also on offer are a few sides including fried plantains; borracho beans with brisket; Dressed Kale with cotija cheese; cucumber and avocado with chile ranch; a tomato and smoked mozzarella salad; and pickled beets with jalapeño queso fresco. 
The Randolphs hope to open Original J's within the next few months. The restaurant plans to be open daily from 10am to 10pm.
Original J's Tex-Mex & Barbecue, 7359 Forsyth Blvd., University City, Missouri