Some people dream of one day opening their own bakery – just not Greg Franklin.
"I failed home ec," he says with a laugh. "I never liked baking or cooking at all."
While looking for a hobby about five years ago, though, he was scrolling through Facebook when a photo of a cheesecake caught his eye. Intrigued, he bought all the necessary ingredients and equipment (including the wrong pan), baked a cheesecake and promptly burned the whole thing. But he stuck with it.
Franklin continued baking, giving most of his cheesecakes away for free. When he wanted some extra cash to buy a new lawnmower, though, he started selling the cakes around town. One customer requested mini cheesecakes for a birthday party; when Franklin ended up with extra batter, he made extra and posted about them on Facebook. Within 45 minutes, he was sold out.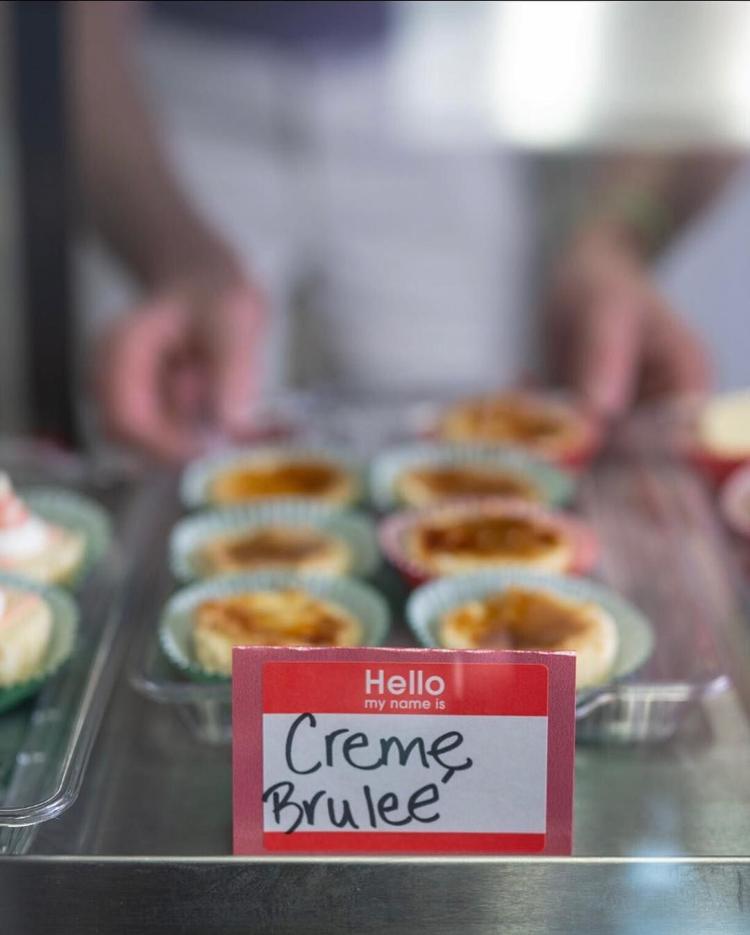 After about two years of making cheesecakes, Franklin started delivery routes to local businesses around Perryville, Jackson and Cape Girardeau, Missouri. Soon, he was selling upwards of 200 mini cheesecakes in just half a day. Many customers requested that Franklin open a brick-and-mortar store, but he says that was never his goal.
That is, until National Cheesecake Day last year, when Franklin was let go at his full-time job. "My boss said, 'Hey, now you can sell cheesecakes full-time,'" he says. "I told him: 'You're not funny.'"
But not long after, Franklin found the perfect spot for a bakery. After a few months of renovations, he opened the doors to The Cheesecake Ninja in Perryville last month. The shop offers a rotating selection of Franklin's nearly 250 flavors of cheesecake, including s'mores, peanut butter cup, pumpkin pie, Key lime, salted caramel, toffee, Black Forest, bourbon-pecan, cinnamon roll, coffee-moonshine and lemon. Franklin says the crème brûlée cheesecake with caramelized sugar is the most popular flavor, but he also likes the bananas Foster brûlée, which combines it with banana pudding.
For a true taste of Perryville, though, opt for the stout cheesecake with candied bacon. Franklin sources bacon from a local butcher shop and candies it in Villainous Coffee Stout from Jackson Street Brewing Co. (located right next door to The Cheesecake Ninja), which is made with coffee from the nearby Villainous Grounds. "It's a very, very local cheesecake flavor; it's kind of a flavor specific to Perryville," Franklin says.
Cheesecakes are available in 4-inch, 6-inch and 9-inch sizes, in addition to cupcake-sized and mini cheesecakes available by the dozen. The shop also offers other baked goods including cupcakes, brownies, truffles, cookies and even keto-friendly cookie dough. On Fri., Jan. 25 and Sat., Jan. 26, The Cheesecake Ninja plans to celebrate its grand opening with specials, door prizes and, of course, plenty of cheesecake.
The Cheesecake Ninja is open Tuesday through Friday from 10am to 6pm and Saturday from 10am to 4pm.
The Cheesecake Ninja, 110 N. Jackson Street, Perryville, Missouri, 781.763.7751, facebook.com/thecheesecakeninja